An Illustrated History of Old Sutton in St. Helens, Lancashire
Part 34 (of 87 parts) - Sutton Streets and Placenames
An Illustrated History of Old Sutton in St.Helens
Part 34 (of 87 parts) - Sutton & Bold Streets
An Illustrated History of
Old Sutton in St.Helens
Sutton Streets
Marshalls Cross Road
Marshalls Cross Road
and
Peasley Cross
Road were so-named because, many years ago, roadside crosses were placed on well-travelled highways so that travellers could stop and pray for their safe journey. 'Marshall' is a word of German-French origin that means 'Master of the Horse' and it came to denote the local farrier. So it's likely that there was a blacksmith or farrier on the route who looked after the shoeing of the horses that passed through it. 'Peasley' refers to the position of the cross and is derived from the Old English words pese or pease.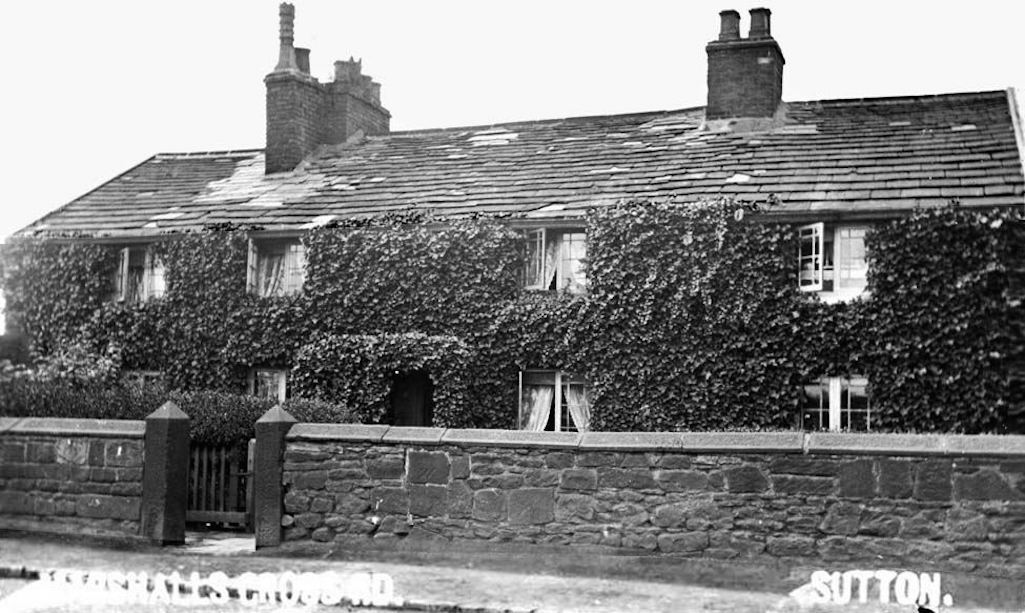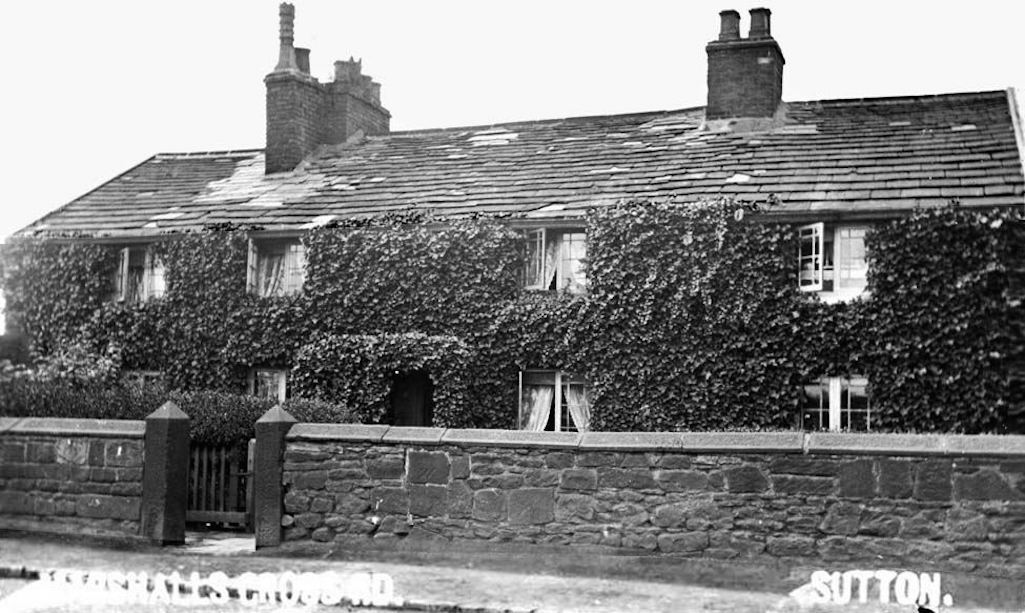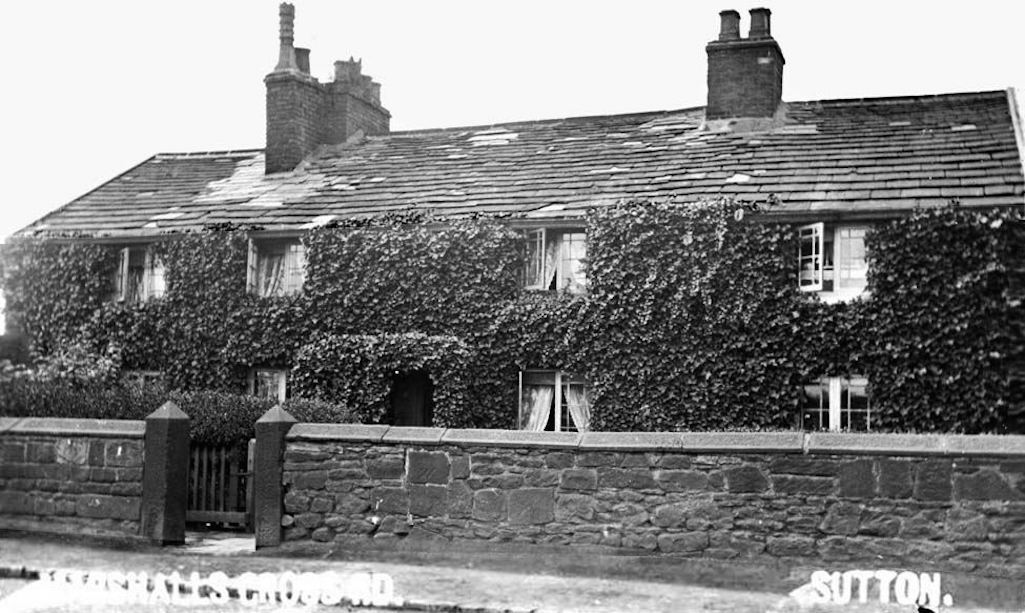 The north-south route along the present Marshalls Cross Road probably goes back earlier than Roman times. It formed a crossroads with the road between Warrington and Ormskirk/Lathom crossing the road from Prescot to Winwick. Frank Bamber wrote about Marshalls Cross in
Clog Clatters in Old Sutton
:
For hundreds of years, Marshalls Cross must have been a place where the ancient travellers travelling from Wales and Cheshire stopped. Reaching the River Mersey, crossing it at Fiddlers Ferry and moving along Chester Lane, they might have stopped, rested and prayed at the ancient Saxon cross, before continuing their hazardous journey to the North. Perhaps the advent of the old Bull and Dog followed on the tradition of the old places where the travellers could partake of food and drink and rest for a while. Although Marshalls Cross was, and still is, a part of Sutton, we, from Sutton, always looked on the Crossites as a small community of their own...Marshalls Cross also had its own rugby league team and ground, on which I have played. It ran along the top end of New Street to one side of Graces Square.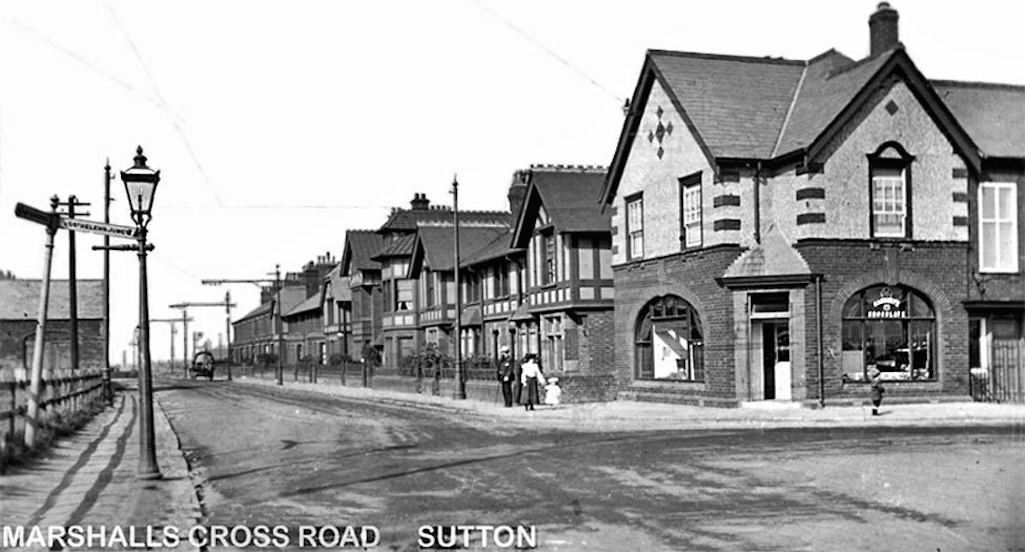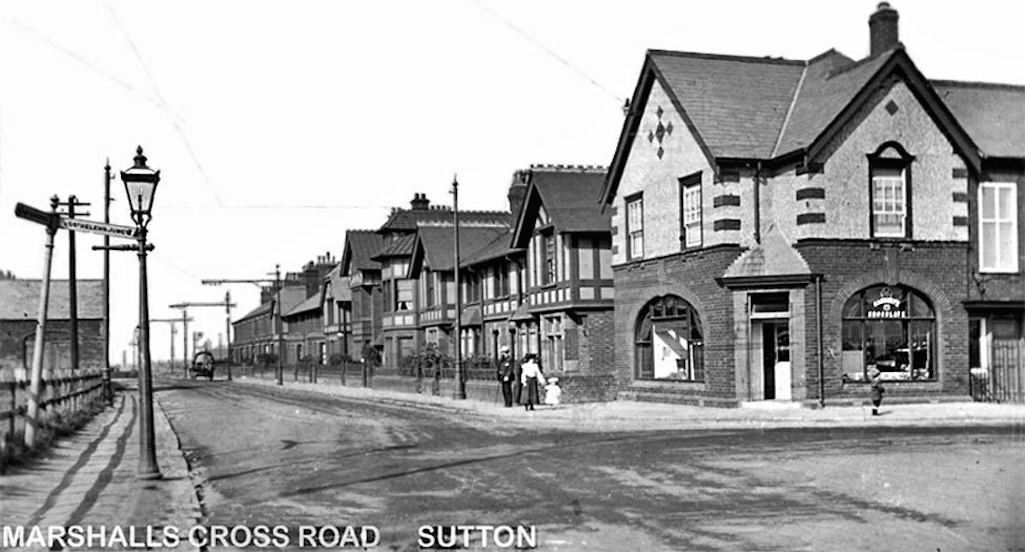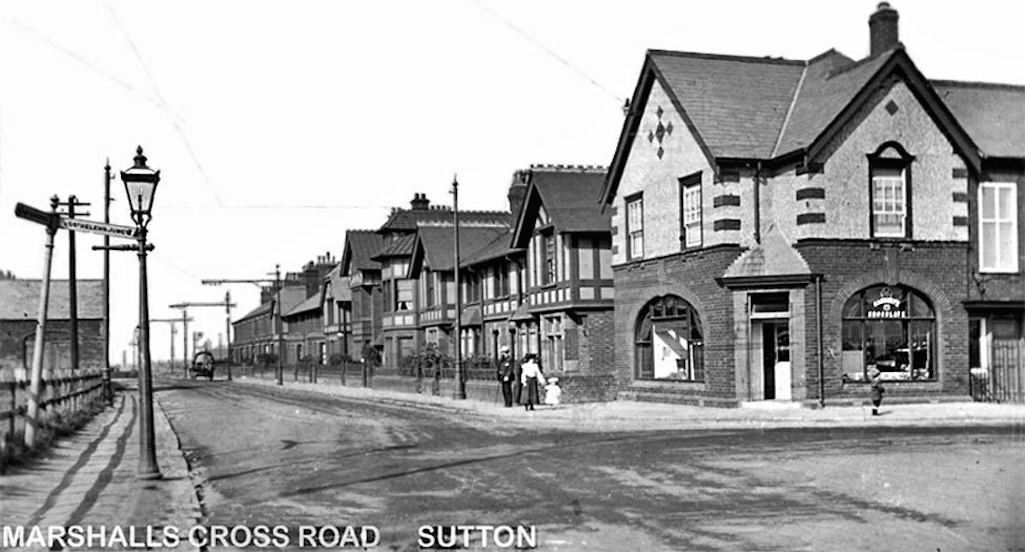 In 1899 some additional land was acquired from
Captain Michael Hughes
of Sherdley Hall to widen Marshalls Cross Road. Then at the St.Helens Town Council meeting of February 7th 1900, it was agreed to raise a portion of the road by five feet. In the discussion, Sir David Gamble commented how from Peasley Cross past St.Helens Hospital to the Waterdale Crescent area, there was not a single yard of flagged footpath. This had clearly been corrected by the time the photograph above was taken.
Eaves Lane in Sutton
Did you know that
Eaves Lane
was originally known as
Thieves Lane
? In fact all 19th century Ordnance Survey maps, including this one from 1849, refer to it as Thieves Lane. In 1902 a number of St. Helens streets were renamed for one reason or another and Thieves Lane was one. There were few inhabitants, if any, of the street that connects Sherdley Park and Marshalls Cross Road with New Street. Ivy Cottage was at the top of the road and may have been considered as being in New Street.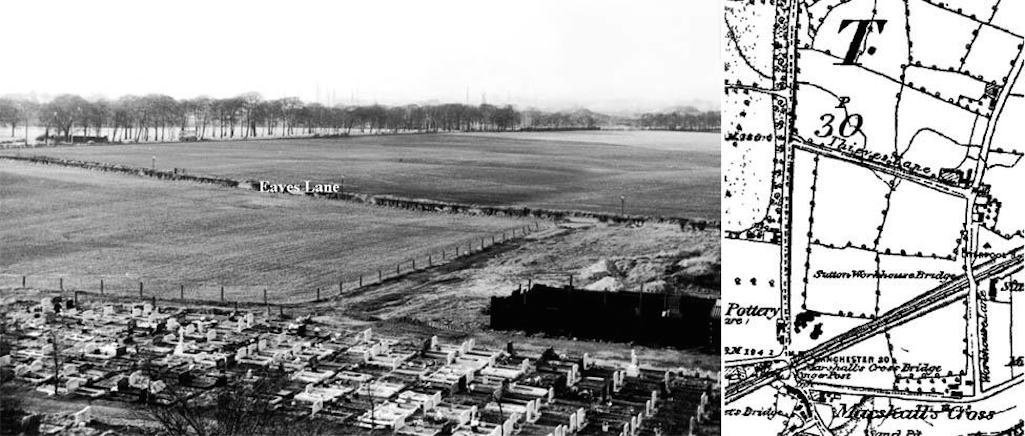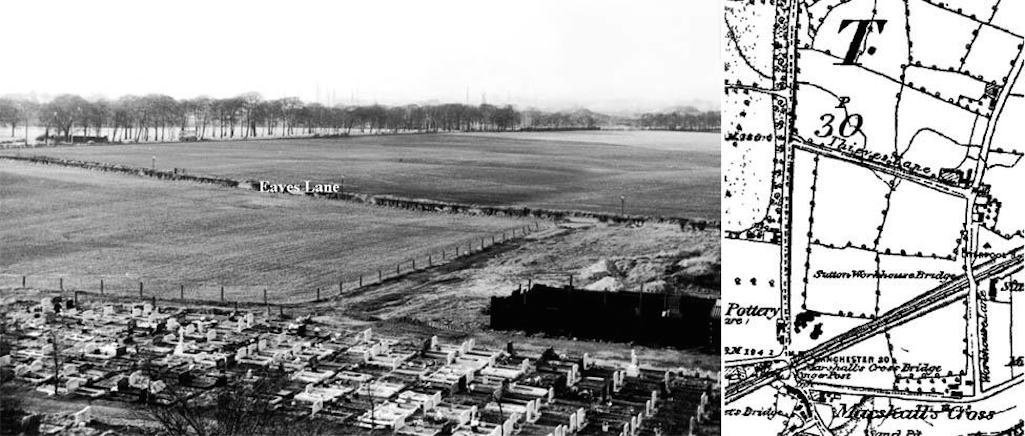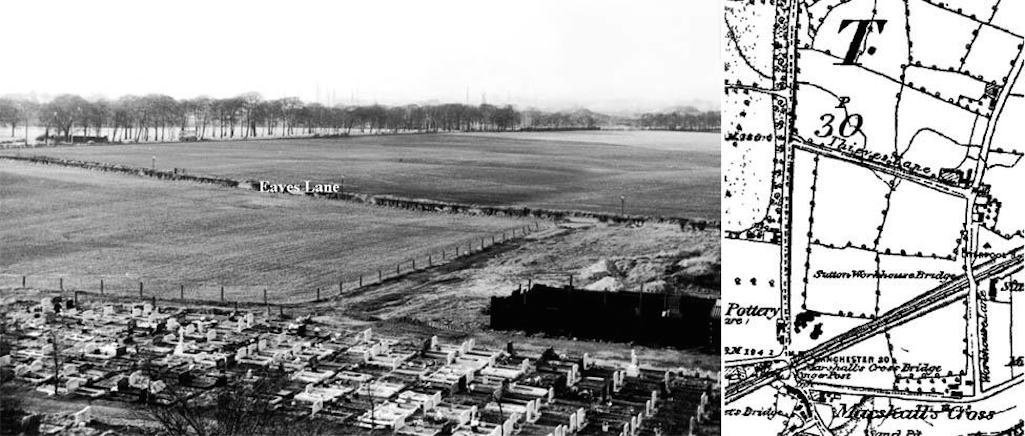 Indeed in the 1901 census, Thieves Lane doesn't rate a mention. Even in 1964 when the photograph (above) was taken by Jim Lamb from St. Nicholas church tower, Eaves Lane was a desolate track. Probably the reason that it was initially known as Thieves Lane was that during dark nights it would have been a prime location for thieves and vagabonds to waylay travellers. Plus it made a handy escape route for poachers from Sherdley Park.


In 1966, 27 acres of land in between Eaves Lane, Marshalls Cross Road and Sutton Park was sold at auction to a developer. Within a few years housing estates began to occupy the greenfield site and Eaves Primary School was built, completely changing the landscape (see
How Sutton's Changed
page).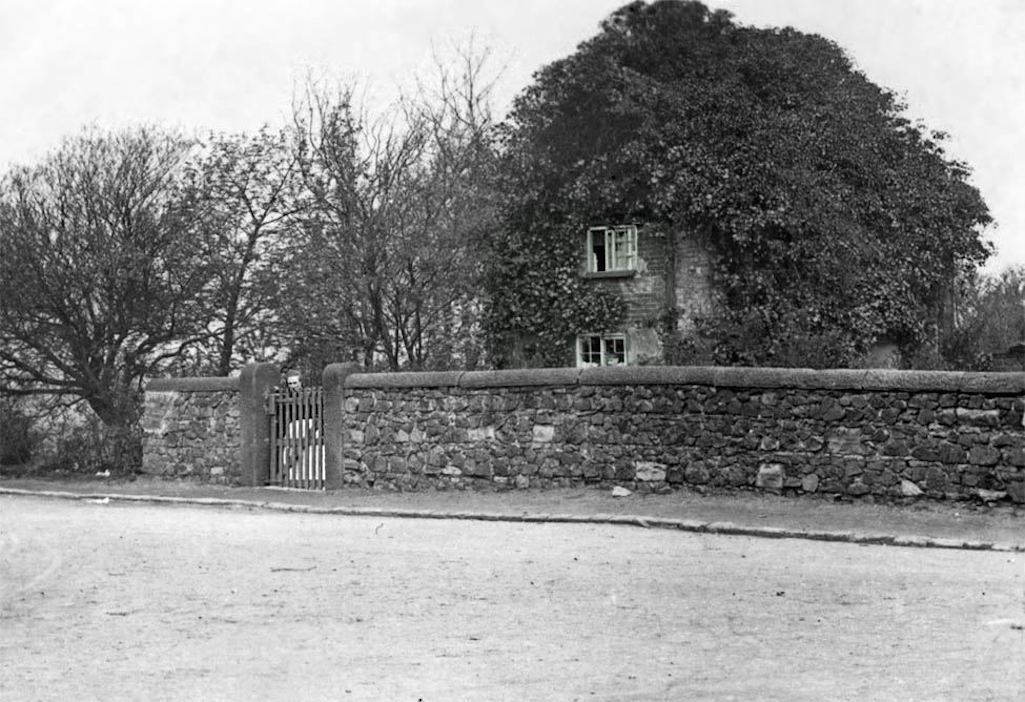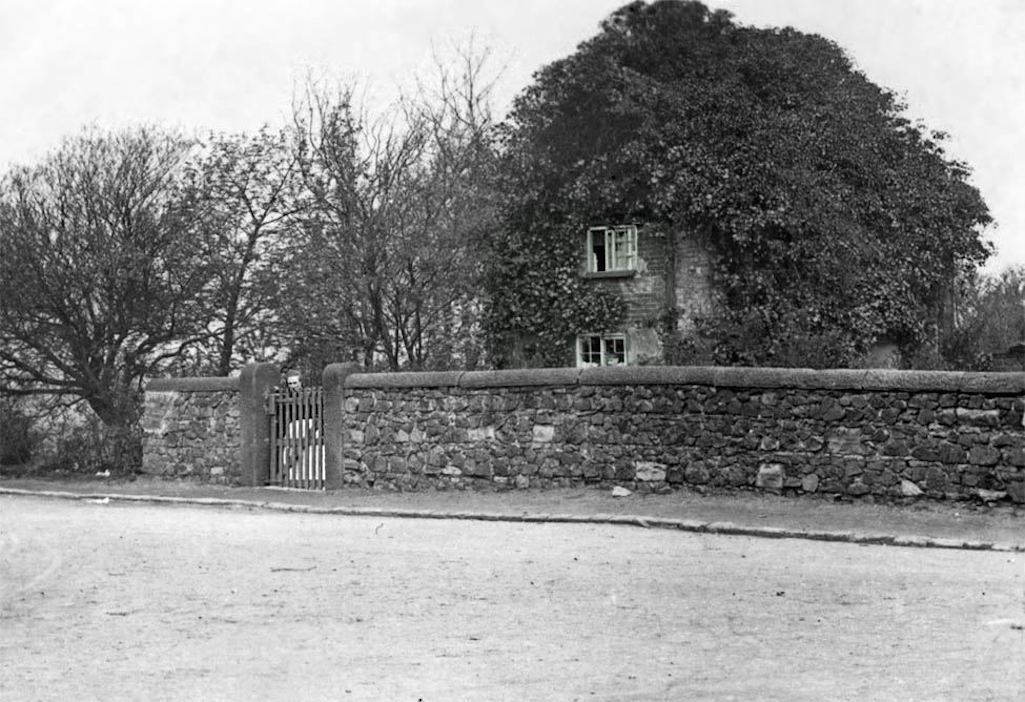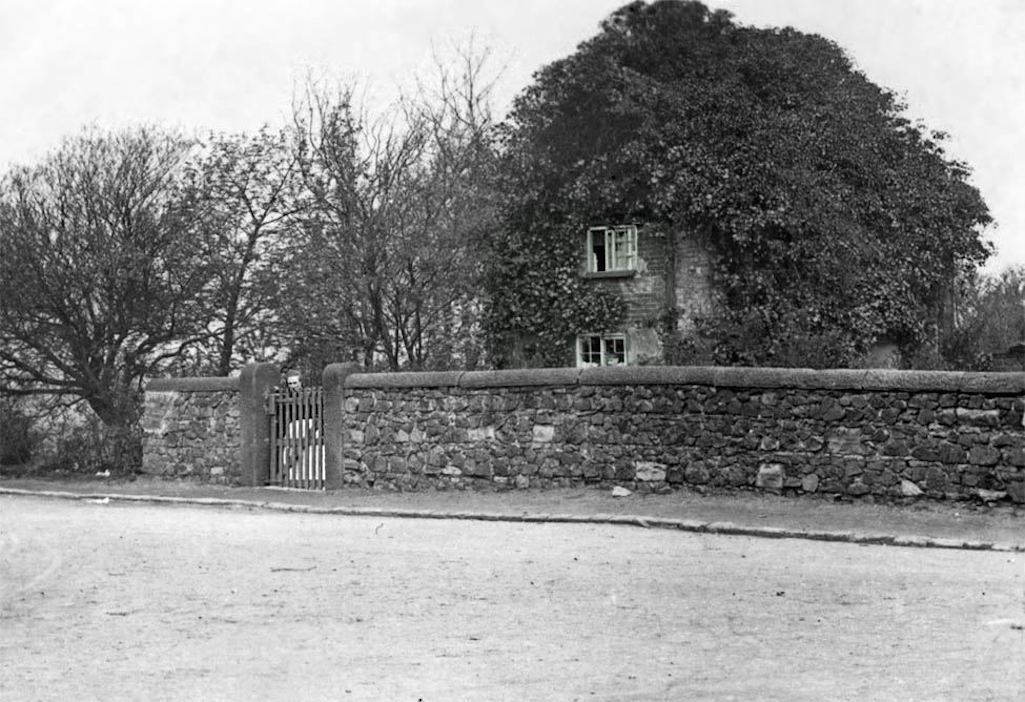 Ellamsbridge Road in Sutton, St.Helens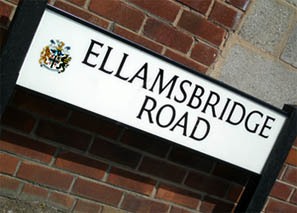 Ellamsbridge Road
is where these days, we find All Saints Church, an Esso garage and another low, redundant railway bridge. The original Ellams Bridge was built in the 18th century and was situated at Ellamsbridge Road's junction with Worsley Brow, near Sutton National School. The bridge crossed Sutton Brook, which at this point was locally known as the School Brook. The waterway then hugged the road and bent around to Watery Lane. It was later straightened and deepened to reduce flooding. These days Ellamsbridge Road extends to Robins Lane but originally the stretch to Worsley Brow from Robins Lane was part of Gerards Lane. It was probably renamed c.1896 when Ditch Hillock was renamed Waterdale Crescent and extended to Robins Lane.

The street's prefix is named after
Henry Ellam
, who was an influential figure in Sutton in his day, and who also owned property in Parr and Lymm. Ellam's will, dated 16th June 1796, has survived and one of his executors was his friend
Thomas Greenall
of the brewery family. Henry Ellam's estates were bought by Michael Hughes of Sherdley Hall in 1797 for £1463. The most notable property was
Ellam's House
, a.k.a. Tripe Shaws, which dated back to the 18th century and was demolished in the mid-20th century.
Watery Lane in Sutton
Watery Lane
is one of the oldest streets in Sutton, connecting Worsley Brow with Parr. Road nomenclature in centuries past tended to be based upon relevance to the location rather than a pretty name. If streets weren't given the name of a notable person or family who had lived in the area, they were named after something that was present. So Watery Lane was named after the nearby
Sutton Brook
and the regular flooding that it caused during winter. This was endemic in this low-lying area for many years during the nineteenth and twentieth centuries. Some houses had both their front and back doorways bricked up two feet high to prevent floods to the lower rooms. In 1888 at a St.Helens Town Council Paving, Highway and Sewering committee meeting
Cllr. Kirkham
said Watery Lane was "about the worst street or lane they had in the whole of the town". He argued that the residents did not want anything elaborate, just "a good curb and a cinder path, and a drain, so that it would take the water into the brook instead of flowing into the houses".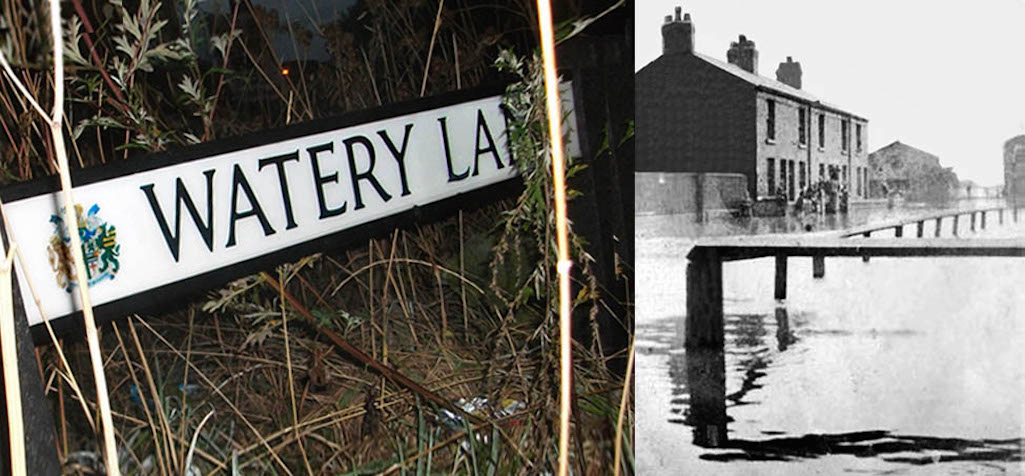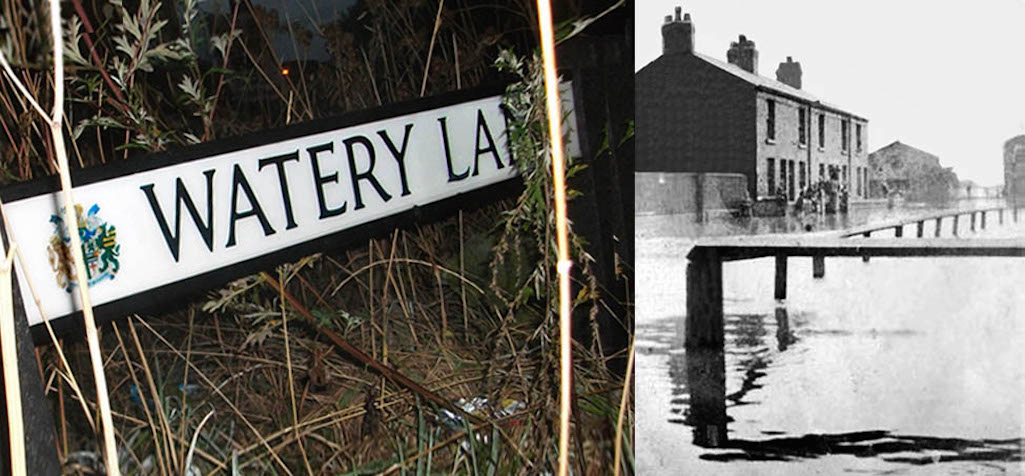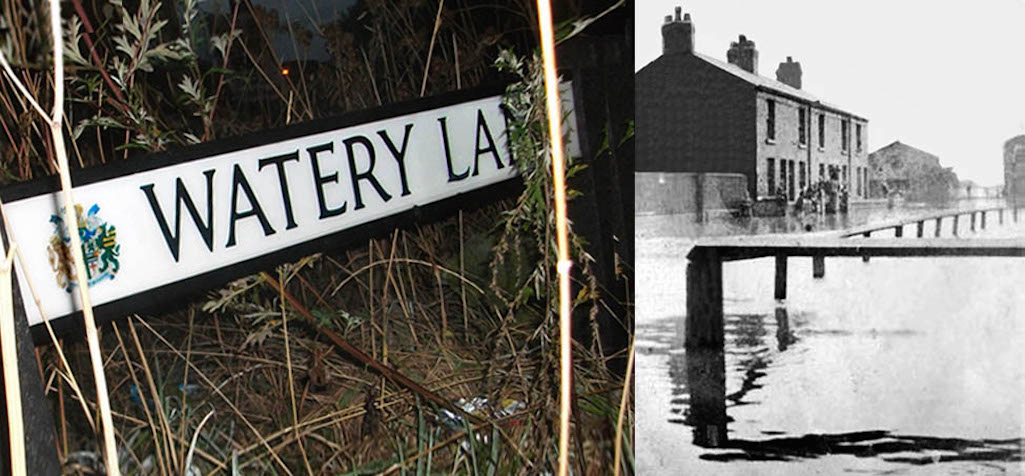 I
n a letter published in the St.Helens Reporter on January 12th 1915, landlord
E. Guest
wrote:
Every time there is a rainfall my property is flooded and I have lost two good tenants through having to wade in water in the houses: it has been three to four inches deep. Sir, this is not slum property. It is almost new, but if the Corporation allows these floods to continue I am afraid it will leave me with empty houses.
Watery Lane suffered badly from colliery subsidence, which increased the amount of flooding. At a meeting of St.Helens Council's Heath Committee on October 10th 1917,
Cllr. Abbott
reported that the residents of the street were hiring a man with a horse and lorry to go round the houses and take the children to school. It was suggested at the meeting by
Colonel Jackson
, that a raised wooden footpath would be a solution. The flooding was cutting off Moss Nook from Watery Lane and the Mayor said that as long as the collieries extracted coal, the subsidence and flooding would continue. One of the worst floods took place in 1934. Then on August 29th after heavy rainfall, flood water entered Watery Lane houses to the height of tabletops in kitchens and it also flooded the base of staircases. The St.Helens Reporter (published 31/8/1934) dubbed it 'Day of the Great Splash':
Furniture floated around living rooms. People living in the houses spent an anxious time as they watched the flood rising and many of them quitted their homes [from upstairs windows] by ladders.
Exasperated residents of Watery Lane complained to the newspaper how flooding was an annual winter event. Eventually the authorities put measures in place to deal with the problem, which included the straightening and deepening of Sutton Brook.
Waterdale Crescent
With the large-scale growth of St.Helens during the nineteenth century, the town's bureaucrats were kept very busy naming new roads and renaming existing ones. The latter seems to have reached its peak around the turn of the new century with a number of Sutton streets changing their monicker. The reasons aren't always clear but sometimes it was to avoid confusion with other similarly named roads in St.Helens. So around 1904, Sutton's own Church Street in
Pudding Bag
became Woodcock Street and Church Lane became Monastery Lane. Sometimes only sections of a road were renamed as was the case with Norman's Road in 1899, where part of it became Houghton Road.

The wonderfully named
Ditch Hillock
was restyled
Waterdale Crescent
in 1898, probably because streets were expected to be suffixed 'road', 'street' or 'lane', again to avoid confusion. It was eponymously named after the Waterdale Dam reservoir and Waterdale House, the home of the two
William Blinkhorns
and later
Alderman Arthur Sinclair
, then Sutton Convent. Blinkhorn Snr. built Waterdale House during the early 1850s and Sinclair - the former secretary and superintendent of
t
he St.Helens and Runcorn Gap Railway - moved in about 1878. Waterdale Dam, off Gerards Lane, is these days known as the Monastery Dam or St.Anne's reservoir.



During the 1890s, the
Blinkhorns
owned a number of properties in the area including a grocer's / off-licence at no. 51. In May 1893
James Smith
became the tenant, purchasing the business from his father for £215. Smith seemed to have little head for business, however, and in 1897 was made bankrupt at Liverpool Bankruptcy Court. He admitted to the assistant official receiver, that he'd been insolvent since he began his enterprise and that he hadn't been keeping any books! A predecessor grocer / beerseller
George Parr
had also been made bankrupt in 1865.


The most well-known buildings in Waterdale Crescent were the church social centre, known as the
Blinkhorn Rooms
and the Crystal Palace pub which closed in 1935. Much of the old Ditch Hillock / Waterdale Crescent has long been demolished and is much less populated these days. See Memories of Sutton articles:
Arthur Normington? Who's He?
and
Sutton Memories – I Remember
by
David Normington Gerrard
for details of the shops and people in Waterdale Crescent during the 1940s and '50s.
Baxters Lane in Sutton
These days most visitors to Baxters Lane are likely to be making their way to Morrisons supermarket. In past times it was the site of Sutton Oak Sheds, where small boys would gaze in awe at the magnificent locomotives stored and maintained there. Prior to the Sheds relocating to Baxters Lane, the district was largely agricultural land farmed by generations of Baxters, hence the street name. The most famous member of the family was
Henry Baxter
(1830 - 1886)
, the industrialist who owned a copper smelting plant and chemical works in Parr. The road was not named after Henry, however, as it pre-dates his factories. However, the story of Henry Baxter's rise is a good example of the changing nineteenth century times and how Suttoners proved able to adapt.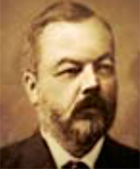 In 1834
Richard Baxter
(1792-1872)
, the father of Henry, took a lease on Peasley Cross Farm. However, the 100 acres of unspolt land was soon damaged by acidic gases from the nearby Sutton chemical works, which eventually destroyed much of his crops. Richard was a pragmatist and realising that farming was becoming unprofitable for him, he sold his land for industrial use and for building plots.

He also insisted on his son Henry
(1830-1886)
, breaking the long Baxter agricultural line and taking a position in industry. It was a case of 'if you can't beat them, join them' and so sixteen-year-old Henry found himself working at Sutton Copper Works in Sutton Oak. Baxter was highly thought of by his partner
William Keates
and within nine years, at the age of just twenty-five, he became the firm's branch manager. In 1863 the ambitious Henry leased an idle smelting works in Parr from Keates and quickly made it profitable. Ten years later Baxter opened a chemical works next door and in 1883 the wealthy industrialist became the Mayor of St.Helens. All this through his Dad's farm becoming polluted!


Henry Baxter died on May 3rd 1886 aged 56 at Rann Lea, Rainhill, formerly the residence of John Marsh, another chemical manufacturer. Two hundred of his workmen attended his funeral and six of them acted as pall bearer. His thriving businesses did not long survive him, however. Baxter's copper works closed in the 1890s and his chemical works, although sold in 1890 to the United Alkali Co. for £100,000, closed early in the 20th century. The times were changing...yet again.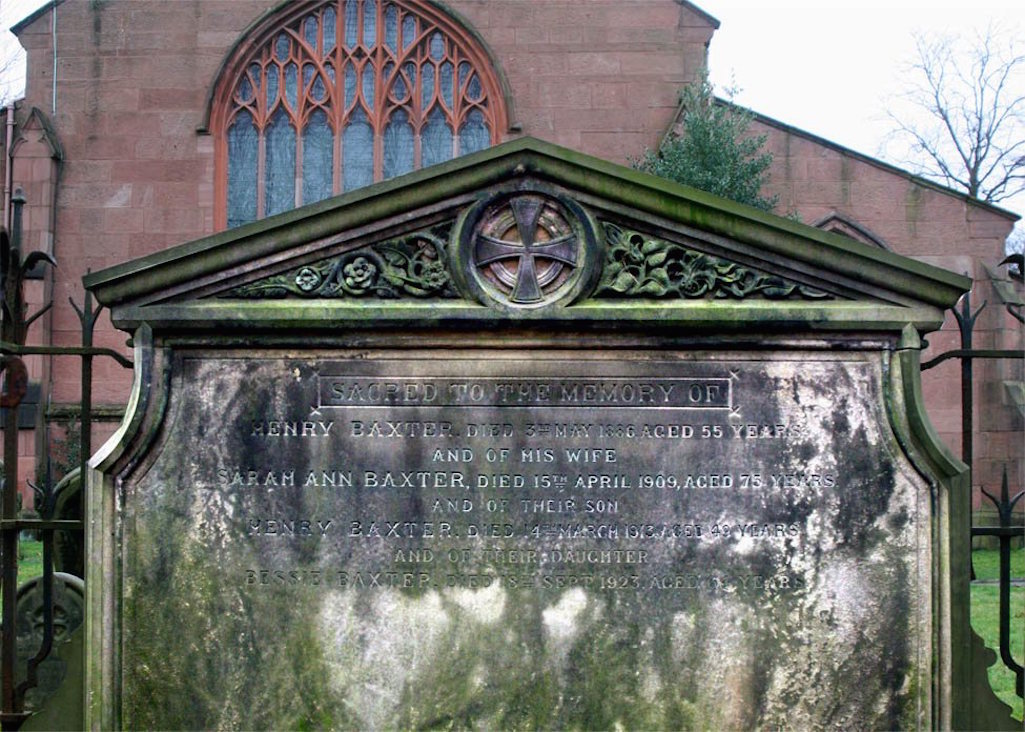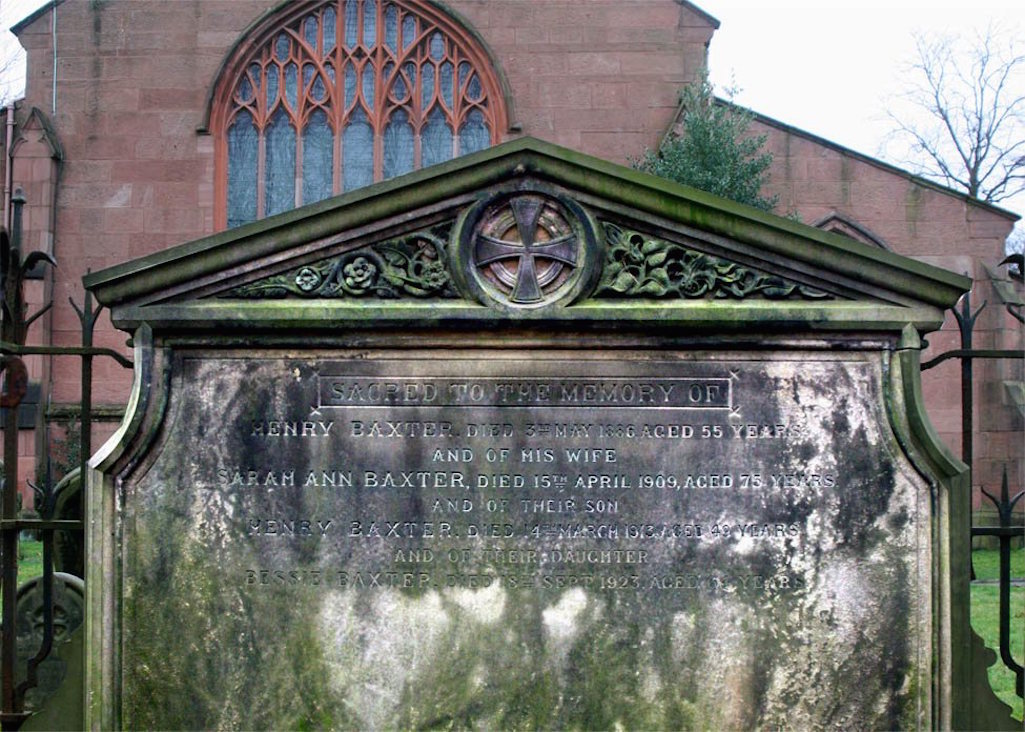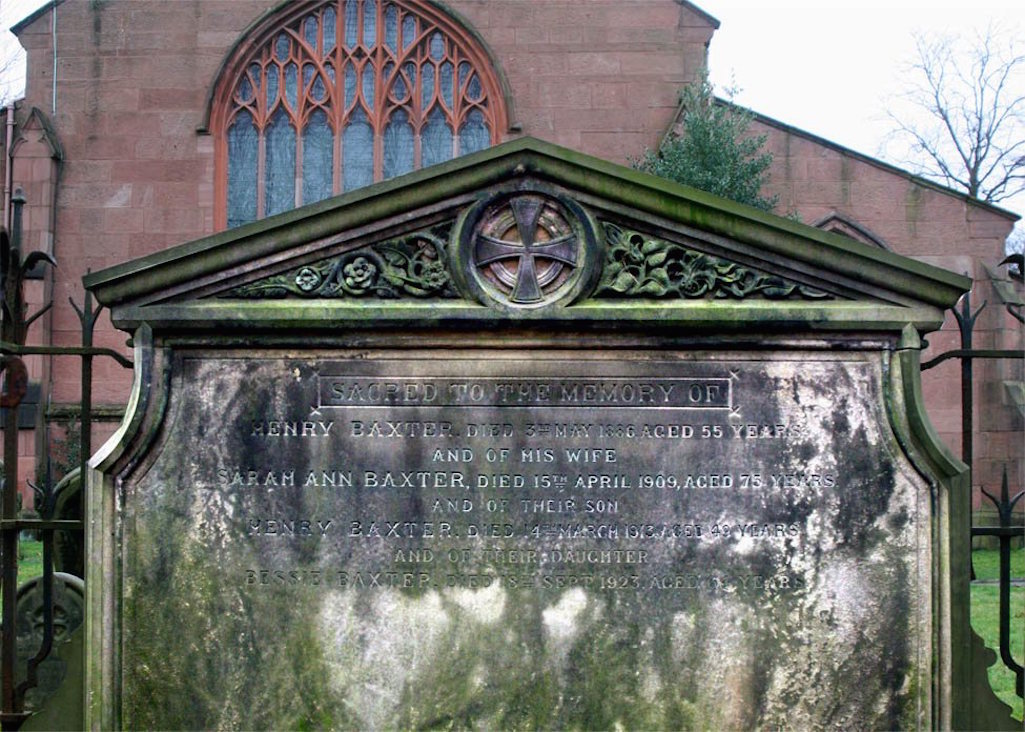 Sherdley Park, Sherdley Road and Ell Bess Lane
In a St.Helens Reporter article of 1966, Sherdley Park was described as being the 'lung of the borough' of St.Helens
(30/7/1966)
. The
Sherdley estate
has also been at Sutton's epicentre for hundreds of years, with the Lord of the Manor's residence traditionally being Sutton Hall, prior to the Hughes family taking over the estate.

The
Sherdley
name is one of the very oldest in Sutton with the Sherdley family traced back to 1303 when they were recorded as freeholders of Sherdley Hall, its orchard and gardens. In those fourteenth century years the family name was variously spelt 'Sherdilegh', 'Sherdelegh' or 'Schardeley' and simply refers to pasture-land. The first element of Sherdley is believed to be derived from the Old English for 'sceard', which means a gap in an enclosure. As most of the district in those days was moorland or moss, land that could be used for pasture was considered to be a valuable asset.
As well as the 300 acre park, the Sherdley name is remembered today through the nearby Business Park in Scorecross plus Sherdley Park Drive, Sherdley Caravan Park and Sherdley Road. The latter until 1902 was known as Ell Bess Lane and Ell Bess Brow, which was named after the Ell Bess inn that was once kept by an
Elisabeth Seddon
. She was given the nickname of 'Hell Bess', because of her prowess in dealing with rowdy drunks that caused trouble on her premises! At some point the pub took on the former licensee's nickname, then the streets followed. There was also a Hell Bess Farm which was listed in the 1849 Ordnance Survey map and located a few hundred yards west of the inn.


The Hell Bess inn was located close to Dobsons Lane, which connected Hell Bess Brow and Lane with Sutton Heath Road. By the 1870s, the streets and pub had dropped the initial letter of 'Hell', probably through objections from clergy. After the streets were renamed Sherdley Road in 1902, the inn continued the Ell Bess name until it closed around 1960. However, the Ell Bess monicker was retained by a garage that took over the site, prior to relocating to the old Sutton 'Bug' cinema site. For over thirty years, Sherdley Caravan Park has housed traveller families on the old Ell Bess inn site. Dobsons Lane, incidentally, is now part of modern-day Sutton Heath Road.
The Score & Scorecross
From around 1800, the main track through the Sherdley Hall estate and park has been referred to as the
'Score'
or 'Hughes's Score'. The derivation is from the Old Norse word 'Skor', which means ditch. In an article published
in
the St.Helens Newspaper
(1/4/1938)
,
it stated that 'the score, open to pedestrians, is, perhaps, the only rural walk to be found inside the St.Helens boundary.'



With much of the estate agricultural, and with Sherdley Park, privately owned by the Hughes family with limited access for the public, the score was an important right of way for Sutton folk. It still exists today as points of park access from Elton Head Road, Sherdley Road, Marshalls Cross Road and Scorecross, although perhaps used more by sports enthusiasts in vehicles than walkers.
With no apparent signage on the paths to remind visitors of the track's past, the aforementioned Scorecross dual carriageway, which extends the A569 from Marshalls Cross Road, plays two important roles. The highway both connects Sutton with the St.Helens Linkway and motorway network and serves as an important reminder of the heritage of the nearby track. Perhaps 'The Score' could also be added to the signs that direct visitors into Sherdley Park.
Clock Face Village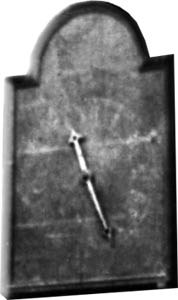 Like Sutton Manor, the village of
Clock Face
was created through the building of houses for the colliery's workers. The Times of February 4th 1914, reported how
'
a town has sprung up where a few months ago there were only fields'. However, unlike Sutton Manor, the name of Clock Face pre-existed the Gorsey Lane pit by some years.


During the 19th century, there was a pub, street, railway station, cottage and bridge that bore the name of Clock Face. The inn is thought to have been the derivation of the name as it displayed a very large clock over its front door. Many pubs and beerhouses took their monickers from nicknames bestowed on them by their customers, and this was probably the case with the Clock Face Inn. The first known reference to it was in 1800 when publican
Thomas Grace
was awarded his license. Clock Face Cottage in Clock Face Road was built in 1821 and the first census of 1841 includes a reference to Clock Face.

The railway station which opened in 1852 put Clock Face firmly on the map. Clock Face Road is one of the oldest streets in the district and research by
Paul Challoner
suggests that the advent of the railway and its bridge changed its original route. Prior to the railway, Clock Face Road doglegged to the right towards Tunstalls Farm and then turned to meet up with the road's present-day route beyond the bridge.

The present pub opened in 1909 with a smaller, more attractive clock gracing its frontage. The Clock Face station finally closed in 1951, although Clock Face Crisps kept the name in the public eye. Appropriately in 1985 its owner
James Lawrence Snr.
left £100 in his will to the staff of the pub, whose predecessor had given the crisp firm its distinctive name.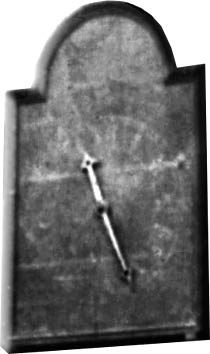 Sutton Oak District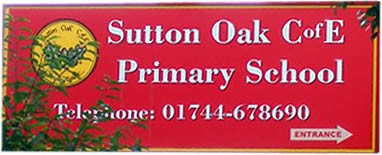 Over the years
Sutton Oak
has lent its name to a school, flower shop, engine shed, Welsh chapel, railway station and a
mustard gas factory
! Although locals referred to the latter as the 'Poison Gas Works' or the 'Magnum', its correct name was Sutton Oak Chemical Defence Research Establishment, often abbreviated to just Sutton Oak.

Its name is derived from large oak trees that were situated on the triangle of grass at the junction of Lancots Lane and Sutton Road. It was locally known as
Sparrow Park
and there also used to be a street called
Oak Tree
in the vicinity which is mentioned in the 1841 census. 31 stone builder
John 'Bally' Whittaker
became licensee of the Oak Tree Inn in or near Ellamsbridge Road around 1880 and he also lived at Oak Cottage.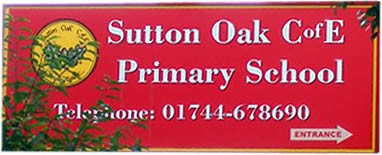 Heward Avenue, Beth Avenue & Freda Avenue
The
Heward
family were builders who lived in the now-demolished Yew Tree Cottage in New Street, which was located in between Sutton Cricket Club and Eaves Lane. In 1937 they built Freda Avenue, Beth Avenue, Yew Tree Avenue and Heward Avenue, as well as a few homes in New Street. Unusually, proprietor
Richard 'Dick' Brown Heward
was allowed to choose the names of the newly-built streets and took inspiration from his family's names. So Heward Avenue was eponymously-styled after his surname and daughters
Elizabeth
and
Freda Heward
gave their forenames to Beth and Freda Avenue.

Only a small number of homes were then built in Beth Avenue, which had farmland in between it and Gerards Lane. During the 1960s when St.Helens Council elected to extend the street, creating what some dubbed 'Legoland' houses, the family complained about the continued use of the name 'Beth'. The part of the street that the Hewards had built eventually became Eton Hall Drive and the rest of Beth Avenue is now Ridgeway Drive. (Also see article:
New Street Estates
in How Sutton Has Changed Page)
A - Z of Sutton Street Names in Brief
ABBOTSFIELD ROAD
(off Reginald Road) - It is believed that the name of Abbotsfield is connected to a declaration by William de Lancaster for manor owners to support Cockersands Abbey. The 12th century nobleman ordered that holders of manors from Cumberland to the Mersey, should donate some land to support the abbey. Henry de Quike gave some plough land known as Quicks Field to support the abbey, which was situated at Thurnham near Lancaster. It is thought likely that from 1288, Quicks Field became known as the Abbots Field and still bears the name today.

ANNE GROVE
(off Marina Avenue, near Sutton Park) - Named after
Princess Anne
. This was chosen by builders A. J. Kenwright of Robins Lane, who mainly picked street names with Royal connections for the houses they built near Sutton Park.

BALMORAL AVENUE
(off Kensington Avenue & Sutton Park Drive) - Named after Balmoral Castle in Aberdeenshire in Scotland, which has been a residence of the Royal Family since 1852, when the estate and its original castle were privately purchased by Prince Albert, consort to Queen Victoria.


BENTINCK STREET
(off Sutton Road) - Named after the Bentinck family of Dutch nobility who first arrived in England when
Hans Bentinck
accompanied William of Orange during the 'Glorious Revolution'. The British line has included politicians such as
William Cavendish-Bentinck
, who was twice Prime Minister and
Cecilia Cavendish-Bentinck
, grandmother of Queen Elizabeth II.
Tim Bentinck
, who plays David Archer in The Archers, is 12th Earl of Portland and 8th Count Bentinck. Streets in many other towns, including Wigan and Liverpool are also named after the illustrious family.

BERRY'S LANE
(between Watery Lane and Fleet Lane, Parr) - Almost certainly named after
Henry Berry
(1720 - 1812)
who was brought up in Parr and was the engineer responsible for cutting the Sankey Canal.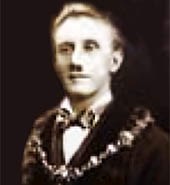 BINNEY STREET
(off Lancots Lane - No longer exists) - Almost certainly named after
Hudson A. Binney
, who was an accountant from Sutton and a shareholder in the St.Helens Café and Recreation company that was formed in September 1876. He later became the last manager of Sutton Glassworks. The street may possibly have been named after the second Vicar of Sutton,
Maximilian Frederick Breffit Binney
, who served the parish from 1889 to 1900. However this is far less likely. Binney Street was created next to Blinkhorn Street and along with Dixon Street formed what was locally known as Colliers Square.

BOSCOW CRESCENT
(between Dawson Avenue and Gerrards Lane) - Named after
Alderman Thomas Hill Boscow
who served two terms as Mayor of St.Helens in 1928 and 1929. The controversial councillor was Chairman of the Watch Committee and also had a tobacconist's and newsagent's shop at 6 Junction Lane. See the
'The Very Strange Case' of Alderman Boscow
in Sutton Crime Part 2.

BRYNN-Y-FILLIN
(near Rolling Mill Lane - No longer exists) - Many of the Welsh copper workers who were employed at William Keates's Rolling Mill factory lived close to the works in a street called Brynn-y-Fillin. They appear to have nicknamed it after a well-known road of the same name in Holywell, where many of the workers came from. The works opened in 1860 and in the 1871 census the road was officially recorded as Brynn-y-Fillin. The last known record of that name was from 1892, when a licensing transfer of a beerhouse in Brynn-y-Fillin took place. At some point later the street was probably incorporated into Rolling Mill Lane.

CARNEGIE CRESCENT
(off Ellambridge Road) - Originally Carnegie Street, it was named c.1906 after philanthropist
Andrew Carnegie
who had paid for
Sutton Library
to relocate there.

CATTERALL AVENUE
(off Mill Lane leading to Dale Crescent) - Named after the nearby farmhouse known as Catterall House (originally Olive Mount). More details and a photograph can be found in
Memories of Sutton 9
by Harry Hickson.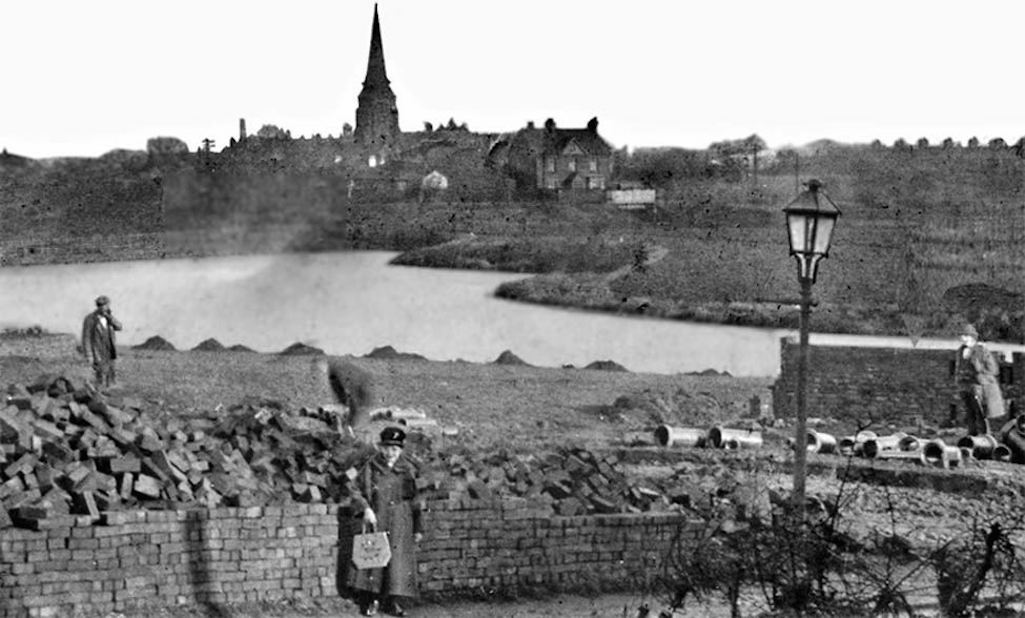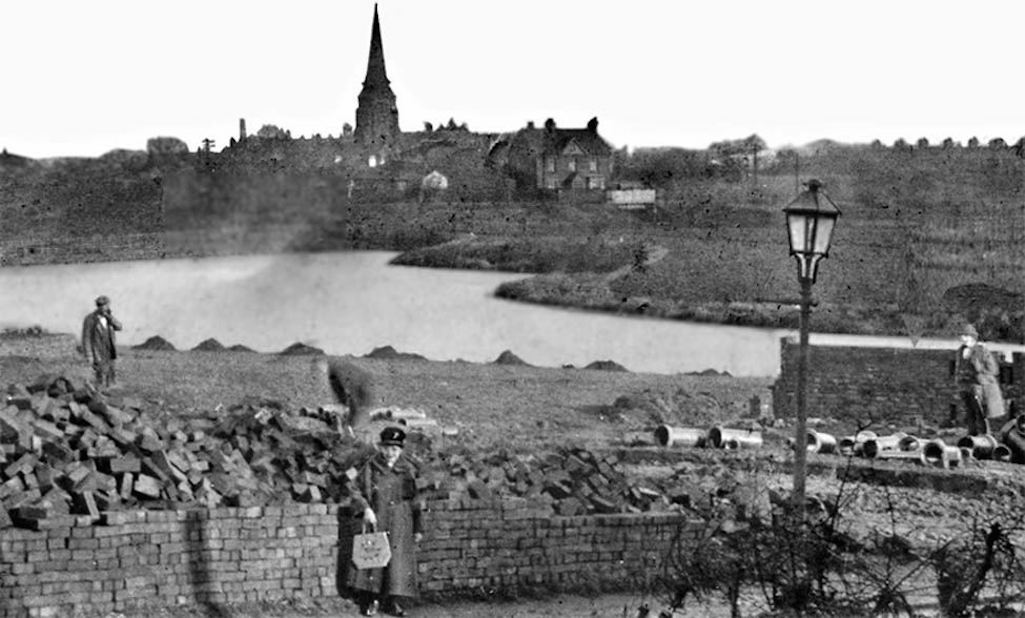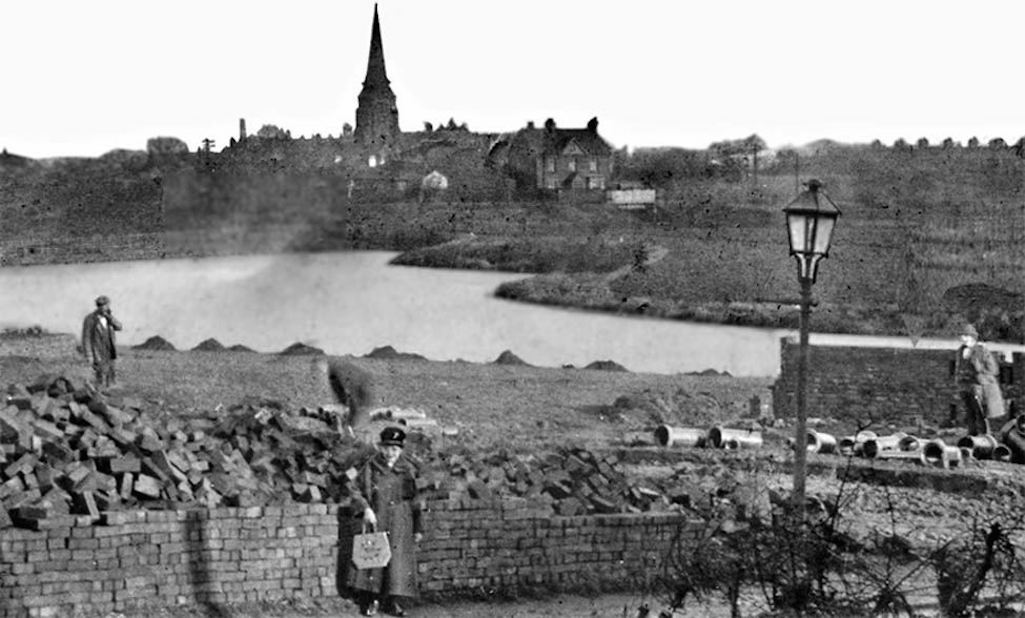 CRANE AVENUE
(off Mill Lane, Sutton Leach) - Named after the Vicar of Sutton
Rev. Frederick S. C. Crane
who served the parish between 1901 and 1910. See
here
for more information. The above photograph shows the construction of Crane Avenue c.1929/30. The elderly lady is Mrs. Elizabeth Carter, the wife of John H. Carter, who for many years was Senior Foreman at the Sutton Sheeting Sheds. Mrs. Carter is stood in Mill Lane, directly opposite their house at 109 Mill Lane. Crane Avenue has been cut in on the left from Mill Lane, with all the sewerage pipes laid out. The houses in Mill Lane from 110 to number 88 to the left and right of her were to follow on next in this local construction. The view is across the long-gone 'Bottom Dam' over what is now Catterall Avenue and on the other side, Belvedere Avenue. To the left of the gas lamp you can seen the white top of the Gerards Lane bridge of the Liverpool /Manchester Line, and to its left the large St. Annes Villa, with Railway Terrace in Pudding Bag to the right (info from Harry Hickson).

CRANSHAW AVENUE
(off Clock Face Road) - Probably named after Cranshaw Hall and Farm which was situated in Bold, near Lunts Heath, and originally part of the Bold Estate.

CRAWFORD STREET
&
CRAWFORD CLOSE
(off Gorsey Lane, Clock Face) - Named after the
Earl of Crawford
, who was chairman of the Wigan Coal and Iron Co., owners of
Clock Face Colliery
. Originally Crawford Street was for the use of the miners, who during the colliery's early years, paid a subsidised rent of 6s. 6d. a week. There also was a house called 'Crawford Villa' in Gorsey Lane. Its occupiers included
James Anderton
, manager of Sherdley Colliery, and
Mr. H. Price
, whose wife hosted garden parties in aid of the Clock Face branch of the Conservative Party.

DELPHWOOD DRIVE
(off Sherdley Road) -
DELPH WOOD
housing estate off New Street / Ridgewood Drive,
DELPH HOLLOW WAY
(off Scorecross) &
DELPH COURT
(Sherdley Business Park) - Named after the Delph Woodland in Sherdley Park which during the 19th and early 20th centuries featured an old water-filled pit which became a popular place to commit suicide. More
here
.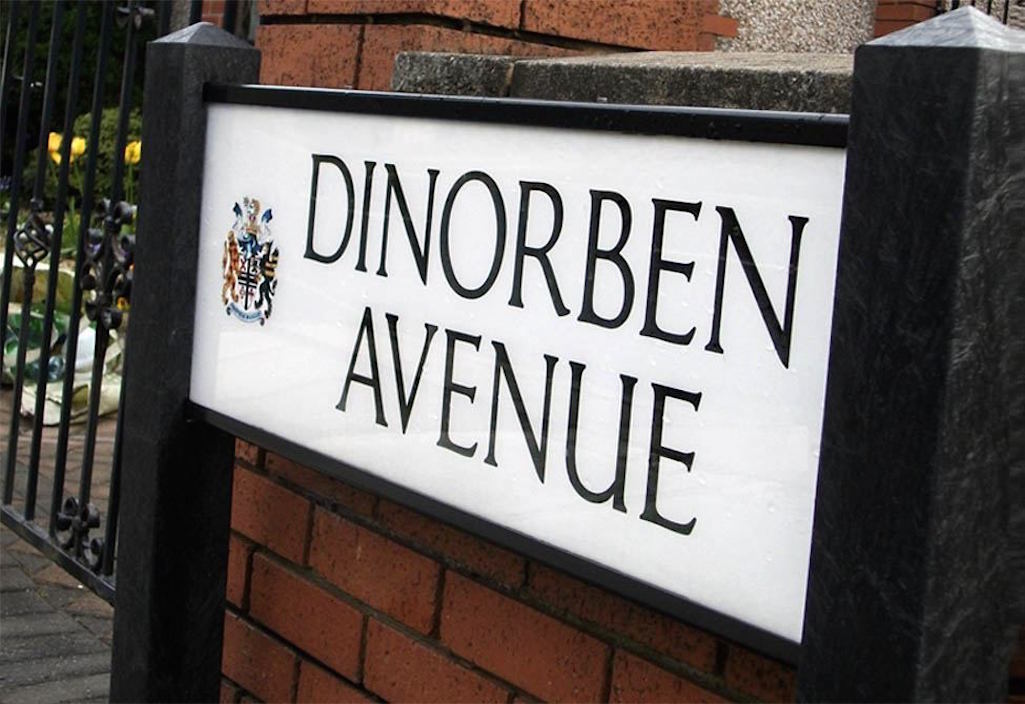 DINORBEN AVENUE
(off New Street) - Named after
Lord Dinorben
of Kinmel Hall, near St. Asaph and Dinorben in Denbighshire. Born William Lewis Hughes in 1767, he was the eldest son of
Rev. Edward Hughes
whose brother was the first
Michael Hughes
of Sherdley Hall. The owner of the Parys copper mine which was the largest in Europe, William Hughes was a Whig MP from 1802 until 1831 when made Baron Dinorben. The land on which Dinorben Avenue was built, was formerly owned by the Hughes family until they sold it to Northern Developments in 1966.

ELLEN STREET
(off Robins Lane) - Named after
Ellen Fisher
(née Smith), who was mother and grandmother of the builder Fisher family (see entry for Fisher Street) who built the houses in Ellen Street. She was also related to John Smith, a great benefactor to St. Anne's RC Church.

ELTON HEAD ROAD
- Named after the Eltonhead family who lived at Eltonhead Hall and who have a direct family connection with both the English and American civil wars and two US presidents. View article on the Eltonheads
here
.


FISHER STREET
(off Robins Lane) - Named after the Fisher family, especially East Sutton councillor, builder and farmer
James Fisher
. Born in Preston in December 1831, his family relocated to Sutton at some point between 1844 and 1851. In the 1871 census James and wife Fanny were living at Glass House Farm, off Gerards Lane, farming 50 acres and also working as a builder. His family then moved to Olive Mount farm (later known as Catterall House) where Dale Crescent and Humber Crescent are now, before retiring to St. Paul's Villa in Gerards Lane. Fisher built St. Joseph's in Peasley Cross in 1877/8 and St. Anne's girls' school in 1884, dying on March 29th 1913 aged 81 years. James's brothers Thomas, John and Peter were all builders or carpenters in Sutton. His niece Elizabeth and brother John are profiled in the Sutton Crime Part 2 page within the article '
The Seduction Of A Sutton Builder's Daughter
'. James's brother Peter also ran the Wheatsheaf Inn in Lionel Street for a while and his nephew John (son of brother Thomas) had a bankruptcy receiving order made against him in March 1894. The original houses in Fisher Street were built by the family, although long since demolished.



FOUR ACRE LANE
(between Clock Face Road and Chester Lane) - Named after Four Acre Farm, originally Rigby's Farm (see Gartons Lane entry).

GARTONS LANE
(connects Chester Lane and Clock Face Road) – The road which was originally known as Rigby's Lane, after Rigby's Farm owned by Thomas Rigby, was named after the Garton family.
John Garton
occupied Tunstalls Farm on the opposite side of Clock Face Road in the middle to late 19th century. He was a member of the Sutton Local Board during the 1860s which administered the township and collected rates. Garton also served on the Prescot Board of Guardians representing Sutton. There was also a
William Garton
who owned land in the lane as well as Rigby's Farm and
Mary Garton
who was connected to the Lamb millers at
Sutton Mill
.

GERRARDS LANE
- Believed to have been named after the Sutton family, including Thomas and Hannah Gerrard, who lived near to Leach Hall and the Intersection bridge.

GLAMIS GROVE
(off Dinorben Avenue, near Sutton Park) - Named after Glamis Castle in Angus in Scotland, the childhood home of
Elizabeth Angela Marguerite Bowes-Lyon
(1900 – 2002)
, more commonly known as Queen Elizabeth The Queen Mother. Glamis Castle was also the setting for Shakespeare's Macbeth.

GOODBAN STREET
(off Ellamsbridge Road) - Likely to have been named after market gardener / nurseryman
James Goodban
of 89 Hoghton Road / Norman's Road, who also built two houses for his gardeners which became known as Goodban's Cottages.

GRACE'S SQUARE
(off New Street and Mill Lane - demolished) - Named after pottery manufacturer and landowner
James Grace
who ran a pottery firm in Marshalls Cross and owned much land in Sutton, including 26 houses in Baxters Lane. In 1862
Isaac Grace
-
James's eldest son
who had taken over the running of the business - was made bankrupt and and his brothers
Thomas
and
Francis Grace
took over the firm. Built around 1880, Grace's Square was demolished in the late 1960s and Sherdley Primary School now occupies the site. There also used to be a Grace Street in east Sutton.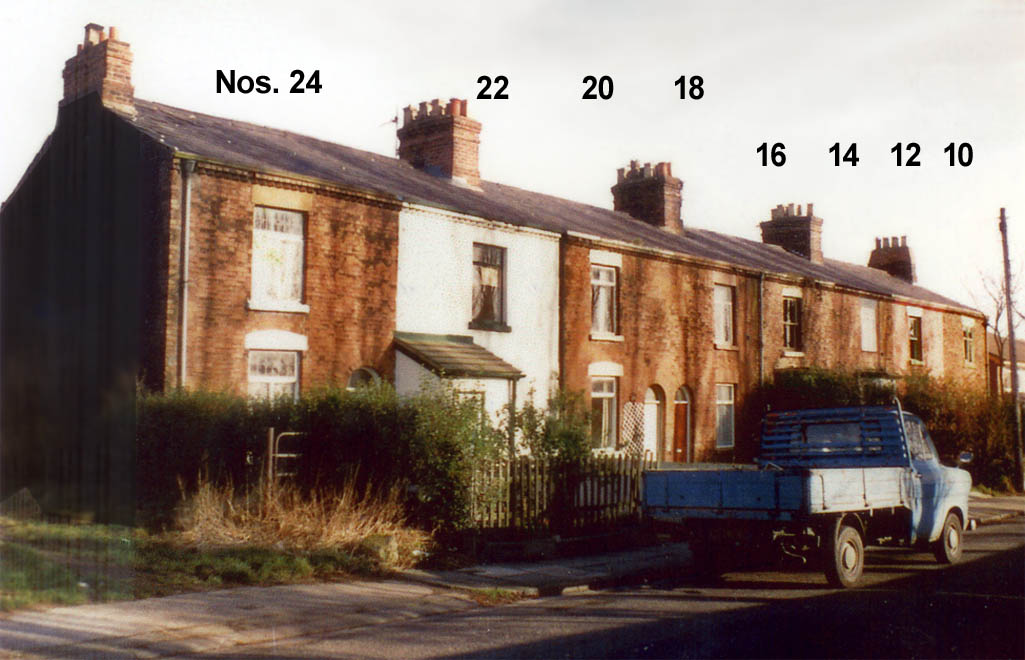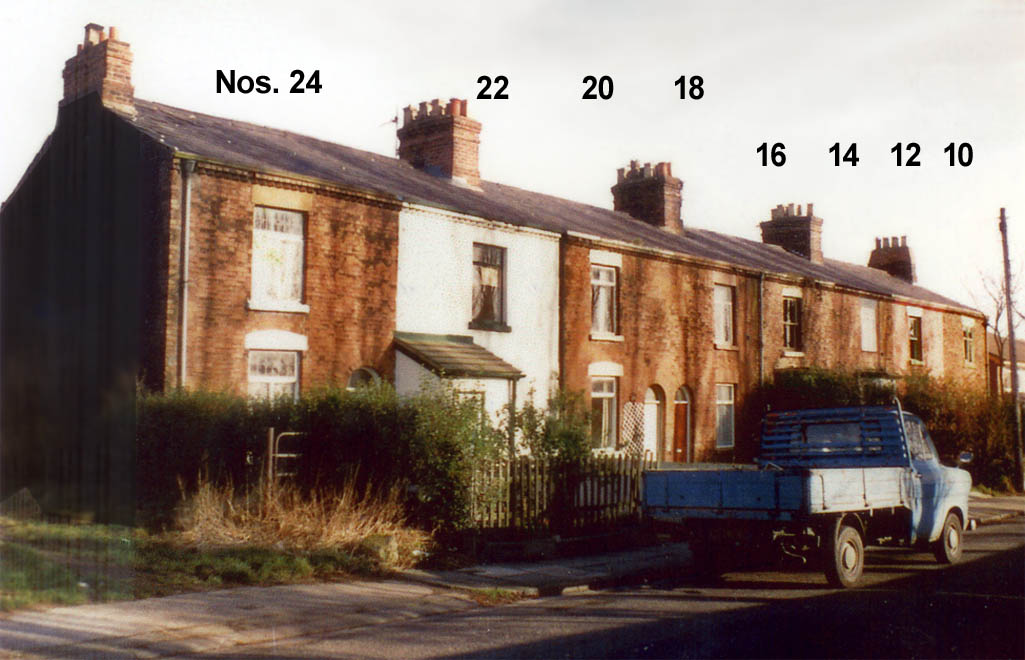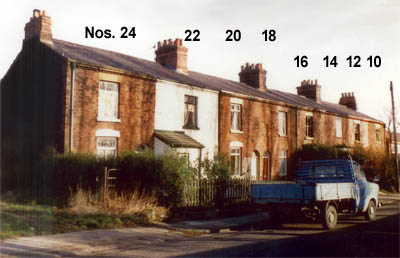 GRIMSHAW STREET
(off Mill Lane) - Named after the Grimshaw family who are thought to have owned land on the north side of Mill Lane. The family were benefactors to
St. Anne's RC Church
with
Richard Grimshaw
paying for the Lady Chapel. The alabaster altars of this and a second altar dedicated to St. Paul of the Cross were later donated by his widow
Elizabeth
in memory of her husband. Their descendants had a number of business interests, including owning and operating a large lodging house off Salisbury Street in St.Helens. There were a number of different charges for the nightly lodging, ranging from upstairs single rooms with beds, communal rooms with beds, to sleeping downstairs in the large open room, which had the cheapest cost. In this communal room for a penny a night, people could use a rope line that was stretched across. Overcoats were placed over the line (or kept on) to cushion the rope and then the customers sagged on it with their arms positioned over the rope, being almost in a sitting position. After WW2 the property was taken over by the Salvation Army. The owner
Frederick Grimshaw
and wife
Helen
lived at the now-demolished large detached house at 145 Mill Lane on the corner with Mill Brow which was later occupied by his daughter
Ethel Grimshaw
after marrying
John Tootill
at St. Anne's in 1927. No. 14 Grimshaw Street had an interesting history and was probably linked to St. Anne's Church.
Augustine Borrows
of the loco family lived there in the 1890s and
John Coffey
had a famous pools win in the house in 1952.

GREENOUGH STREET
(off Peasley Cross Lane - No longer exists) - Named after the Greenough family who had a considerable estate in St.Helens, especially Sutton and Parr. Joseph Greenough was a St.Helens Town Councillor who was sent to prison for a year in 1877 for riot. This was after a disputed claim to cottage property in Parr when he and six others (one a police officer) attempted to evict tenants by force. Greenough soon died in Kirkdale prison leaving an estate valued at around £250,000 (over £11m in today's money).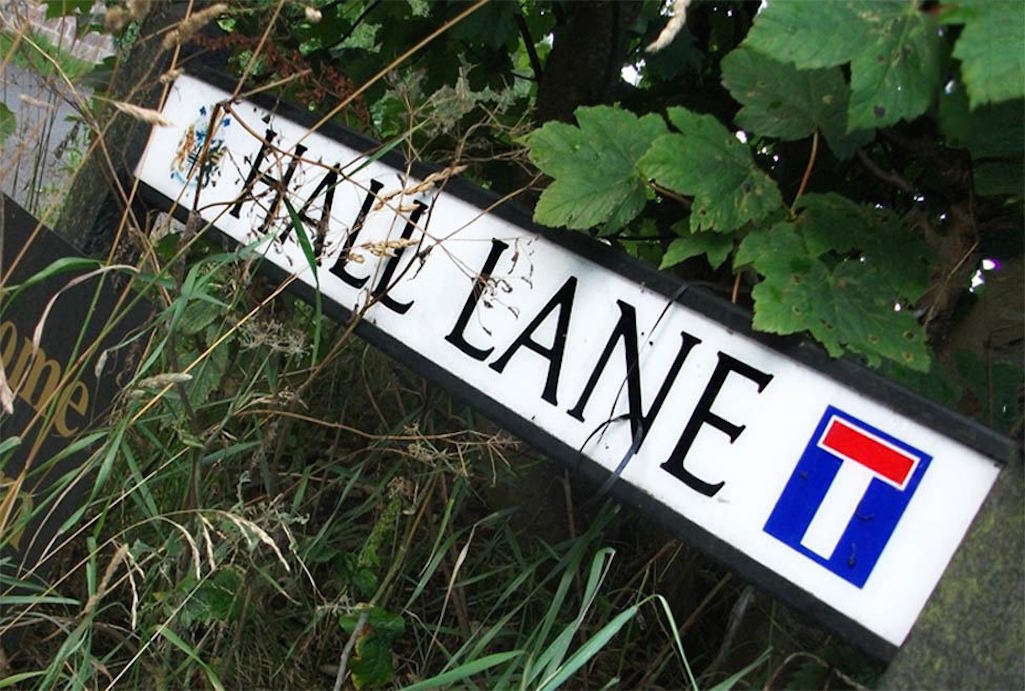 HALL LANE
(off Gorsey Lane, Bold) - Named after Bold Hall. Its stable range and associated dwelling house, now a farmhouse, still exist at Home Farm, off Hall Lane. There's a full history of Bold Hall
here
.

HIGHFIELD STREET
(off New Street) - Originally part of the Ditch Hillock area, along with Waterdale Crescent, and was probably so named because it was build on fields 10 feet higher than the adjacent Robins Lane, as shown in the 1891-2 Ordnance Survey map. The street was not then named but Highfield Street residences are listed in the 1901 census and so it was probably named about 1900. (Explanation by Harry Hickson)

JOSEPH STREET
(off Peckers Hill Road / Smith Street) - The late Sutton historian
Frank Bamber
believed that Joseph Street was named after Elizabeth Prout, the Superior General at Sutton's Holy Cross Convent, and who was renowned for her work supporting poverty-stricken Manchester mill girls. Elizabeth took the name of Mother Mary Joseph, which is where the Joseph link is made. St.Anne's church archivist
Sister Dominic Savio Hamer
considers it more likely to have been named after
Joseph Paul Smith
, the son of church benefactor John Smith, who became a Benedectine monk.

KEATES STREET
(off Watery Lane) - Named after
William Keates
and his son
Joseph
who along with the Newtons, owned the Copper Works in Sutton Oak and the Rolling Mill factory. The Keates's gave employment to thousands of Suttoners over the years and the name of the Coppersmiths Arms in Watery Lane underlines the local importance of these industries. You can view histories of the plants
here
.
KENT ROAD
(off Marina Avenue, near Sutton Park) - Named after
Prince George, Duke of Kent
(1902 – 1942)
, the fifth child of King George V. He held the title of Duke of Kent from 1934 until his death in an air crash in 1942. Princess Marina of Greece and Denmark was his wife and she gave her name to Marina Avenue. The name of Kent Road was chosen by builders A. J. Kenwright of Robins Lane, who mainly chose street names with Royal connections for the houses they built near Sutton Park.

KENSINGTON AVENUE
(off Sandringham Drive & Sutton Park Drive) - Named after Kensington Palace in London, which has been a residence of the Royal Family since the 17th century.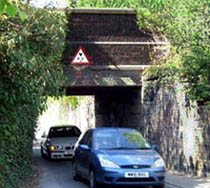 LANCOTS LANE
- Lancots Lane in Sutton Oak used to be a hub of industrial activity with Sutton Glass Works that stretched across both sides of Lancots Lane, bonecrushers and fertiliser manufacturers Crone & Taylor and later Sidac, amongst other businesses. These days it's more renowned as the home of the Sutton Oak Welsh Chapel and a low, redundant railway bridge (right) that's only 8' 3" high, which regularly gets struck by drivers who put far too much faith in their Sat Navs. The last time was in 2008 when an Asda home delivery van had its top sliced off! It's been suggested that the derivation of Lancots Lane is 'Lance Corporal Cotts', however that is unconfirmed. The first census reference to Lancots Lane occurs in 1871, with just one house and two lodges but it is clearly stated on the 1849 OS map. In the 1851 census there is a reference to Luncarths Lane, although that is not mentioned in any other census. It's likely that the 1851 census enumerator when enquiring of the name of the street, misheard Luncarths for Lancots.


LEACH LANE & SUTTON LEACH
- 'Leach' or 'leech' has historically referred to a stream that runs through a swamp or bog, which is essentially what one finds between Mill Lane and Leach Lane via the Sutton Brook. Sometimes the term Toad Leach was used and this was how Sutton Leach was described in Greenwood's 1818 map of Lancashire and in newspaper advertisements during November 1829, when proposals for the St.Helens and Runcorn Gap Railway were announced.
View article on Leach Hall
LEA GREEN ROAD
(between Elton Head Road, Lowfield Lane & Chapel Lane) - Lea Green is likely to be derived from the Old English word 'leah', which refers to a clearing in a woodland or forest. Merseyside Archaeological Society believe the original Lea Green estate may have been a Lea or Ley holding belonging to Richard de Standish, who owned Sutton property during the 14th century.

LINDSAY STREET
(off Clock Face Road) - Like Crawford Avenue, the street is named after
David Alexander Edward Lindsay
, 27th Earl of Crawford, whose company owned Clock Face Colliery.

LOWFIELD LANE
(Lea Green) - Named after Lowfield House, which was situated near the street's junction with Lea Green Road. The house dates back to at least 1588. It was then owned by 66-years-old Hugh Ley, whose surname was probably derived from the place name Lea Green, and not the other way round. The house was listed on 19th and early 20th century Ordnance Survey maps, when situated near to the railway station. However on the 1937 OS map, the location is referred to as Lowfield Farm.

MARGARET AVENUE
(off Kent Road, near Sutton Park) - Like the adjacent Rose Avenue, the short street was named after
Princess Margaret
(1930 – 2002)
. The street name was chosen by builders A. J. Kenwright of Robins Lane, who mainly chose names with Royal connections for the houses they built near Sutton Park.

MARINA AVENUE
(off Robins Lane, near Sutton Park) - Named after
Princess Marina of Greece and Denmark
(1906 – 1968)
, who became the Duchess of Kent. Born in Athens, Princess Marina's marriage to Prince George, Duke of Kent, the fourth son of King George V, was the last occasion in which a foreign-born princess married into the Royal Family. Marina's cousin was Prince Philip and her mother was a granddaughter of Tsar Alexander II of Russia. The name of Marina Avenue was chosen by builders A. J. Kenwright of Robins Lane, who mainly chose street names with Royal connections for the houses they built near Sutton Park. These names were then approved by St.Helens Council.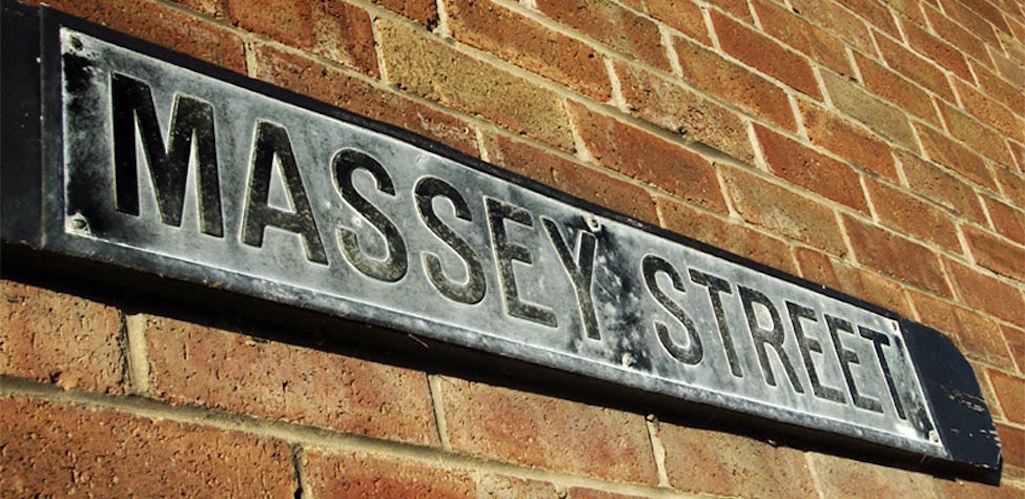 MASSEY STREET
(off Baxters Lane) - Seems to have been named after the Massey family. William was high bailiff of the St.Helens County Court for over 40 years and his son
Joseph Massey
(pictured right) was councillor for East Sutton during the 1880s, with a solicitor's office in Hardshaw Street. It was there on May 27th 1891 that he infamously thrashed
Fred Dromgoole
, manager of the St.Helens Newspaper, for a perceived libel, hitting him twenty times to the head and knocking out a tooth. Massey was also chairman of the St.Helens & District Tramways Co. and the St.Helens Conservative Club. In 1903 as Alderman Massey he was made Mayor of St.Helens.

NORMANS ROAD / LANE
(off Helena Road) - Probably named after William and Mary Norman. In the 1851 census Mary aged 73 is described as a widowed house proprietor resident in Normans Lane. The street (or streets) predates by some years the naming of other roads in the St.Helens Junction district that bear male Christian names and so it is likely that the surname of the couple was adopted as the street's name. Part of Normans Road became part of Houghton Road in 1899.

OLGA ROAD
(off Marina Avenue, near Sutton Park) - Named after the
Grand Duchess of Russia
. However there were two such ladies and it's not certain which one the street was named after.
Olga Constantinovna
(1851 – 1926)
was a member of the Romanov dynasty, who became Queen Olga of Greece and was the grandmother of Prince Philip. There was also
Olga Alexandrovna
(1882 – 1960)
, who was the youngest child of Emperor Alexander III of Russia and younger sister of Tsar Nicholas II. During the later years of her life, living in Denmark and then Canada, she was known as the 'last of the Czars'. The street name was chosen by builders A. J. Kenwright of Robins Lane, who mainly picked street names with Royal connections for the houses they built near Sutton Park.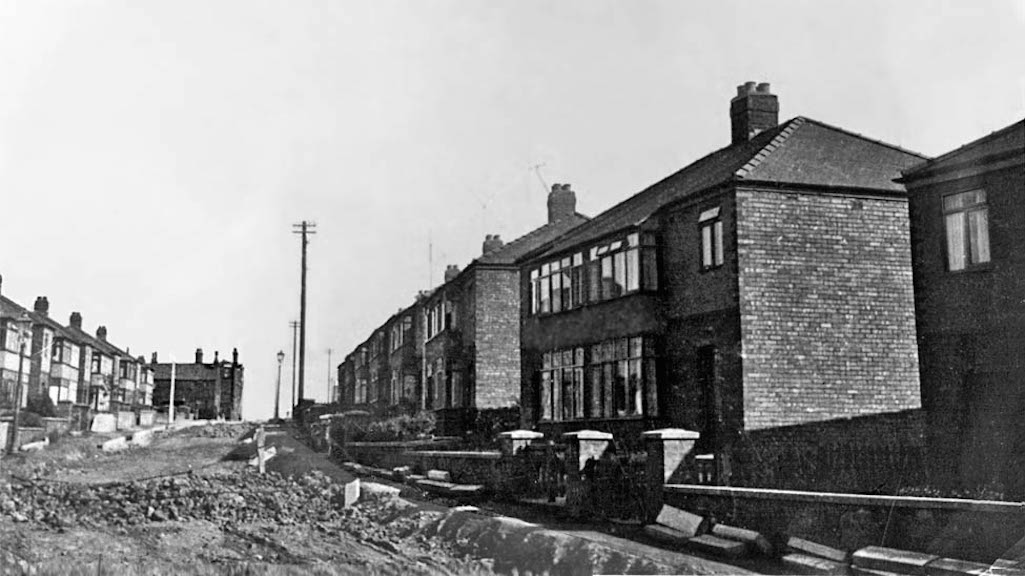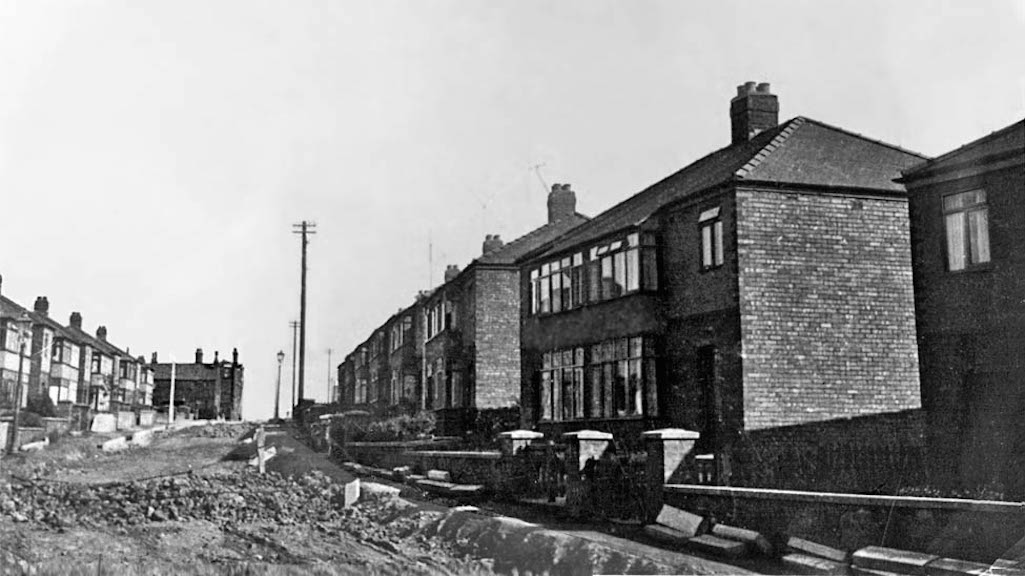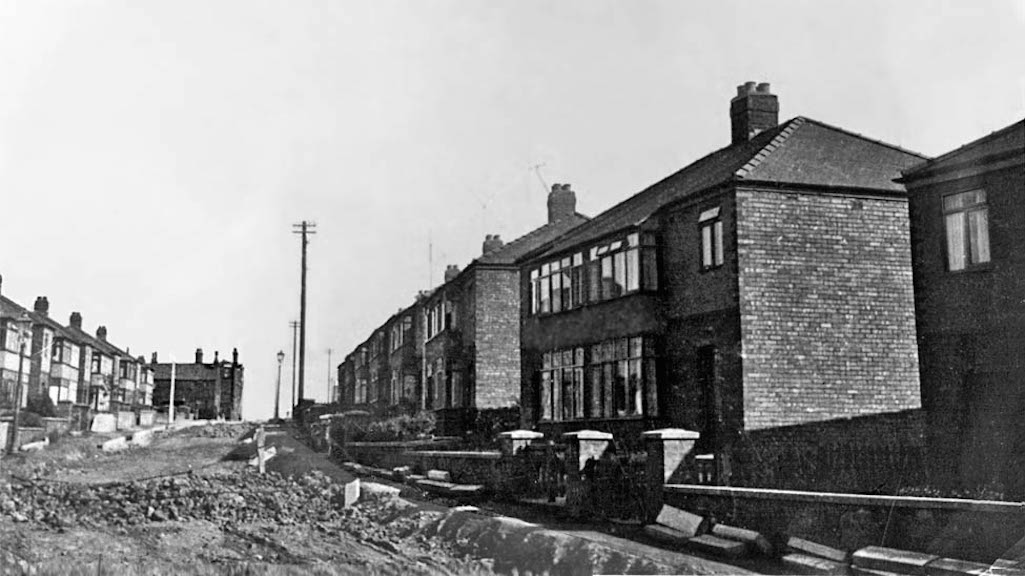 ORVILLE STREET
(off Station Road) - Named after Orville Wright, who with brother Wilbur, built the world's first successful airplane and in 1903 made the first powered human flight. The adjacent Wilbur Street is named after the other brother and both streets are believed to have been built just before WW1.

PHILIP GROVE
(off Marina Avenue, near Sutton Park) - Named after
Prince Philip, Duke of Edinburgh
. The name was chosen by builders A. J. Kenwright of Robins Lane, who mainly chose street names with Royal connections for the houses they built near Sutton Park.

NEILLS ROAD
(off Gorsey Lane) - Named after the Bold Iron Works of William Neill's, who were industrial, chemical and structural engineers. Sometimes it was referred to as Newton Road. More
here
.

ROLLING MILL LANE
(off Watery Lane) - Named after the Rolling Mill factory that opened in Watery Lane in 1860. The lane originally accommodated many of the factory's Welsh workers and was known initially as Copper Works Row. More
here
.

ROSE AVENUE
(off Kent Road, near Sutton Park) - Like the adjacent Margaret Avenue, the short street was named after
Princess Margaret
(1930 – 2002)
with Rose being her middle name. The street name was chosen by builders A. J. Kenwright of Robins Lane, who mainly chose names with Royal connections for the houses they built near Sutton Park.

ROUGHDALE AVENUE
Sutton Manor (off Walkers Lane) - Named after the
Roughdale Brick & Clay Company
which was established around 1860. It closed in 2008 under the ownership of Ibstock Brickworks. The brick company took its name from four fields called 'rough dales' on the western side of Chester Lane on which it sited part of its works. These were identified as such in the will of Katherine Hawarden that was dated 1718/19.

SANDRINGHAM DRIVE
(off Eaves Lane and Marina Avenue, near Sutton Park) - Named after Sandringham House in Norfolk, which has been owned by the Royal family since the 1860s. The name of Sandringham Drive was chosen by builders A. J. Kenwright of Robins Lane, who built some of the early houses in the street. They mainly picked street names with Royal connections for the houses that they built near Sutton Park.

SMITH STREET
(off Peckers Hill Road) - Named after railwayman John Smith who is thought to have arrived in Sutton in 1826 and who was a great benefactor to St. Anne's RC Church. The street was previously known as Paradise Row, Convent Row and Fenney's Lane.

SNOWDON GROVE
(off Kensington Avenue & Sutton Park Drive) - Named after
Antony Armstrong-Jones, 1st Earl of Snowdon
, who was married to Princess Margaret from 1960 to 1978.

SPENCER GARDENS
(off Robina Road, near Sutton Park) - Named after William Vose Spencer, who worked in the Sherdley Estate Office from 1912 to 1956. he leased the land and paid ground rents to the family. The name of Sandringham Drive was chosen by builders A. J. Kenwright of Robins Lane, who built some of the early houses in the street. They mainly picked street names with Royal connections for the houses that they built near Sutton Park.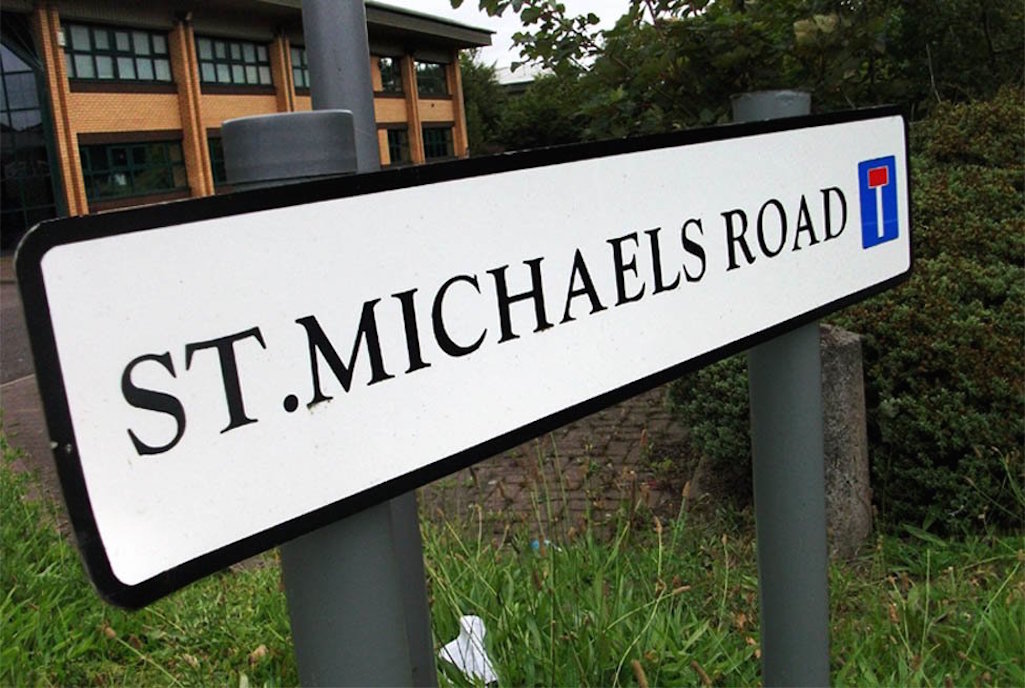 ST. MICHAEL'S ROAD
(off Lea Green Road) - Named after the imposing St. Michael's House which was situated between Walkers Lane and Lea Green Road. It was built in Elizabethan times and had its own moat. More
here
.

THORNHAM AVENUE
(off Marshalls Cross Road / Marshalls Avenue) - Named after the demolished Thornham Villa, which first appears in an OS Map of 1908 and was situated near Sherdley Colliery.


TUNSTALLS WAY
(off Clock Face Road - opposite Clock Face Hotel) - Named after the nearby Tunstalls Farm which was listed on the 1849 OS map and still exists. During the early 20th century the farm was known to locals as Beesley's.

WILBUR STREET
(off Station Road) - Named after Wilbur Wright, who with brother Orville, built the world's first successful airplane and in 1903 made the first powered human flight. The adjacent Orville Street is named after the other brother and both streets are believed to have been built just before WW1.

WILLOW TREE AVENUE / WILLOW TREE PRIMARY SCHOOL
(off Leach Lane) - Named after Willow Tree Farm which was listed on the 1849 OS map. The farm was owned by the Hughes family of Sherdley Hall and on August 31st 1843,
Ellen Hughes
got a court order at South Lancashire Assizes to eject tenant
Thomas Bradshaw
. On October 19th 1886 retiring farmer
Jane Appleton
sold by auction her farm stock which included 11 head of cattle, 36 tons of hay, 50 head of poultry, 3 stacks of white oats from 9 Cheshire acres, 1 acre of turnips and 3/4 acre of potatoes. In 1893 farmer
James Rylance
was charged with shooting a little boy named
Stephen O'Brien
from Walkers Lane. The present-day 'Willow Tree Farm' was built in 1935 and used recently as offices.

YEW TREE AVENUE
(off New Street) - Named after Yew Tree Cottage which was situated in New Street, in between the cricket club and Eaves Lane. The avenue was build by the Heward family in 1937.

Appendix 1: Sutton Street Name Changes
A number of Sutton streets from the 19th century and early 20th, no longer exist and others have changed their name. For the benefit of family history researchers and others, this section will list streets which have been renamed with date if known.
Bold Road
(part of) was renamed Abbotsfield Road in 1899
Church Road
was renamed Monastery Road in 1902
Church Street
(in Pudding Bag) was renamed Woodcock Street in 1902
Ditch Hillock
and part of Gerrards Lane were renamed Waterdale Crescent c.1896
Gerrards Lane
from Robins Lane to Worsley Brow were renamed Ellamsbridge Road c.1896
Ellbess Lane
(formerly Hellbess Lane) was renamed Sherdley Road in 1902
Long Lane
was renamed Reginald Road
Mill Lane
(part from Marshalls Cross Road to Rainhill Road) was originally Sutton Lane, renamed Elton Head Road 1902
Normans Road
(part of) was renamed Houghton Road in 1899
Rigbys Lane
was renamed Gartons Lane in 1902
Thieves Lane
was renamed Eaves Lane in 1902
Appendix 2: A - Z of Sutton Streets
Click Here
to Download 'A to Z of Sutton Streets - 1841 to 1891' - This document lists all of the streets contained within the
1841
- 1891
Sutton censuses.
Click Here
to Download 'A to Z of Sutton Streets - 1901' - This document lists all of the streets contained within the East Sutton and West Sutton wards contained within the
1901
census.
Click Here
to Download 'A to Z of Sutton Streets - 1911' - This document lists all of the streets contained within the East Sutton and West Sutton wards contained within the
1911
census.
Copyright Notice / Factual Accuracy Statement

This website has been written and researched and many images photographed by myself, Stephen Wainwright, the Sutton Beauty & Heritage site owner. Individuals from all over the world have also kindly contributed their own photographs. If you wish to reuse any image, please
contact me
first as permission may be needed from the copyright owner. High resolution versions of many pictures can also be supplied at no charge. Please also contact me if you can provide any further information or photographs concerning Sutton, St.Helens. You might also consider contributing your recollections of Sutton for the series of
Memories
pages. Sutton Beauty & Heritage strives for factual accuracy at all times. Do also get in touch if you believe that there are any errors. I respond quickly to emails and if you haven't had a response within twelve hours, check your junk mail folder or resend your message. Thank you!
SRW