An Illustrated History of Old Sutton in St.Helens, Lancashire
Part 1 (of 92 parts) - Heritage Home Page - The Township of Sutton & St.Helens
An Illustrated History of Old Sutton in St.Helens
Part 1 (of 92) - Heritage Home Page - Township of Sutton
An Illustrated History of
Old Sutton in St.Helens
Heritage Home Page
Sutton Beauty & Heritage's 90 History Pages: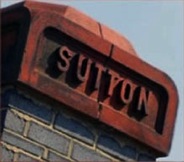 The precise derivation of Sutton in St.Helens is uncertain. It probably takes its name from 'Sudtun' the old English for southern enclosure or south town and was likely to have been the southern portion of a Saxon thegn's estate. Before the Conquest of 1066 AD, Sutton was held by King Edward the Confessor and located within the Royal Forest of West Derby. This extended from Burtonwood to Crosby and in the twelfth and thirteenth centuries, Sutton became part of the Barony of Widnes. Along with fourteen other townships including Windle, Parr and Eccleston, it became part of the large ecclesiastical parish of Prescot and its rich seams of coal, which were first discovered in Sutton Heath around 1540, transformed it from an area of moorland and forest into a thriving community.
The old Township of Sutton included
Peasley Cross
,
Marshalls Cross
,
Clockface
,
Ravenhead
and
Sherdley
and totalled 3,752 acres. Sutton's landowners feared that amalgamation with other townships would result in higher rates and so on financial grounds they stubbornly attempted to preserve Sutton's independent status. However, Parliament was concerned about the living and working conditions in the expanding English factory towns and demanded reforms to improve their citizens' health. It became increasingly recognised in the St. Helens townships that only incorporation into a borough could create a system of local governance that was capable of delivering badly-needed improvements.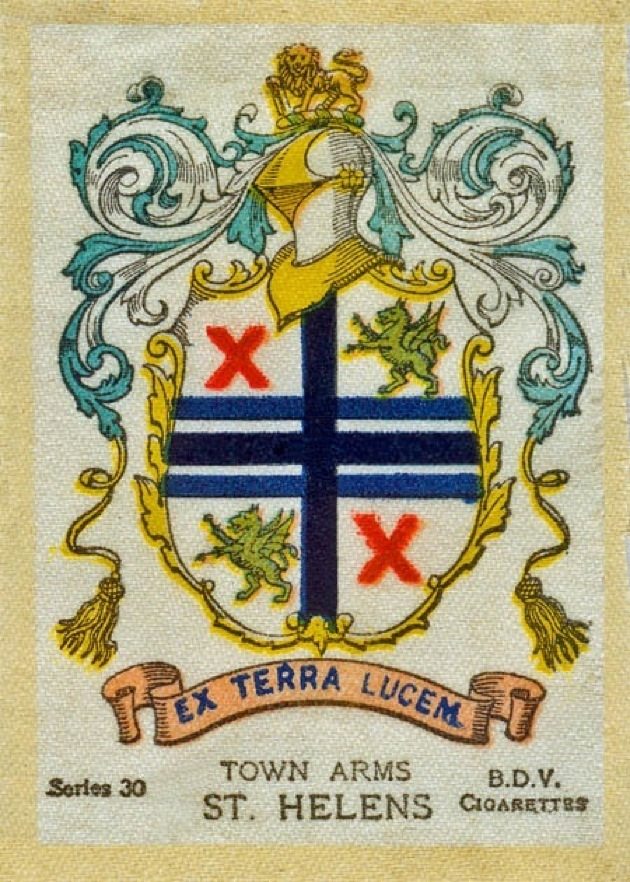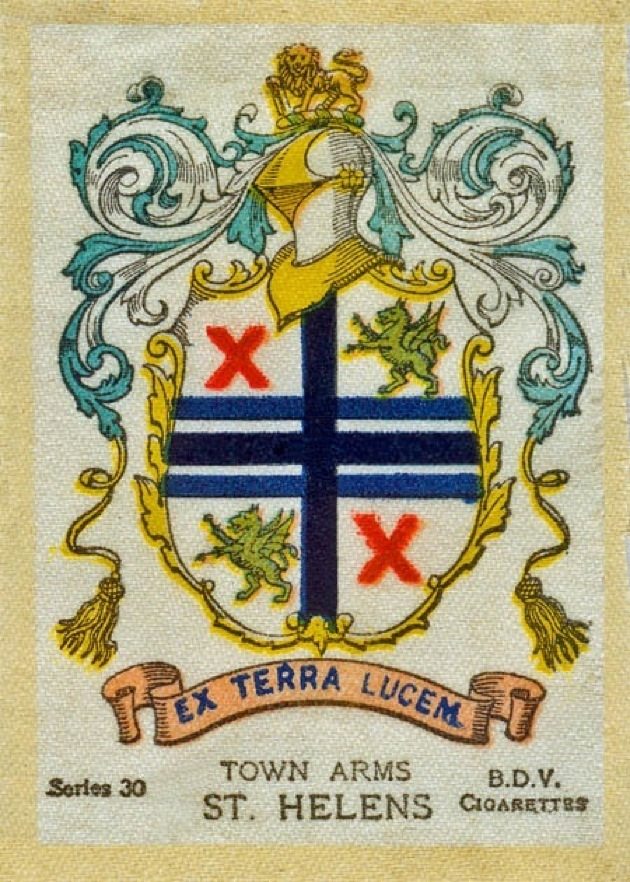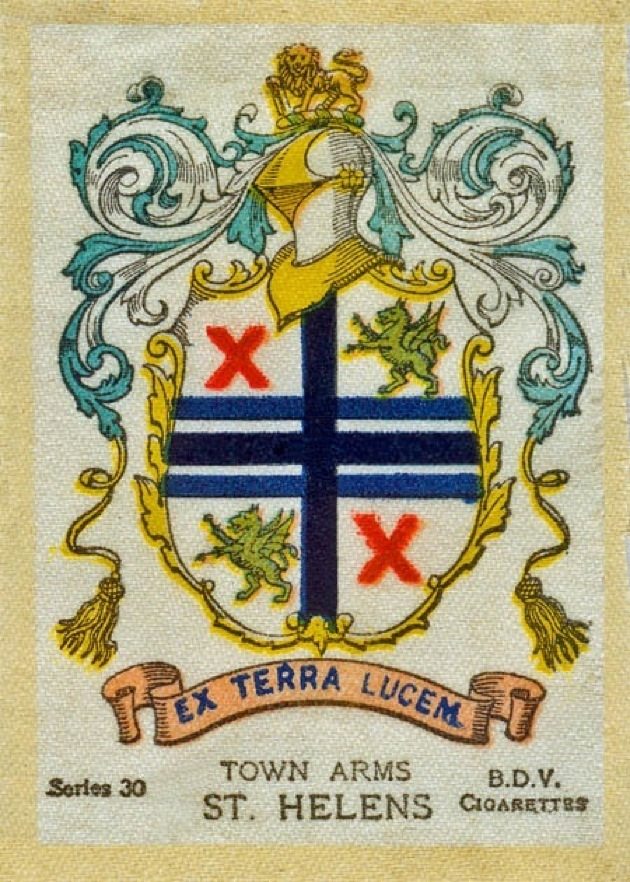 So in February 1865 a public meeting chaired by
Dr. Robert McNicoll
was held and a resolution was passed that the:
Local governing bodies at present existing in the townships of Eccleston, Parr, Sutton, and Windle are various, inefficient and unsuited to the exigencies of the increasing population, trade and manufacture of those townships: and the economic, social and sanitary well-being of the district therein comprising, imperatively call for an improved form of Local Government which a Charter of Incorporation can alone supply.
A public inquiry followed in 1866 conducted by Captain Donnelly and on January 30th 1868 Queen Victoria granted the Charter of Incorporation to St.Helens. The St.Helens Improvement Act of 1869 was quickly passed and the St.Helens Borough coat of arms was granted in 1876 using the motto 'Ex Terra Lucem' (From the Ground Light). This lasted until 1974 when the Corporation became a Metropolitan Borough and a new coat of arms granted.
How Sutton, St.Helens Was Viewed in the 19th Century
This is how
John Marius Wilson
, Imperial Gazetteer of England & Wales described Sutton in 1870-72
:
SUTTON, a township and a chapelry in Prescot parish, Lancashire. The township lies around Sutton-Oak, Lea-Green, and St. Helens Junction r. stations, 21⁄2 miles S of St. Helens; and has a post-office under St. Helens. Acres, 3,616. Real property, £44,146; of which £9,147 are in mines, £170 in canals, £2,640 in railways, and £1,601 in gasworks. Pop. in 1851, 5,288; in 1861, 9,223. Houses, 1,588. There are numerous good residences. Coal, ironstone, limestone, and potters' clay are worked; and there are glass-works, bottle-works, cobalt and zaffer-works, copper-smelting-works, earthen-ware works, drain-pipe works, grease and varnish-works, an oil-refinery, and watch-movement manufactures. A county lunatic asylum also is here. The chapelry includes only part of the township, and was constituted in 1848. Pop. in 1861, 4,071. Houses, 755. The living is a vicarage in the diocese of Chester. Value, £716. Patron, Kings College, Cambridge. The church is in the pointed style. There are a Wesleyan chapel and national schools.
This is how
Slaters Directory of St.Helens
(1895) described Sutton
SUTTON was formerly a township, but now forms part of the township of St. Helens, and is wholly within the borough of St. Helens; it is also an ecclesiastical parish, formed August 17, 1848 from the civil parish of Prescot, of St. Helens; lt has two stations on the St. Helens Junction railway, and is in the Newton division of the county, hundred of West Derby, union of Prescot, St. Helens county court district, petty sessional division of St. Helens rural deanery of Prescot, archdeaconry of Warrington and diocese of Liverpool. The church of St. Nicholas, erected in 1849, is a stone building in the Early Gothic style, consisting of chancel, nave, aisles and a turret containing one bell: there are two stained windows in the chancel, presented by William Pilkington esq.; the east window and three in the aisles were given by William Blinkhorn esq.; there are 350 sittings. The register dates from the year 1849. The living is a vicarage, average tithe rent-charge £548, net yearly value about £400, with 1 acre of glebe, in the gift of King's College, Cambridge, and held since 1889 by the Rev. Maximilian Frederic Breffit Binney M.A. of that college. The church of All Saints, erected in 1893, at a cost of £7,800, defrayed by subscription, is a chapel of ease to St. Nicholas, and has been built to accommodate the large and increasing population near to St. Helens Junction: there are 600 sittings. The Wesleyans have a chapel in Sutton road. St. Anne's Catholic church, erected in 1852, is a stone building in the Early English style, consisting of nave, aisles, transept and a tower with fine spire, and will seat about 500 persons. There are collieries, plate glass works, cobalt works, glass bottle works, copper smelting works, earthenware works and drain pipe works. The St. Helens Cottage Hospital, established here in 1873, has beds for 56 patients; it is managed by a committee of 17 persons, of which the mayor is chairman. William Pilkington esq. is lord of the manor. The principal landowner is Michael J. Hughes esq. The soil is clayey; subsoil, clay. The crops are wheat, oats and green crops. At Lea Green is a station on the London and North Western railway. At Marshalls Cross and Sutton Heath are earthenware works. There is a free Methodist chapel at Marshall's Cross and a Wesleyan chapel at Nutgrove.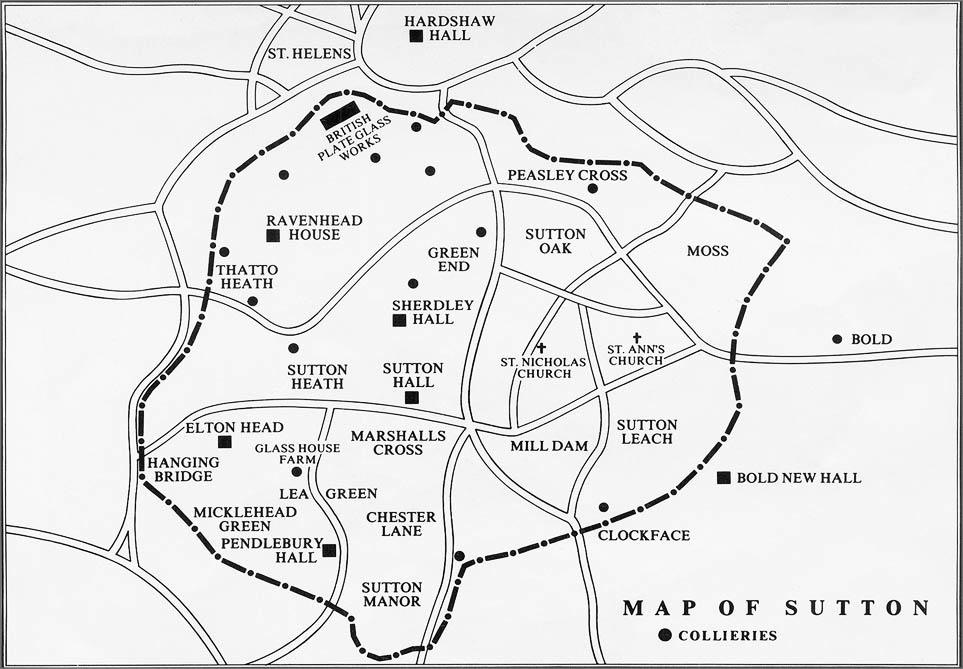 Copyright Notice / Factual Accuracy Statement

This website has been written and researched and many images photographed by myself, Stephen Wainwright, the Sutton Beauty & Heritage site owner. Individuals from all over the world have also kindly contributed their own photographs. If you wish to reuse any image, please
contact me
first as permission may be needed from the copyright owner. High resolution versions of many pictures can also be supplied at no charge. Please also contact me if you can provide any further information or photographs concerning Sutton, St.Helens. You might also consider contributing your recollections of Sutton for the series of
Memories
pages. Sutton Beauty & Heritage strives for factual accuracy at all times. Do also get in touch if you believe that there are any errors. I respond quickly to emails and if you haven't had a response within twelve hours, check your junk mail folder or resend your message. Thank you!
SRW