An Illustrated History of Old Sutton in St. Helens, Lancashire
Part 20 (of 80 parts) - Sutton Manor Colliery Part 1 (1906 - 1959)
An Illustrated History of Old Sutton in St.Helens
Part 20 (of 80 parts) - Sutton Manor Colliery Part 1 (1906 - 1959)
Of all the old pits in St.Helens,
Sutton Manor Colliery
probably evokes the most passionate reminiscences. One reason is that it's still in the recent memory of many Sutton folk and the mine's closure in 1991 with much coal still underground, caused considerable bitterness with management and unions arguing over its economic viability.

Sutton Manor was the only St.Helens colliery to be opened during the twentieth century and it was the last to close (apart from Parkside). Did you know that it was also the last colliery in the country to employ a steam winder? It dates back to
May 1906 when no.1 shaft with a diameter of 18 feet was sunk by local coal proprietor Richard Evans. This was completed in December 1909 when the shaft was extended to a depth of 1,823 feet.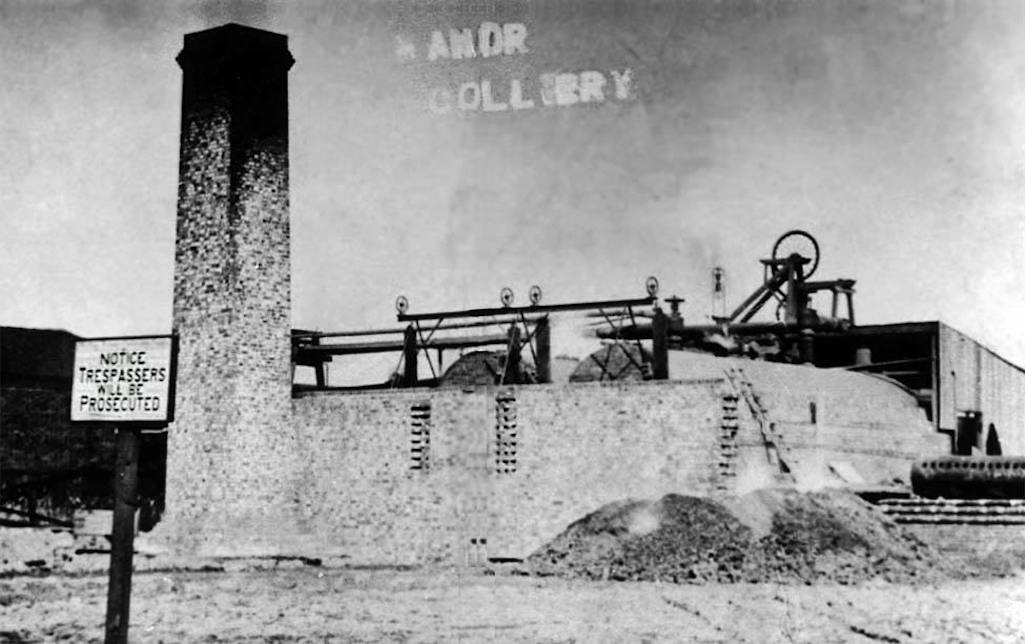 The first known photograph of Sutton Manor Colliery - undated but probably about 1915
The sinking of no.2 shaft at Sutton Manor began in July 1906 with a shaft diameter initially measuring 22 feet. This was completed in 1912 and extended to a depth of 2,343 feet
(one source claims a depth of 2107')
. The two shafts were inter-linked and it became one of the largest pits within the Lancashire coal field.

The accounts for the financial year of 1907-8 have survived and reveal that the colliery had a budget of £35,000 of which £1200 was spent on a boiler, £2,175 on winding engines, £1000 on railway and siding and £4000 was expended on wages. However, the creation of the new pit had more than a financial cost. In July 1908, 34 year-old
Fred Tiplady
was fatally injured by a falling girder whilst attempting to erect a new headgear and he was far from being the last casualty at Sutton Manor.

In fact more than 60 people were killed working at Sutton Manor Colliery throughout its 85-year-history and over 270 were injured. Irish immigrant
Patrick Joseph Fahey
worked there during its early years and made quite an impression on his colleagues. He dug out injured workmates after what was probably a roof fall and then carried them on his back to the pit head. It's said they carved his name at the pit entrance in gratitude. Fahey, incidentally, became village bobby in Rainhill and his wife was the local midwife.

On May 29th 1909, 32-years-old
Henry Jackson
of Jubilee Cottages, Clock Face, was lowered down a shaft in a hopper to examine pumps and guide rods. He overbalanced and fell eighty yards to the bottom of the shaft, dying soon afterwards. Jackson lost his life on the eve of his wedding. 1913 was a bad year for accidents at Sutton Manor with a total of three deaths, including 51-years-old
Thomas Hurst
of 110 Gartons Lane who died on April 16th, five weeks after being struck by a fall of rock.
Peter Owens
of 8 Powell Street was fatally injured by a roof fall on September 22nd, his first day at work. Peter's mother Annie was subsequently awarded £175 compensation for the loss of her son. 1913 also saw a number of serious injuries to workers, such as on August 13th when
William Rigby
of 10 Oxley Street,
William Beckett
of 28 Milton Street and
Robert Faulkner
were badly injured in yet another roof fall. In the following year (on 18th March),
John Lowton
, a 15-years-old haulage hand, lost his life. He was crushed to death by runaway tubs of coal and was the youngest worker to die at the pit. However despite the accidents, it was an exciting time in the district.

On February 2nd 1914, the Liverpool Evening Express - in an article entitled 'Glassborough. A Prosperous Lancashire Town. How St. Helens is Growing' - described the industrial advances being made in the town. The author wrote about the 'wonderful development' that was taking place at Sutton Manor in which extensive coal beds lay beneath its 'smiling countryside' and where growth had been 'phenomenal'. It was described how the venture had endured seven lean years until the financiers of the mine gave the management an ultimatum that unless coal could be found within a week, 'the pit goes'. The article went on to claim that it wasn't until the seventh day of the deadline week that an Irishman named
Duffy
'bored his way right into a first-class seam of coal, and announced his find with a joyful Hurroo'. Sutton Manor had to overcome a number of difficulties in locating a seam of coal that could be economically extracted over the long term. Its coal seams were very deep and there were major faults in the strata. The latter created significant interruptions in the seams, causing directional changes that weren't easy to track.

These and other factors led to expensive delays before coal could be wound up Sutton Manor's shafts but it was soon making up for lost time. The mine had only begun production in 1912 but by 1914 was already achieving an output of 700 tons of coal per day. The Times for their part reported how building firms were profiting as the newly-recruited Manor pitmen and their families needed housing:
A town has sprung up where a few months ago there were only fields, and the builders are unable to keep pace with the demands for the erection of sufficient houses to accommodate the miners and their families.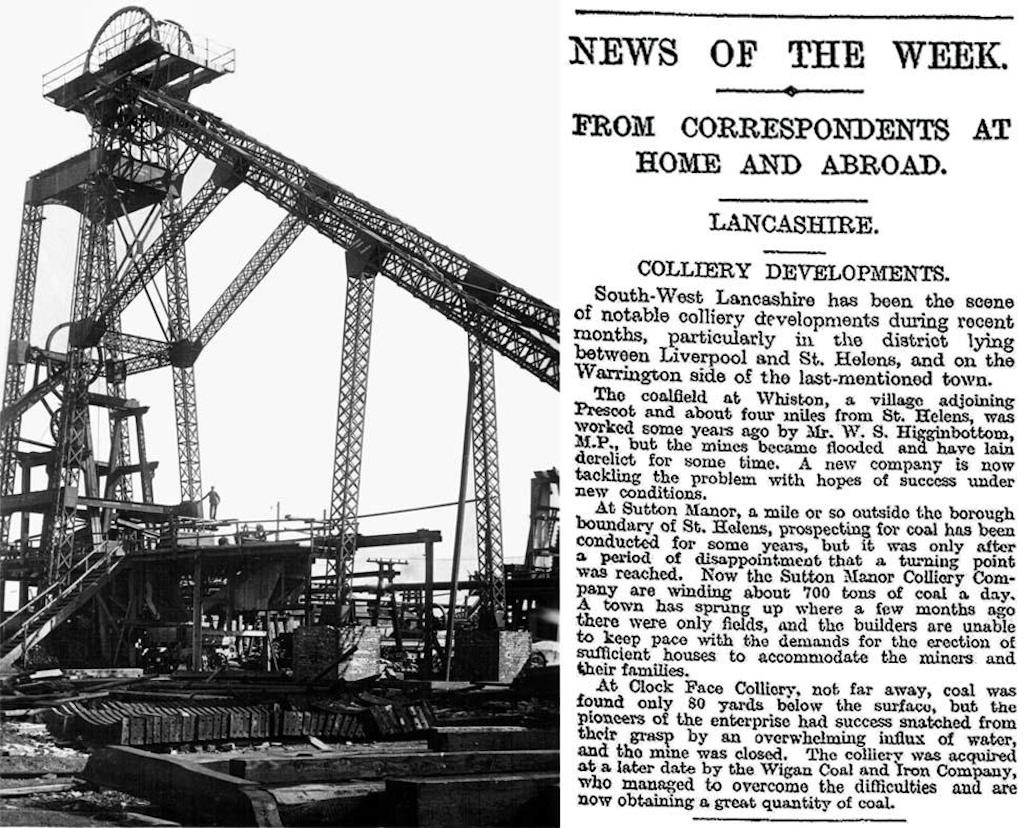 Left: 100 ft steel headgear constructed and erected by John Booth & Sons of Bolton c.1915; Right: Times article 4/2/1914
In April 1914 Sutton Manor miner
George Cottle
was sentenced to 10 years imprisonment for attempting to murder his landlady,
Ellen Fleming
, at 30 Tennyson Street. You can read more about this
here
. A third shaft with a diameter of 18 feet was started in 1914, but with the outbreak of the first world war, sinking was suspended at a depth of 180 feet and the shaft was subsequently filled in. On April 9th 1914,
John Hughes
was killed by a roof fall when using a coal cutting machine. This was not only a tragedy for the 41-years-old's family, it exacerbated Sutton Manor Colliery's recruitment problem. The company was experiencing a shortage of skilled men able to operate the coal cutting machinery and on July 28th manager
Thomas Cook
found himself in court. He admitted allowing some coal-cutters to work double shifts and so was prosecuted for breaching the Eight Hours Act of 1908. In fact Sutton Manor was the first colliery in the country to be charged with contravening the act.

Boys will be boys whether it's war-time or not. On March 23rd 1915
William Parr
and
Peter Ashton
from Milton Street found themselves in front of St.Helens magistrates charged with releasing waggons at Sutton Manor Colliery. They'd allowed them to run onto the main line and had torn off labels, which had caused confusion as the waggons were addressed to different ships at the docks. For their bit of mischief, both boys were sentenced to six strokes of the birch. On April 6th 1915, 52-years-old Samuel Randles of Chester Lane was killed by a fall of roof.
In February 1916 an inquiry was held into the Sutton Manor Colliery Co.'s application to construct a new railway. This would connect the pit with the Liverpool & Manchester line and replace an inadequate temporary line which was hampering its coal distribution. Alterations to Jubits Lane, Walkers Lane and Lea Green Road, with some road diversions, would be required at an estimated cost of £1315. The colliery company agreed with St.Helens Council to contribute £800 towards the cost of the roadworks. The General Manager
John Robinson
revealed at the enquiry that they had lost between 300 to 400 men through the war but when it was over "there would be a great development and the district round the colliery would be a very busy one". He also predicted 70 years work at the colliery with the intention of generating an annual output post-war of 1 million tons of coal.


Liverpool Evening Express 24/1/1914; Pte. Joseph Halsall & Miners Agent Joe Tinker in 1935
St.Helens miners were regarded as experts at the front and officers often consulted them on the best means of mining under German trenches. Several were awarded the DCM (Distinguished Conduct Medal) for their skill and bravery. Of the near four hundred Sutton Manor colliery miners who went to fight, many didn't return. These included
Pte. Joseph Halsall
of the 6th Battalion of the Prince of Wales's Volunteers (South Lancashire Regiment) who was killed at Gallipoli on August 10th 1915.

There were three deaths at the colliery during 1915, at least one in 1918 and three in 1919. 26-years-old
Frank Mason
took a full year to die after his spine had been broken by a fall of stone on April 10th 1917. Three Manor men also lost their lives in 1920.

Leisure facilities for the mineworkers greatly improved in 1922 with the opening of the Miners' Institute. This became the entertainment centre of the village and was a corrugated iron building situated in Jubits Lane, opposite Bell Lane. It had a bar room, a games room with billiard / snooker tables and a larger room that was used for dances and brass band practice. Curiously on Sundays the latter space became the Sutton Manor C. of E. Mission and alcohol stopped being served. There was also living quarters that was occupied by the club stewards, who during the 1930s was the Greenall family. The outside sports facilities included a bowling green, two tennis courts and a cricket field, that was later used for football. In fact the Sutton Manor Colliery football team had been in existence almost since the start of the mine and during the 1913/14 season it was in Division 1 of the St.Helens District League.

The most common causes of accidents were explosions of firedamp - the flammable gas found in coal mines - plus roof falls, as well as haulage accidents that were sometimes caused by youthful exuberance. On April 17th 1923, 18-year-old haulage hand
William Gee
was also killed by runaway tubs of coal at Sutton Manor. The divisional inspector of mines said at Gee's inquest, held at St.Helens Town Hall on the 19th before veteran coroner
Samuel Brighouse
(1850-1940)
, that he'd probably been riding an empty box down a brow when the accident happened and so the coroner ruled misadventure. He had quite a busy day, as he also conducted an inquest at the Clock Face Hotel on the death of
Alfred Davies
, who was a foreman at
Clock Face Colliery
.
The 1926 national lock out / strike hit the community in Sutton Manor hard. The miners were locked out of their colliery on May 1st for refusing a cut in their wages. The general strike took place from May 4th until the 12th and then the lock out continued for a further 28 weeks. A soup kitchen was set up in the Wesleyan Mission Church in Milton Street where wives of striking miners prepared hot midday meals for the men. People donated food and vegetables and a jazz band was formed that toured neighbouring towns to raise funds for the kitchen.


Relations with the police became very poor. On August 28th
Gordon McDonald
of the Lancashire & Cheshire Miners' Federation Executive argued that not all of the police in St. Helens were against the strikers but those on duty in Sutton Manor were becoming notorious. At a meeting McDonald said: "In a police force containing many thousands you will find dozens of brutes and cowards among them – in Sutton Manor, maybe, who will call Sutton women swine". Police were billeted in the colliery workshop and mining institute and in a lodging house in Jubits Lane and they paraded round the Manor in pairs challenging any small group. For a short time the strikers and their families were allowed to gather coal from the colliery spoil heap but this became prohibited and the police looked out for offenders.
Some miners worked during the dispute which caused much bitterness. The miners' institute was dubbed the 'scab club' as most of their patrons were the so-called 'blacklegs'. The locked out men were denied access and so built an alternative club in Walkers Lane out of two ex-army huts. In one incident in August 1926, alleged blacklegs
David Eden
and
J. Chisnell
were accosted on Jubits Lane while cycling to work by a dozen men armed with sticks and pick shafts.

Reporting to the House of Commons,
Joe Tinker
– the MP for Leigh and miners' agent – said that on August 22nd three thousand men had processed peacefully to Sutton Manor. Tinker, who lived in St.Helens, told MPs that police were rushed past them in wagonettes and charabancs. While their meeting was in progress, some of the blacklegs showed themselves provocatively to the crowd and the pits' pulleys went round. Tinker claimed that it had been a direct incitement which had been intended to start a riot, so the police could rush in and "give us the lesson they thought we should have."


In an article in the Hull Daily Mail of August 27th 1926, it was claimed that 50 men were employed on the coal face with nearly 100 other colliers, enginemen and other staff working elsewhere at the pit. The report stated that they were under police protection with an "army of wrathful men, backed by crowds of excited women" outside. At one point the hundreds of strikers thronging Jubits Lane were startled by two cartloads of coal that suddenly left the colliery. However they were pacified when told it was being donated to the local schools, so they could cook food for the children.

By October life was becoming intolerable for many miners. An announcement by the Board of Guardians that they would be reducing relief to miners' wives and children by 10% from the 21st was a further blow. The privations were forcing more men at Sutton Manor to return to work tempted by the inducements that the management was offering. Miners' agent and MP Joe Tinker claimed at a meeting on October 13th that they were offering "£1 bribes, a load of coal and back rent knocked off". The colliery's management were also visiting the men and telling them that unless they returned to work, their jobs would be given to others.

Speaking at another meeting on October 24th, Tinker denied a story that had been printed in the Manchester Guardian that men were flooding back to the pits in St.Helens. However he was forced to admit that 70 had gone back at Sutton Manor, the largest number of the town's collieries, although the management claimed it was even higher. Within a month the union had to admit defeat and the colliery owners' terms were agreed in Lancashire on November 23rd.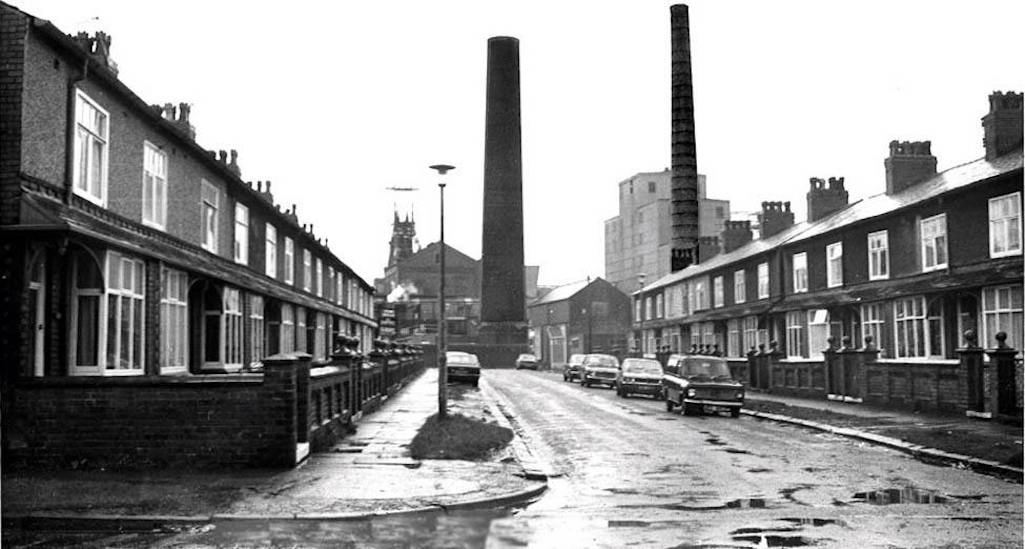 A view of Sutton Manor Colliery from Tennyson Street - photograph by Ian Lally
Sutton Manor mineworkers who got injured were entitled to compensation, although it was not on the same scale as today. In January 1927
James Cunningham
was awarded 16s 3d per week in the County Court for an ankle injury he'd suffered nine months earlier. This was payable for as long as he couldn't work but was much less than his weekly wage had been.
During the 1930s, Sutton Manor Colliery's safety record improved, leading to less business for
Sir Samuel Brighouse. He was highly experienced at inquiring into the deaths of colliers during his 55-year-long tenure as coroner for South West Lancashire. As a consequence he developed considerable knowledge of mining practice and understood that accidents were inevitable in such a hazardous occupation. In 1935 when 37-year-old colliery haulage hand
John Abbott Almond
, who was employed at the Florida Mine of Sutton Manor's No.1 pit, was crushed to death by a six feet-long stone, Coroner Brighouse holding Almond's inquest praised the colliery management:
These men work down mines in a dangerous occupation....There is one great thing in favour of these employers. I have been told they have never had an accident at this pit since the year 1929. That is a very great record.
Three years later,
Richard Bebbington
(1909-1938)
died after a fall of coal at Sutton Manor, leaving a wife and three young daughters. The inquest, conducted as usual by Sam Brighouse, heard from
James Holland
, a colliery fireman who lived in Sutton's Alice Street. Holland said that on January 3rd 1938, Bebbington had been loading coal when the top coal began inexplicably to topple over onto Bebbington.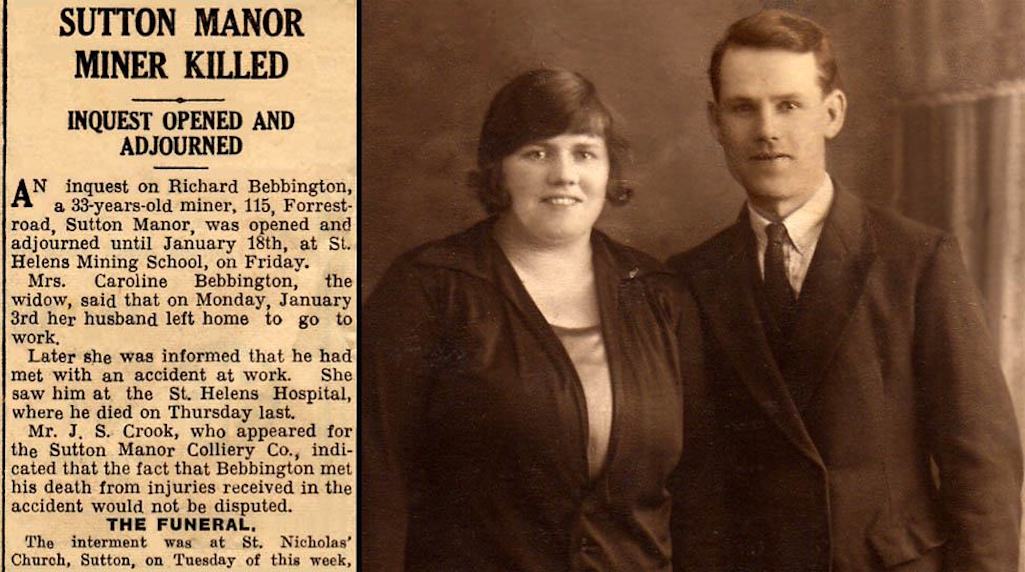 Richard Bebbington, miner at Sutton Manor Colliery, pictured with wife Caroline (contributed by Mel Moran)
Not knowing precisely what caused an accident in a pit was quite common and wasn't something that usually troubled Coroner Brighouse. He explained to the jury how miners weren't able to hear the pit roof crunching and about to fall, because of the noise made by electrically-driven coal cutters. Such things didn't exist when Sam Brighouse first began conducting inquests on deceased miners. However, improvements in technology and practice were, in general, making the mines a safer workplace as the 88 year-old coroner stated at Richard Bebbington's inquest:
There is one consolation. We are not holding two inquiries every week into men killed in the mine, like we are in connection with road fatalities.
This was probably very little consolation, indeed, to widow Caroline Bebbington and her three young children who'd lost their father. Later in 1938 on October 19th,
John Fazakerley
at 70 years of age became the oldest Sutton Manor pitman to lose his life. John of 93 Raglan Street, was crushed by runaway tubs while working down the Ravenhead mine. Both fireman
Thomas Cook
of Clock Face Road and
Clifford Featherstone
of Crawford Street had warned Fazakerley to take care while boxes of coal were being brought down. As a consequence of the accident, a new method of securing boxes was introduced.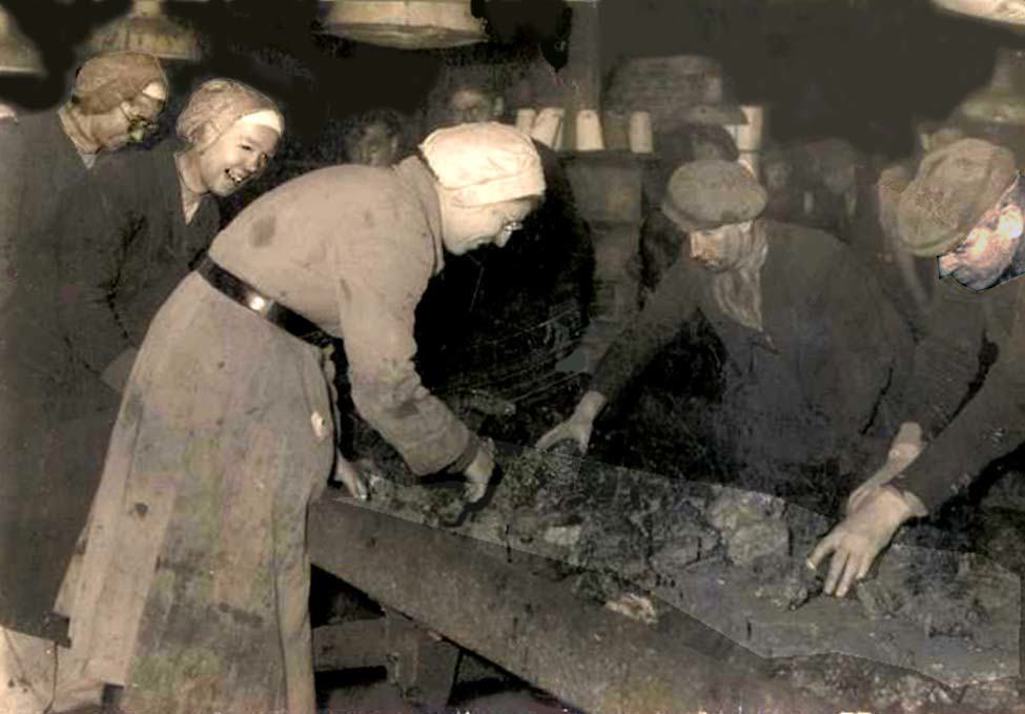 Mary Ludden on the coal belt at Sutton Manor Colliery's screens (contributed by daughter Jane Mines)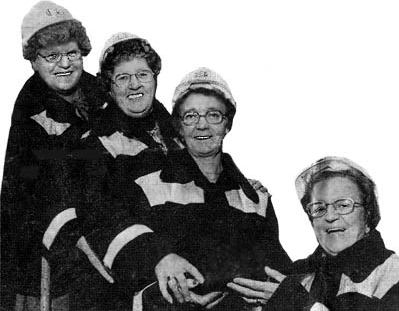 Women and girls played their part at Sutton Manor Colliery and often had demanding jobs, especially in the pit's early years. Many worked in the lamproom or as 'pit brow lasses' in the screens plant, picking out rock and dirt from the coal belts. Pictured right (L-R) in February 1980 are former screens girls
Mary Ludden
,
Rita Randles
,
Mary Taylor
and
Betty Lees
. The latter had just retired from Sutton Manor after 47 years service and Betty was quoted in Coal News saying that she had begun work in 1933 as a 14-year-old screens girl:
It was hard work for a young girl and the conditions were not very comfortable, but I've enjoyed being with the industry because of the companionship you get with fellow workers. When I started here there were 48 girls on the screens, but when I became an office cleaner in 1968 there were only two of us doing the job.
Women played their part in other ways, including organising the annual Rose Queen Walking Day. The children would often be dressed as sweeps or soldiers and the under 8's had a Fairy Queen, who was accompanied in the procession by six fairies. All of their costumes were made by the women of the Sutton Manor village.

The procession began from a field at the side of the Miners Institute and was led by a banner, followed by small children and then the colliery band. On a float came the Rose Queen with her ladies in waiting, followed by children in costumes and more floats decorated with paper flowers. The procession would end on a field at the side of what is now The Smithy Manor pub.

For the first twenty years of the colliery's life, women played a major role in the home in washing their man's filthy clothes and with hot water already prepared, helped to get their blackened husband clean upon arriving home from the pit. A major advance as far as both sexes was concerned was the opening of the pithead baths on September 21st 1931.
Jennie Lancaster's
father worked as a blacksmith at the colliery and told the pupils of Sutton Manor Primary in 2006 how he bathed in a tin bath in the corner of their washhouse which her mother filled with hot water from a fire boiler. Then the baths opened:
Mum and I went with Dad to the grand opening. We walked in with all the white tiles everywhere. We walked around and then the water was turned on to show us how they worked. The place was so big, it was like a palace to us.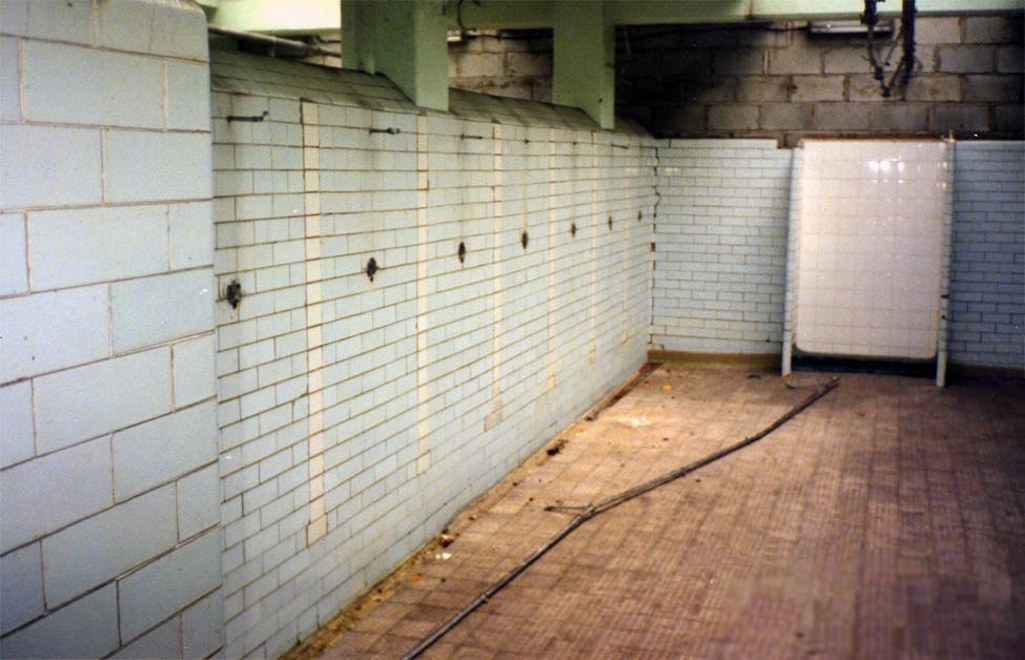 The showers in the baths at Sutton Manor Colliery during demolition in 1992 (contributed by Mel Moran)
However, there was no provision for the women who worked in the coal screening plant and who became covered in coal dust. By the end of their shift they were as black as the men who worked underground! Married women were not employed and when a girl got married, she automatically lost her job!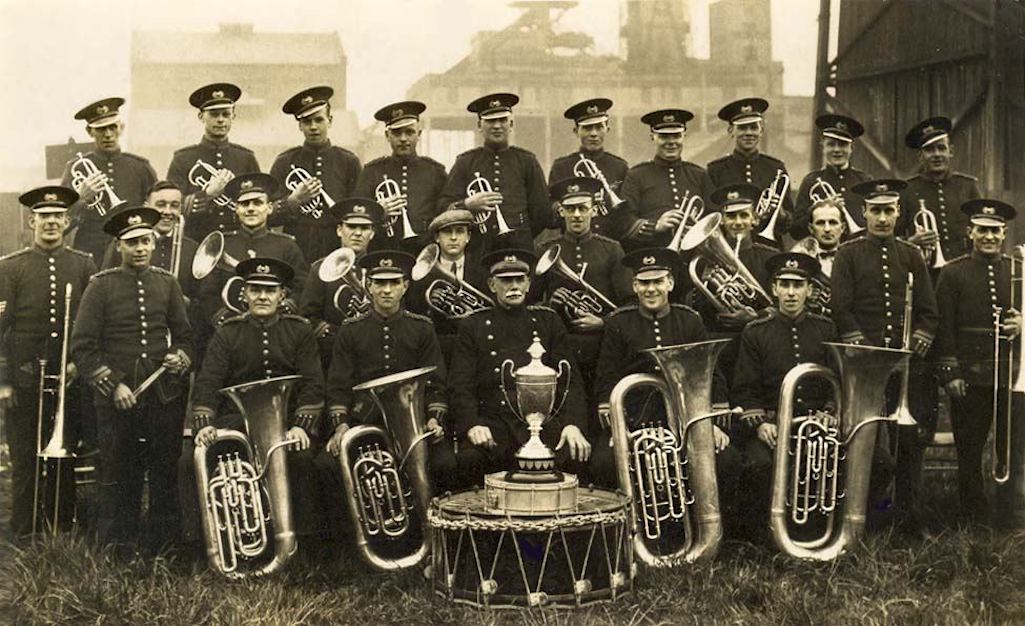 Sutton Manor Colliery Institute Band around 1930 (contributed by Colin Atkinson)
On Saturday February 27th 1932, the Sutton Manor Colliery Institute Prize Band, as it was then known, performed in a live 15-minute broadcast on BBC radio. Newspaper listings credited
W. Kenyon
with a trombone solo and
E. Clayton
with a cornet solo.
John Armitage's
baritone provided some vocals in the programme scheduled for a 7:45pm transmission. The above photograph shows the band around 1930. On the back row second from right is
Ronnie Dorning
; fifth from right is
Fred Aitken
and Assistant Bandmaster
Percy Dutton
is holding a trombone on the far left of the middle row. On the front row standing far right is the aforementioned Billy Kenyon and second from right is
Ernie Howell
. The man with a bow tie is probably a visitor from Clock Face called
Pennington
. On the front row, first left, is
Jack Houghton
(of Milton Street); second left is
Fred Prole
(Forest Road) and
Jack Gaskell
is the bandmaster in the centre.
Fred Barton
is second from right and
John Gaskell
, the bandmaster's son, is pictured far right. Thanks to George Houghton for the identification and Colin Atkinson for the photo. Do please
get in touch
if you can identify any others.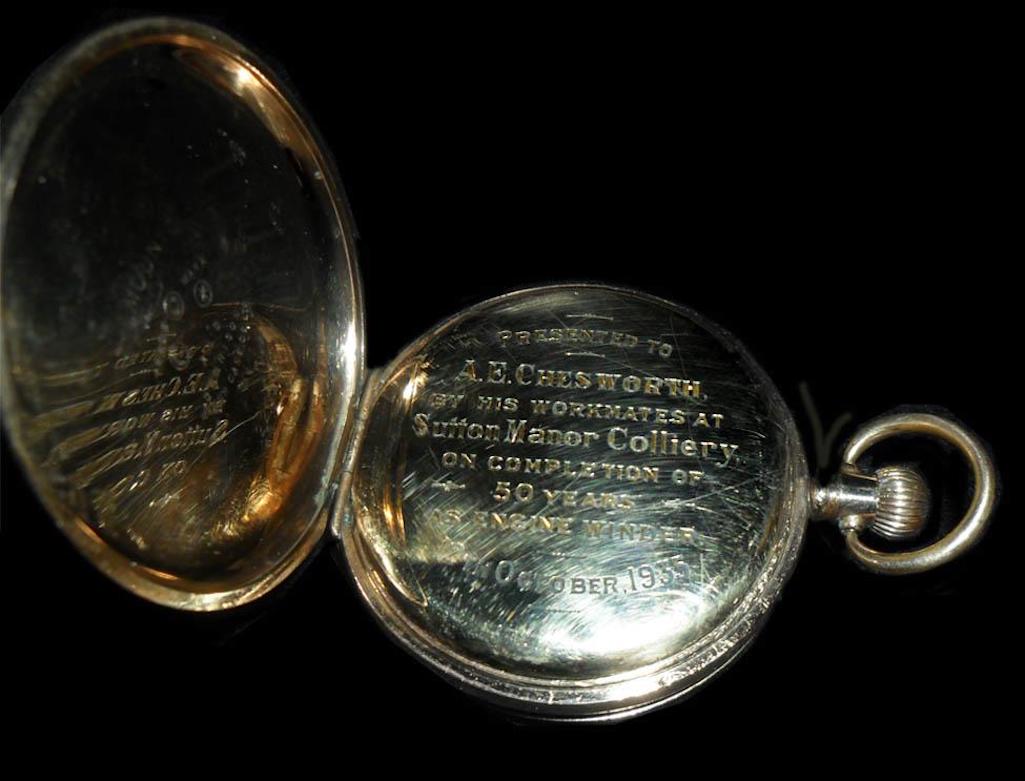 Arthur Chesworth's Omega watch presented after 50 years as an engine winder (contributed by Andy McEwan)
On October 12th 1935
Arthur Edward Chesworth
was presented with a gold-plated Omega watch by his workmates after fifty years service in the mining industry as an engine winder. Just how many years at Sutton Manor isn't known, but it may well have been from the beginning of operations. Arthur, who lived at 35 Tennyson Street in Sutton Manor, was clearly loved by his colleagues who had clubbed together to buy this expensive timepiece.
Thomas Aldred
was another longstanding miner who retired as under-manager about 1944 after decades of employment at the colliery.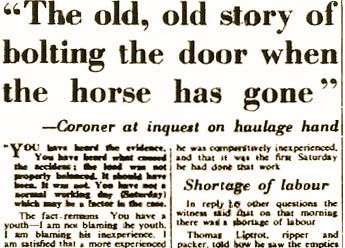 The extensive use of the baths at Sutton Manor and other pits was causing problems for bus conductors as miners were too clean! Under a heading 'You can't tell a miner these days', the St.Helens Newspaper of October 14th 1949 reported how the St.Helens Corporation had successfully applied to the Liverpool Traffic Commissioners' Court for permission to cease colliers' day work return bus tickets after 9am. This was because bus conductors were unable to distinguish between miners and other workers as they were taking 'full advantage' of the pithead baths. This short story was placed on the front page of the newspaper, adjacent to a lengthy account of the death of
Peter Fitzhenry
at Sutton Manor. The coroner at his inquest,
C.M. Bolton
, described it as "...the old, old story all over again of bolting the door when the horse has gone."
The sixty-seven years-old haulage hand from Milton Street died in St.Helens Hospital just over two weeks after being injured in No. 2 Pit. He was struck down on September 24th 1949 by a runaway empty tub that young inexperienced
Thomas Maher
of Sutton Road had failed to secure. Since the accident, a warrick (or warwick) safety device had been installed by the management to prevent unbalanced loads from running away at that location. This was too late for elderly Irishman Peter Fitzhenry, who'd worked at Sutton Manor for many years despite only having one arm. The man who
C. Tyrer
, the President of the Lancashire and Cheshire Miners Federation, described as a 'grand type of worker' lost an arm in 1917 as a result of injuries sustained in the Battle of Arras, after volunteering to fight for the British in WW1.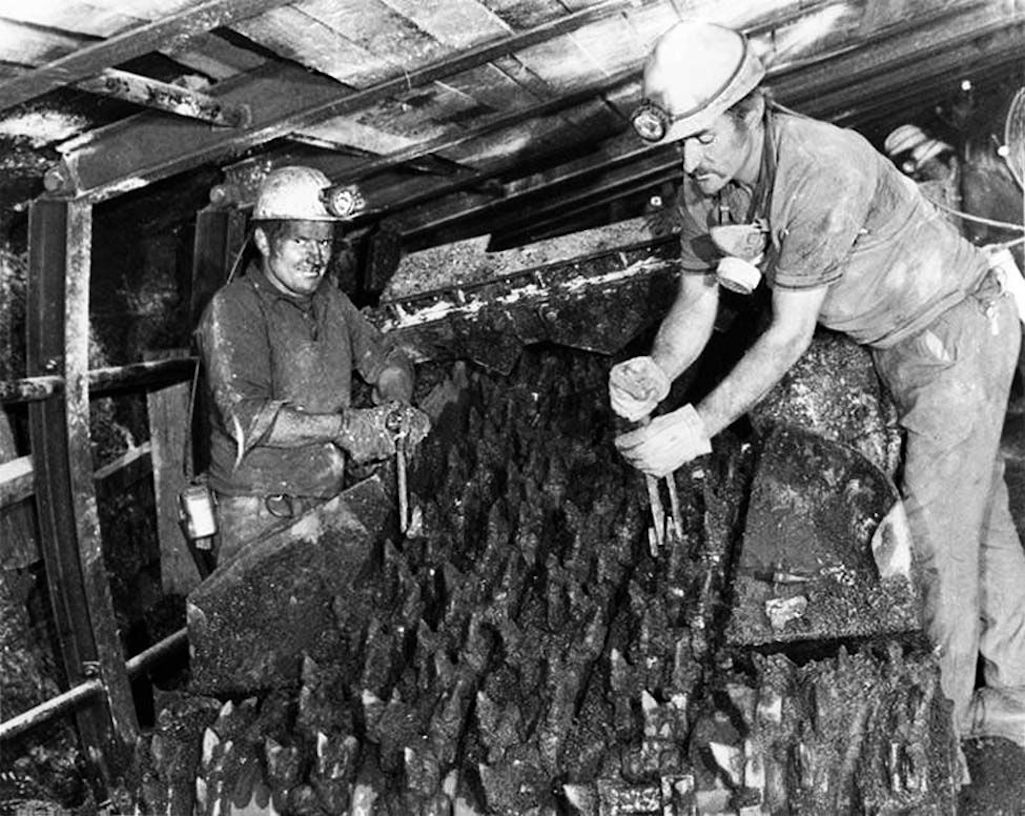 Changing the cutter picks on the road heading machine which cut the coal then transported it back down the shaft
Despite Fitzhenry's death, Sutton Manor Colliery was becoming a safer place to work as a consequence of improvements to working practices and technology. Although on 23rd February 1950, the pitmen were reminded that their job could be hazardous when a bar of iron mysteriously fell down a shaft, striking and killing 32-year-old
William Sweeney
who was in a descending cage. Two others miners were also killed that same year and three more died in 1954. There were eight black years within the life of the colliery when as many as three miners perished within the year (1913, 1915, 1919, 1920, 1928, 1941, 1950 & 1954). Thankfully 1954 was the last.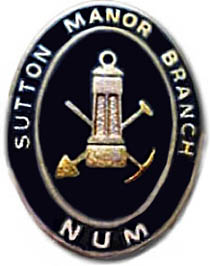 There were a number of industrial disputes at Sutton Manor during its lifetime. In 1950, twenty-five miners at the pit and twenty-six at
Bold Colliery
were each ordered to pay £10 damages by a court at Widnes for breach of contract. This was through an unofficial strike that they'd undertaken in March in which they cited unfair conditions. Most of the miners refused to pay their fines, so in September the Coal Board returned to court and obtained committal orders against 21 men at Sutton Manor. A 42-years-old miner called
John
(or Jim)
Horrocks
was the first to be arrested and was imprisoned in Walton and then Preston jail. This outraged the miners at Sutton Manor and Bold pits, who held meetings and voted to go out on strike once again.

A deal was struck between the employers and the general secretary of the
Lancashire and Cheshire Miners' Federation
in which Horrocks would be released from prison and the miners would return to work. However, the Sutton Manor lads weren't consulted and although Horrocks was duly released, they opted to stay out. So on September 16th, twelve more Manor miners who hadn't paid their breach of contract fines were despatched to Walton.

The Sutton Manor branch of the
National Union of Mineworkers
held a meeting and decided to pay the imprisoned men's fines. They were told that £117 was needed which was a substantial sum in those days and there wasn't enough in the kitty. So they ended up borrowing from family and friends to make up the shortfall and get their colleagues released. The disgusted NUM members in Sutton Manor also passed a resolution calling on the Lancashire president of the union to quit.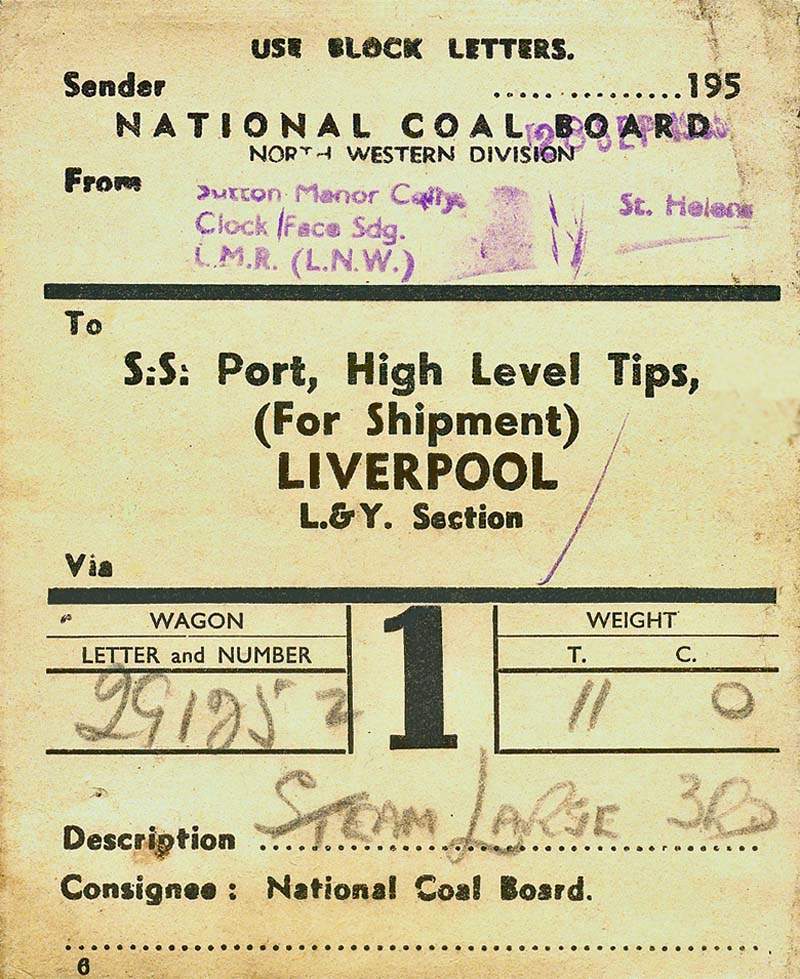 NCB Wagon Label - Sutton Manor Colliery to Liverpool Docks from September 28th 1955
During 1952-7, the colliery was re-organised and no.1 shaft was deepened by 683 feet, creating a total depth of 835 yards or almost half-a-mile (one source states an extension of 494'). No.2 shaft was deepened by a further 183 feet and new pit bottoms were also constructed. New screens were also installed and a new winding drum was added to No.2's winder. Provision was also made for locomotive haulage. The reorganisation also led to changes in the mining geography, with operations expanding and concentrating on areas around large faults that ran in a general west to east direction.

On December 21st 1954, the London Gazette reported that two Sutton Manor pitmen had been honoured for bravery. Deputy
George Corrigan
and coal cutter-man
Ernest Gee
were awarded the Queen's Commendation for brave conduct after a fire had occurred underground. Corrigan later moved to Lea Green Colliery but modesty stopped him from talking about his award.

During these post-war years, Sutton Manor Colliery was in its heyday with output rising and innovative methods employed to produce coal. In 1956 the colliery began diverting the deadly gas methane to fire its boilers and three years later it recorded its highest number of men on its books, 1682 workers in total. The long-term future of the colliery looked bright. However it wasn't to last.
Copyright Notice / Factual Accuracy Statement

This website has been written and researched and many mages photographed by myself, Stephen Wainwright, the Sutton Beauty & Heritage site owner. Individuals from all over the world have also kindly contributed their own photographs. If you wish to reuse any image, please
contact me
first as permission may be needed from the copyright owner. High resolution versions of many pictures can also be supplied at no charge. Please also contact me if you can provide any further information or photographs concerning Sutton, St.Helens. You might also consider contributing your recollections of Sutton for the series of
Memories
pages. Sutton Beauty & Heritage strives for factual accuracy at all times. Do also get in touch if you believe that there are any errors. I respond quickly to emails and if you haven't had a response within twelve hours, check your junk mail folder or resend your message. Thank you!
SRW