An Illustrated History of Old Sutton in St. Helens, Lancashire
Part 69 (of 83 parts) - Sutton Trivia & True Facts!
An Illustrated History of Old Sutton in St.Helens
Part 69 (of 83) - Sutton Trivia & True Facts!
The 13 Sutton Trivia & True Facts Articles Plus 32 'In Brief'
1)
The Last of the Lamplighters
– This describes the working life of John Maher, who retired in 1939 after 43 years pounding the pavements of Sutton and St.Helens, bringing light to the town.
2)
The Great Fire of Sutton Moss
– For two days in 1899, thousands descended upon Sutton Moss to watch 'the most extensive and most extraordinary fire which ever occurred at St.Helens'.
3)
When Queen Victoria Came Through Sutton
– The arrangements for two Royal journey by train when Victoria and her entourage passed through Sutton
4)
Royal and Noble Visits to Ravenhead
– Including those made by the Duke of Wellington, Alexandra, the Princess of Wales and Queen Sophie of the Netherlands
5)
The Flying Pharmacist of Junction Lane
– The story of Spencer's chemists who as well as dispensing prescriptions were also aviation pioneers
6)
The Night That 'E.T.' Came To Bold!
– In January 1978, Bold Power Station was at the centre of a major UFO mystery when onlookers witnessed its towers being buzzed by a strange, shining light.
7)
Frog Frying Tonight in Sutton!
– For a while during the 19th century, frog was a Lancastrian delicacy that proved a 'nice little earner' for youngsters in Sutton
8)
Bally Whittaker - The Heavyweight Sutton Builder
– John 'Bally' Whittaker was reputed to be the heaviest man in St.Helens. Weighing in at 31 stones, he was referred to as 'Owd Bally' and as a builder was responsible for constructing many notable buildings
9)
The Great Sutton Storm of 1884
– In the space of just ten years at the end of the 19th century, Sutton endured four very severe storms with the one in 1884 the worst, although local builders did very nicely out of it!
10)
Dubious Medicines and Sutton Testimonials
– Testimonials by people from Sutton and Clock Face during the 19th and 20th centuries for some dodgy medicines
11)
The Day That Sutton Brook Caught Fire!
– On Wednesday September 8th 1915 huge flames emanated from the brook near St.Helens Junction, reaching the height of the Bowling Green Inn, which caused great alarm in Sutton
12)
Fred Thomas - The Hermit of New Street
– Shortly after WW1, Fred Thomas quit his job on a matter of principle and for decades lived in a shed off New Street by the Sutton vicarage, on land belonging to Sutton farmer Eddie Rimmer
13)
Please Postman, Come Thou Near, and Hark!
– In May 21st 1863 an unnamed individual, who was corresponding with Thomas Park of Sutton Rolling Mills, decided to put some style into his letter by writing Park's address on the envelope as a poem
Also:
Sutton Trivia & True Facts in Brief
– A total of 31 brief trivia items including greedy John Brown who ate himself to death, a true tale of toad in the hole, a horse that regrew two feet, the slowest garden wall builders on record, the fastest electronic gun in the North West, a cow with 7 legs and 2 tails and what Lord Haw Haw said about Sutton.
1) The Last of the Lamplighters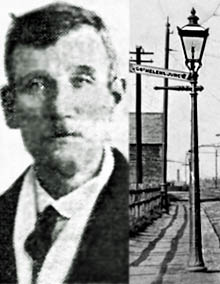 In April 1939 lamplighter
John Maher
retired after 43 years pounding the pavements of St.Helens. The St.Helens Reporter did some maths and decided that John had walked more than 150,000 miles in all weathers, seven days a week, to provide light for the people of the town.


Born c. 1875, John spent 12 years working at Cannington Shaw's bottle works before becoming a lamplighter in Sutton, charged with lighting and extinguishing each lamp on his 'beat'. However that wasn't the extent of John's work, as during the day the lamps had to be inspected and cleaned, which took about four hours. During his four decades of employment, John witnessed quite a number of improvements. When he first began his job in 1896, the lamp burners had no mantles and there was no such thing as automatic lamps.

As the times of dawn and sunset are constantly changing, John had to adapt his working routine accordingly. Although winter meant shorter working hours, the lamplighter also had to endure severe weather, with rain and wind making his job difficult at times. However on one occasion in Sutton, he was able to light the gas lamps without the aid of his stick, as snow had piled up very high, allowing him to reach them with ease.

During 43 years' service, John Maher only had 26 weeks off work through illness and for very many years worked every single day of the year. Although in recent times, John had been granted one day off in every fourteen. Apart from being at Sutton, John also at times covered the centre of St.Helens and on his last beat before retiring was in charge of 105 lamps. After all those years of walking, he would have been forgiven for wanting to put up his feet and relax. However the lamplighter told a journalist that in his well-earned retirement he was planning to take up walking as a hobby!

John Maher wasn't exactly the last of the lamplighters. Perhaps the final full-time lighter would be a more accurate description, as one or two others continued the tradition on a part-time basis. This was where gas lamps didn't have timers, such as by the bridge in Pudding Bag.
George Hill
, who lived at 28 Woodcock Street, remembers the daily ritual of a lamplighter coming from the Sheeting Sheds to light three such lamps. This was still happening as recently as the 1960s, and George says sometimes, as soon as the lighter was out of sight, he and his young pals would mischievously put the lights out!
2) The Great Fire of Sutton Moss
For two days during the hot summer of 1899, thousands of people descended upon Sutton Moss to watch what the Liverpool Mercury dubbed 'the most extensive and most extraordinary fire which ever occurred at St.Helens'. Smoke from burning turf billowed over Sutton and Parr and train passengers on the adjacent line had a perfect view of the 'prairie fire' as it consumed sixty acres of land. In fact it was believed that a spark from the engine of a passing train had started the fire, setting alight one of many stacks of turf. It was so hot and dry that the fire quickly spread, destroying the work of up to fifty employees of the Lancashire Moss Litter Company.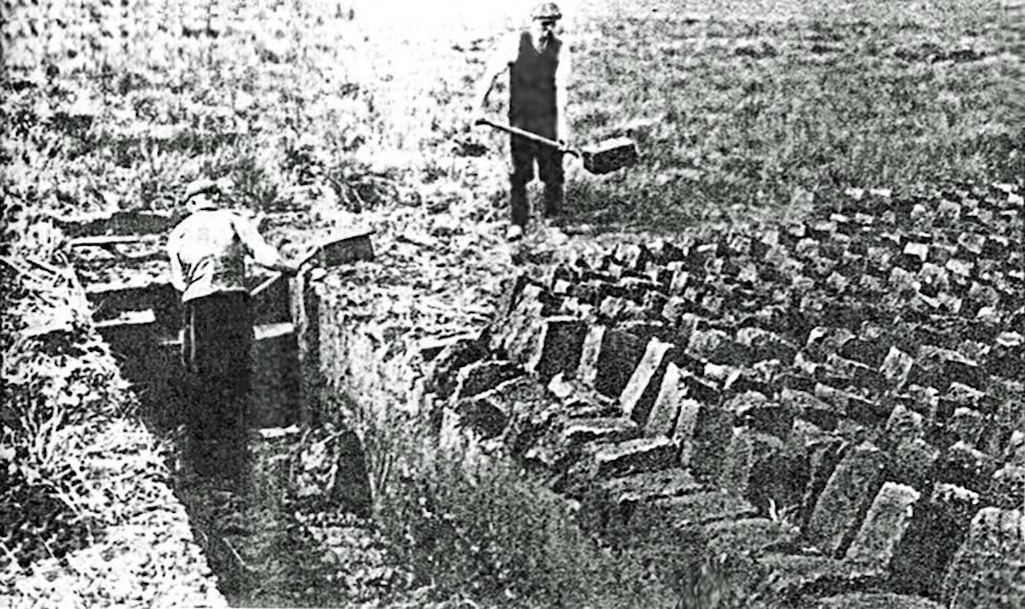 Turf cutters at work at Sutton / Bold Moss - one cuts while the other spreads it out before stacking
Sutton Moss was located between St.Helens Junction and Collins Green stations and along with Bold Moss, was owned by colliery proprietors and
Colonel Richard Pilkington
. They leased the land to companies who extricated the peat turf for use as firelighters or animal bedding litter. The prolonged warm weather of August 1899 had greatly improved productivity and thousands of stacks of turf blocks occupied the land. Turf cutters had dug long peat trenches and after removal from the ground, the nine inch turf blocks were built up in pyramids to dry. Each measured between 3 and 12 feet tall, and their array must have been quite a sight. In between the trench rows were tram lines, so that ponies could pull slatted trams of turf to sheds nearby where 'pressing' took place.

Some firelight sellers had arrangements where they could remove the turf themselves.
Frank Bamber
in his 'Clog Clatters in Old Sutton' recalls
Mr. Barrow
, the 'Firelight Mon', with his shaggy pony and two-wheeled float. After gathering the cut and dried blocks of peat from the Moss and soaking them in naphtha, he sold them on Sutton's streets as firelighters. Every Saturday morning during the early years of the 20th century, Mr. Barrow would arrive in Edgeworth Street and young Frank would buy a week's supply of 7 firelighters at a penny each. Frank wrote that the 'firelight mon's' hands shone like polished mahogany, through working with peat and naphtha and he had a strong smell of firelighters.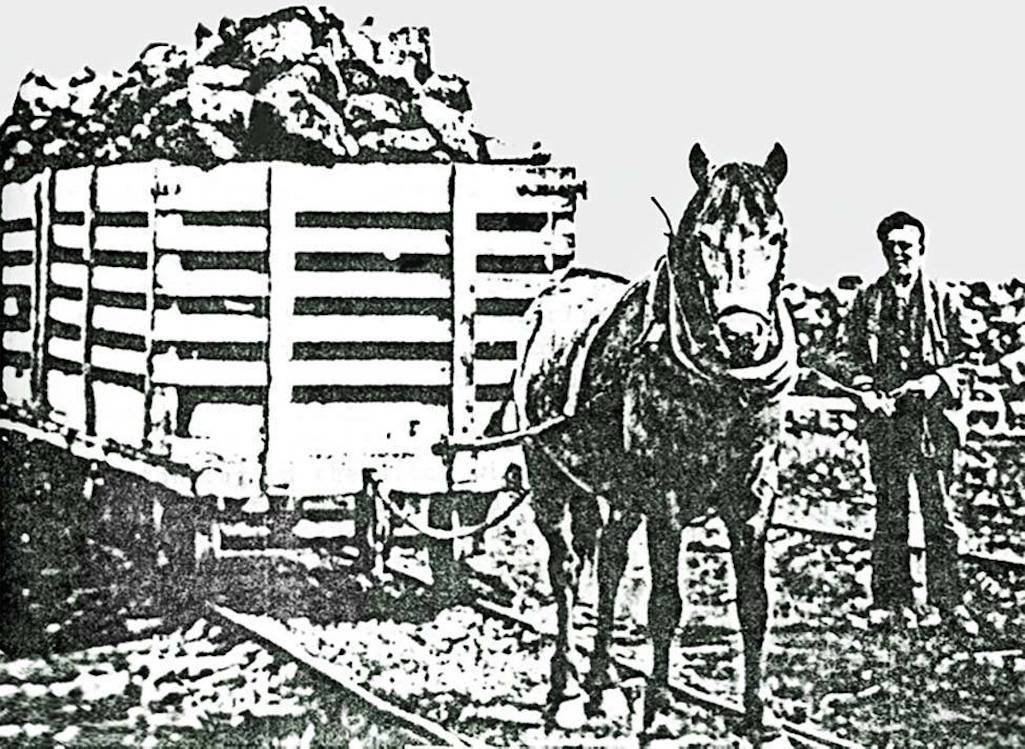 A driver and horse on Sutton Moss with a loaded slatted tram taking the dried peat to a pressing shed
On August 24th 1899, the thousands of stacked peat blocks stood proud on the land ready for removal. It was 10am when one of the stacks was first seen alight. The turf workers tried to extinguish the fire with buckets of water but to no avail. A strong wind assisted the spread of the blaze and many of the workers, fearing for their safety, departed. However, some remained to demolish turf stacks and saturate the ground with water, in a futile attempt to stop the fire's spread. By the early afternoon there were hundreds of blazing stacks, creating immense volumes of smoke.


The fire brigade under
Superintendent Lyon
eventually arrived from their base at the Town Hall but they had a major problem. Where could they get water from? They settled on a pond at Berry's Lane farm almost half-a-mile away and a couple of hosepipes were put to work. Their priority was to safeguard the machinery sheds where turf pressing and other operations were performed. This they successfully did, although 2500 tons of moss were lost. During the evening, the fire of Sutton Moss was quite a spectacle, as the Liverpool Mercury described:
Immense stacks of turf, scattered over a surface of hundreds of yards, were emitting lurid tongues of flame, which shot high into the air, while the ground between was one mass of flickering and smouldering fire. A glare overhead revealed the immensity of the conflagration, which was visible in the surrounding districts. Thousands of people were attracted to the spot, and gazed with mingled feelings at the scene before them.
Believing that the fire would burn itself out, the fire brigade departed just before midnight. Twelve hours later they were back, as the wind direction had changed and the remaining stacks on the Fleet Lane side had ignited. Water was sourced from the reservoir at Sutton's Rolling Mill factory and the fire was eventually subdued, although the embers smouldered for several days.


Left: An old time view of a cutter on the moss; Right: Women sorting and stacking turf at Sutton Moss
The blaze had been an exciting night-time spectacle for many and, thankfully, there were no injuries. However, the Lancashire Moss Litter Company, as well as cut turf, had lost a lot of plant and tram-line sleepers but they were fully insured. The real cost was to the fifty men, women and girls who lost their jobs, albeit temporarily, until the following season. This wasn't the only fire on Sutton Moss as one broke out on May 30th 1901 which took several hours for St.Helens Fire Brigade to extinguish. It then smouldered for three days before breaking out once again. The damage wasn't as great as in 1899, as no doubt lessons had been learnt from The Great Fire of Sutton Moss.
3) When Queen Victoria Came Through Sutton
Did you know that
Queen Victoria
passed through Sutton on two occasions? The first was on Tuesday May 11th 1886 when her special train travelled through St. Helens Junction on a trip from Windsor Castle to Liverpool. The two day visit was mainly to open the city's International Exhibition of Navigation, Commerce and Industry. The monarch left Windsor just after midnight, accompanied by the
Prince
and
Princess Henry of Battenberg
and the
Duke of Connaught
. Princess Henry was otherwise known as Beatrice and she was the Queen's youngest child. The Duke, a.k.a. Prince Arthur, was her seventh child, and he'd visited St.Helens twelve years earlier on his way to Edinburgh.

The London and North-Western Railway provided the engine and twelve carriages, which boasted elegant day and night saloons. The Queen's day saloon had satinwood chairs and couches covered with dark blue watered silk. On the ceiling were four cut-glass oil lamps lined with white silk and a round clock, with a white enamel dial set in a chased gilt mounting, was hung from one side.


The royal party L to R: Duke of Connaught, Princess Beatrice, Prince Henry of Battenberg and Queen Victoria
The sleeping saloon was furnished with two small ormolu bedsteads and the toilet basins in the dressing compartment were plated with silver and gold. For much of the night the train travelled at just 25mph to give Her Majesty a better night's sleep. Many spectators had assembled at St.Helens Junction to cheer and wave at the Royal party. However only a passing glimpse of the Royal occupants was received as the train passed through the station at 7.33am before going under New Street and Marshalls Cross bridges and onto Lea Green. Queen Victoria and the other distinguished visitors remained in Liverpool until the Thursday morning. About 4 to 5,000 people from St.Helens travelled to see the Queen, despite continuous rain and 500 members of the St.Helens 21st Lancashire Rifle Volunteers also attended. The return trip to Windsor steamed through the Junction at 10.22am. Just whether the Queen looked out of her ornate carriage at industrial Sutton and said 'We are not amused', is not, however, recorded!

Victoria never visited St.Helens, despite the town's strong association with her reign. Victoria Park was originally Cowley Hill Park but it was renamed in 1887 to commemorate the monarch's golden jubilee. After her death,
Sir George Frampton's
statue of Queen Victoria was unveiled in 1905 in the Town Hall Square by the
Earl of Derby
. In Sutton we have the Victoria pub on Ellamsbridge Road (also known as the Little Pig) and in Gerards Lane there is Victoria Bridge by Monastery Dam and also the demolished Victoria Cottage. Although Queen Victoria never actually set foot in Sutton, members of her family certainly did...
4) Royal and Noble Visits to Ravenhead
Ravenhead in Sutton was named after Ravenhead Farm, which was originally owned by the sister of the renowned Roman Catholic
Bishop George Hay
. A number of industrialists were attracted to Ravenhead during the 18th and 19th centuries, although its plate glass works was its main claim to fame. This had been incorporated by an Act of Parliament in 1773 and was the first such works in the country. Over the years a surprising number of royal and military celebrities visited the plant while they were staying with the
Earl of Derby
at Knowsley Hall.
George IV
, when he was the Prince of Wales, visited the glassworks in the early years of the 19th century, along with the
Duke of Wellington
. The precise date has yet to be established but it must have been before the "Iron Duke" Arthur Wellesley defeated Napoleon at the Battle of Waterloo.

Five decades later,
Alexandra, the Princess of Wales
, made a visit to the Ravenhead works. This was on November 1st 1865 and she received a remarkable reception. The Liverpool Mercury said 'Never in the history of St. Helen's has it been recorded that such a concourse of people were assembled together.' A day's holiday was declared in the town and all schools and collieries were closed. Whether the miners on piece-work appreciated losing a day's pay, isn't recorded! The future queen consort to Edward VII was greeted outside the glassworks by 3000 schoolchildren waving flags, handkerchiefs and banners. A military reception was also provided by the 2nd Lancashire Rifle Volunteers (L.R.V.), under the command of
Captain Beattie
, and the 47th L.R.V., under
Colonel David Gamble's
command, who presented arms.


L to R: Prince of Wales (later George IV); Duke of Wellington; Alexandra, Princess of Wales; Sophie, Queen of Holland
Accompanying the Danish princess was
Lady Dalkeith
and the
Earl
and
Countess of Derby
and their carriage was pulled by four strong black horses. In other carriages were the Countess of Sefton, Lord Henry Percer, Lady Constance Stanley, General Knollys and Lord Courtnay. The bands of the 2nd and 47th L.R.V. struck up 'God Save the Queen' and the royal party entered the works under a canvas canopy, walking on a red carpet or crimson cloth, as it was described. A special casting session was set up for the visitors, who watched a piece of plate glass measuring over 15 feet being created.

They also visited the grinding, polishing and smoothing rooms. In the latter the Mercury described '150 good-looking young women, all dressed alike, in red and white Garibaldi jackets, with linsey woolsey peticoats and white aprons' moving the glass backwards and forwards on benches. Silvering then took place and the Princess silvered some mirror glass herself. The workforce then assembled in the yard and gave the Princess of Wales a 'Lancashire cheer' as she left. Suggestions she also visited the pit sinking of Alexandra Colliery nearby are unfounded, although it did take her name. The Prince of Wales, incidentally, spent the day shooting at Knowsley, where his party killed nearly 800 game.

On September 30th 1867
Queen Sophie of the Netherlands
- who was married to King William III - also paid a visit to the plate glass works, where she was welcomed by principal proprietor
Sir Edward Sullivan
. The Dutch queen was accompanied by Lady Skelmersdale, Colonel Wilson-Patten, Colonel Wilbraham, Sir Robert Gerard and the Bishop of Sodor and Man and schoolchildren lined the carriage drive to the works 'dressed in holiday costume'. Since the visit of the Princess of Wales two years earlier, the long narrow road to the glass firm had been named Alexandra Drive in her honour. Queen Sophie was given similar glassmaking demonstrations to the ones that Princess Alexandra had received, prior to returning to Knowsley Hall. This wasn't the last high-profile visit to the plant as the Prime Minister of New Zealand,
Richard Seddon
, who was a native of St.Helens, also visited it on August 22nd 1902, although at his request it was somewhat low-key.

Five months earlier on March 12th 1902, a crowd at St.Helens Junction station cheered a royal train as it passed through on its way to Manchester. It was occupied by the
Prince
and
Princess of Wales
, who became George V in 1910.
Queen Elizabeth II
was driven through Sutton Manor on June 21st 1977 and her son
Charles
visited the Sutton Mill Dam and the Adventure Playground in Gerards Lane on May 24th 1988. You can see photos of these two events
here
.
5) The Flying Pharmacist of Junction Lane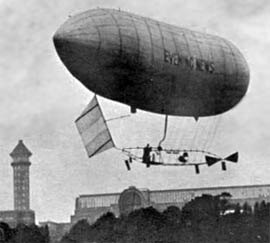 For five decades during the twentieth century, countless Sutton folk got their prescriptions filled at Spencer's chemists in Junction Lane. I wonder how many customers when collecting their cough drops, potions and pills, knew that the pharmacist family were aviation pioneers? In fact prior to moving to Sutton, proprietor
Sydney Spencer
had been a pioneering balloonist and parachutist and had served in the Great War as a balloon expert for both the Admiralty and the Royal Flying Corps.
However, Captain Spencer's achievements as an aeronaut were somewhat overshadowed by the other members of his family. Flying was firmly in the Spencer blood and Sydney's grandfather
Edward
made his first balloon ascent in 1836. His aeronaut son
Charles Green Spencer
, who was also a gymnast, is credited with making the first gliding experiments in England and he also began his own balloon-making firm in London.

Charles had six children including Sydney Ewart Spencer, who was born in Islington on December 12th 1879. All of the Spencer brood became aeronauts although Sydney's three older brothers,
Stanley
,
Percival
and
Arthur
, were more renowned. Percy is said to have made 1000 ascents and Stanley became the first Englishman to fly in a powered airship over England.

This was a time when ballooning was a highly dangerous activity. The Graphic newspaper of September 1st 1888 commented that: 'The history of ballooning is marked, like the trail of an army, by the dead it has left behind it.' In 1897 Arthur Spencer broke his thigh when he landed on an Australian tombstone and suffered severe injuries in an accident in 1901. His brother Sydney is not reported to have endured any injuries himself, as he seems to have limited his own flying to concentrate on a career as a chemist. However, the archives of the British Science Museum reveal Sydney making test flights in 1904 and in 1911 he was in South Africa experimenting with a balloon on Durban Beach.


The Spencer family memorial in Sutton Parish graveyard at St.Nicholas Church in New Street
During WW1, Sydney Spencer's ballooning expertise was employed initially by the Royal Navy for their reconnaissance missions and from 1916-19 by the Royal Flying Corps / RAF. The military had used observation balloons in the Boer War and they were extensively employed, both on land and at sea, during the Great War. It's presently unclear what Sydney's precise role was, although it was probably more advisory than operational.


During the war, Sydney met his future wife Margaret who was making balloons in the Isle of Man. They moved to Sutton during the 1920s and began their pharmacy in Junction Lane. Sydney died in 1946 but wife Margaret ran the chemist's shop for fifty years, assisted by her daughter Marie. The family memorial in the Sutton Parish graveyard appropriately bears witness to Sydney's aeronautical past and his membership of a pioneering family of aviators with 'balloonist and parachutist' engraved under his name.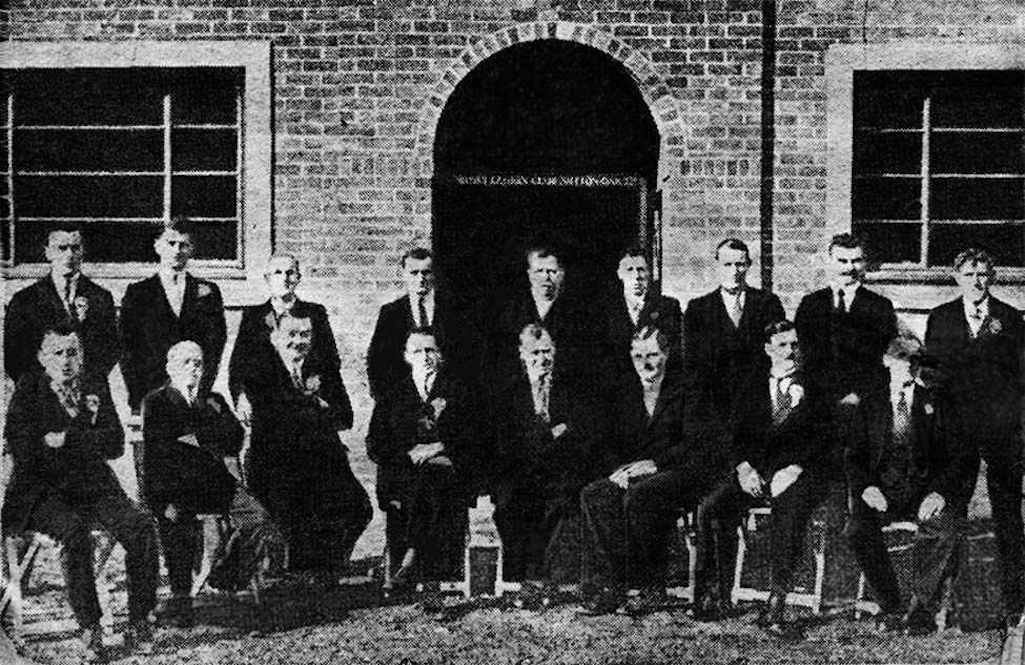 Captain Spencer is 4th from the left on the front row of this 1936 photo outside Sutton's British Legion
6) The Night That 'E.T.' Came To Bold!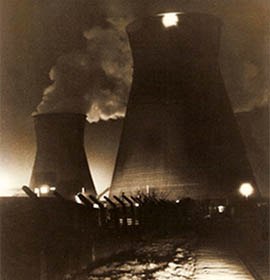 In January 1978, Bold Power Station was at the centre of a major UFO mystery when onlookers witnessed its towers being buzzed by a strange, shining light. The object appeared to dart down as if it was giving the installation, that first generated electricity some twenty years earlier, a much closer examination.


Mysterious lights in the sky are not, of course, unusual. However this case takes on greater interest as some of the onlookers were police officers! In fact two officers attempted to follow the unidentified flying object and after it landed in a field at Rainhill, they were close to the craft as it took off.


The story began when amateur radio operator
Robert Bennett
of Nutgrove received a message from the president of a Liverpool UFO society that unexplained aerial activity had been reported in St.Helens. Bennett rang the police and three officers arrived and then sat with him for some five hours, as they and enthusiasts, attempted to track the mysterious object by radio. The 46-year-old listened to the police communications until 3am and was asked to relay messages to the radio hams who were also chasing the craft. Quoted in the St.Helens Star in July 2005 Robert Bennett said:
...there were officers in the car trying to follow it and I believe it did land in a field in Rainhill and two police officers, a PC and a WPC were 20 yards away from it when it started to take off. .
Detective Constable Gary Heseltine
is the instigator of the
PRUFOS
(Police Reporting UFO Sightings) records system which unofficially documents police sightings of UFOs between 1950 and 2002. In this dossier, the Bold incident is classed as having major Defence Significance and considered one of the three most significant to have taken place at official installations during the 1970s, when the Cold War was at its height. Its entry in the PRUFOS system reads: 'Two uniformed police officers - PCs Lowe and Roberts - observed a high speed UFO that hovered above Bold Power Station before darting across the landscape and doing likewise over Fiddler's Ferry Power Station.'

D.C. Heseltine says that there is still no convincing logical explanation for what happened above Bold and Fiddler's Ferry Power Stations over thirty years ago. However, I like to think that E.T. was simply looking to recharge its extra-terrestrial batteries, so it could return safely back to its home, somewhere within the stars. We shall never really know, of course!
This article is based on reports in the St.Helens Star during July 2005 including an article by Ian Brandes
7) Frog Frying Tonight in Sutton!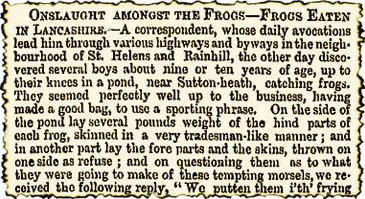 The order "Give us a split peas and frogs' legs, mate" is not exactly one that Sutton chippy staff are used to receiving! However for a while during the 19th century, frog was a Lancastrian delicacy that proved a 'nice little earner' for youngsters in Sutton and St.Helens.
According to a Liverpool Daily Post report, entitled 'Onslaught Amongst The Frogs – Frogs Eaten in Lancashire', which was reprinted by The Morning Chronicle on April 5th 1858, 'great quantities' of frogs were consumed at that time 'in and about the neighbourhood of St.Helens and Sutton'. They said that boys were 'constantly employed' in catching the amphibious creatures in the local ponds and ditches and a Daily Post correspondent found a number of lads, around nine or ten years of age, up to their knees in a Sutton Heath pond 'fishing' for frogs. The reporter described seeing several pounds of the hind parts of skinned frogs stacked on one side of the pond, with the redundant fore parts and skins stored nearby. Upon questioning the lads as to what they would be doing with the hind bits, they said:
We putten them i'th' frying pan, and then i'th' hoon, and then they are gradely good.
The craze for frog feasting seems to have been short-lived, although there is an old Lancashire saying for being hungry, "Ah cud eyt a buttered frog", which may have had its origins in those days. Plus toad in the hole was originally known locally as 'frog-i'-th'-'ole' and there are a couple of present-day eateries in St.Helens which have frog in their name, although it might not be on their menus!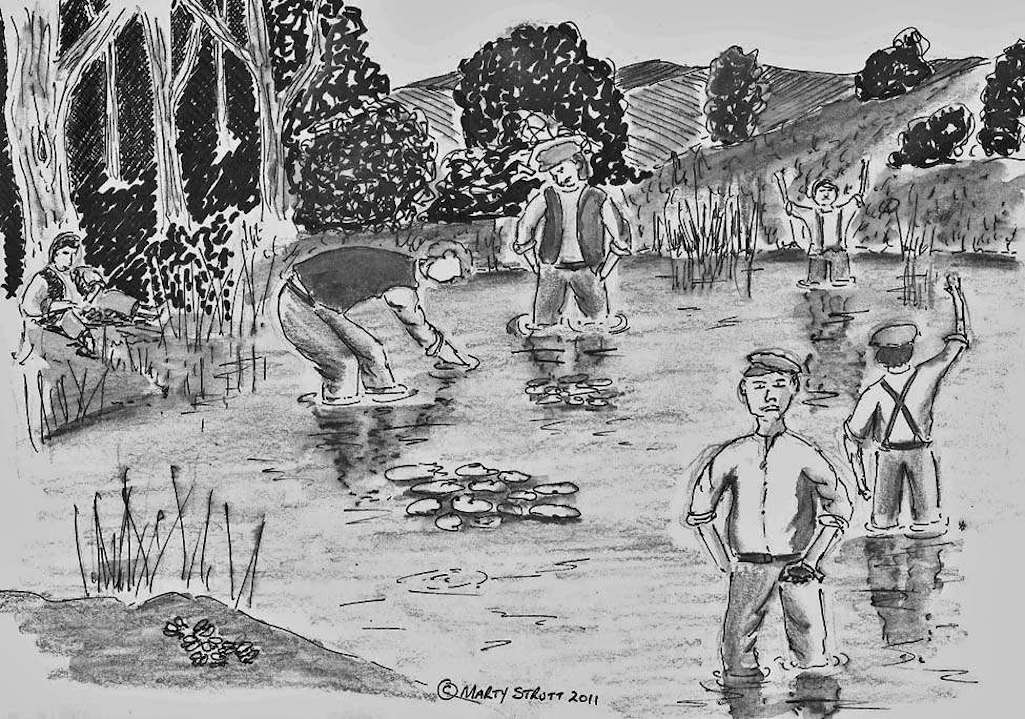 Illustrator Marty Strutt depicts the scene with the lad at the front with frog in hand talking to a reporter on the bank
Did you know that there used to be a popular Lancashire snail fair that was held every September? Not everyone, it seems, in old Lanky devoured black puddings and Lancashire hot pot. Cuisine could be a tad more exotic. I trust this article was a gradely good read for you!
8) Bally Whittaker - The Heavyweight Sutton Builder
John 'Bally' Whittaker
was reputed to be the heaviest man in St.Helens. Weighing in at 31 stones, the obese building contractor was referred to as 'Owd Bally', which was Lancashire dialect for 'belly'. As a builder Whittaker was responsible for constructing large numbers of notable buildings and chimneys in St.Helens and he also became a licensee of a Sutton pub.

Born in May 1824 in Harpurhey, John Whittaker spent the first thirty years of his life in the Manchester district before moving to St.Helens. After serving his time as a bricksetter, he won the contract to extend the Sutton Glassworks for the London and Manchester Plate Glass Company. This launched his career as a builder and contractor and Whittaker soon developed a reputation as an authority on brickwork. Working out of Foundry Street in St.Helens, his company built most of the works' chimneys in St.Helens, Garston and Widnes as well as Sutton Road Pumping Station, the Borough Sanatorium at Peasley Cross, Daglish's Foundry, Neil's Foundry, the Brown Edge water softening works, Boundary Road Baths, St. Mary's C.E. School and mission church, Lingholme Hotel, Saddle pub, Pear Tree at Collins Green and the Huntsman at Haydock. For a period during the 1880s Whittaker also ran the Oak Tree Inn at 8 Gerrards Lane. It's no wonder that whenever he was pressed to stand as a councillor for East Sutton ward, he always replied that he had enough to do to mind his own business!

In later years Bally lived with his wife Ann at Oak Cottage in Neill's Road in Bold, which later became the Neil's Foundry caretaker's house.
Frank Bamber
visited a school friend there around 1920 and was struck by the "extraordinary width" of its doors and frames. The huge stomach of Bally Whittaker meant he had great difficulty in squeezing through average-size house doors, so he had them custom built within his home.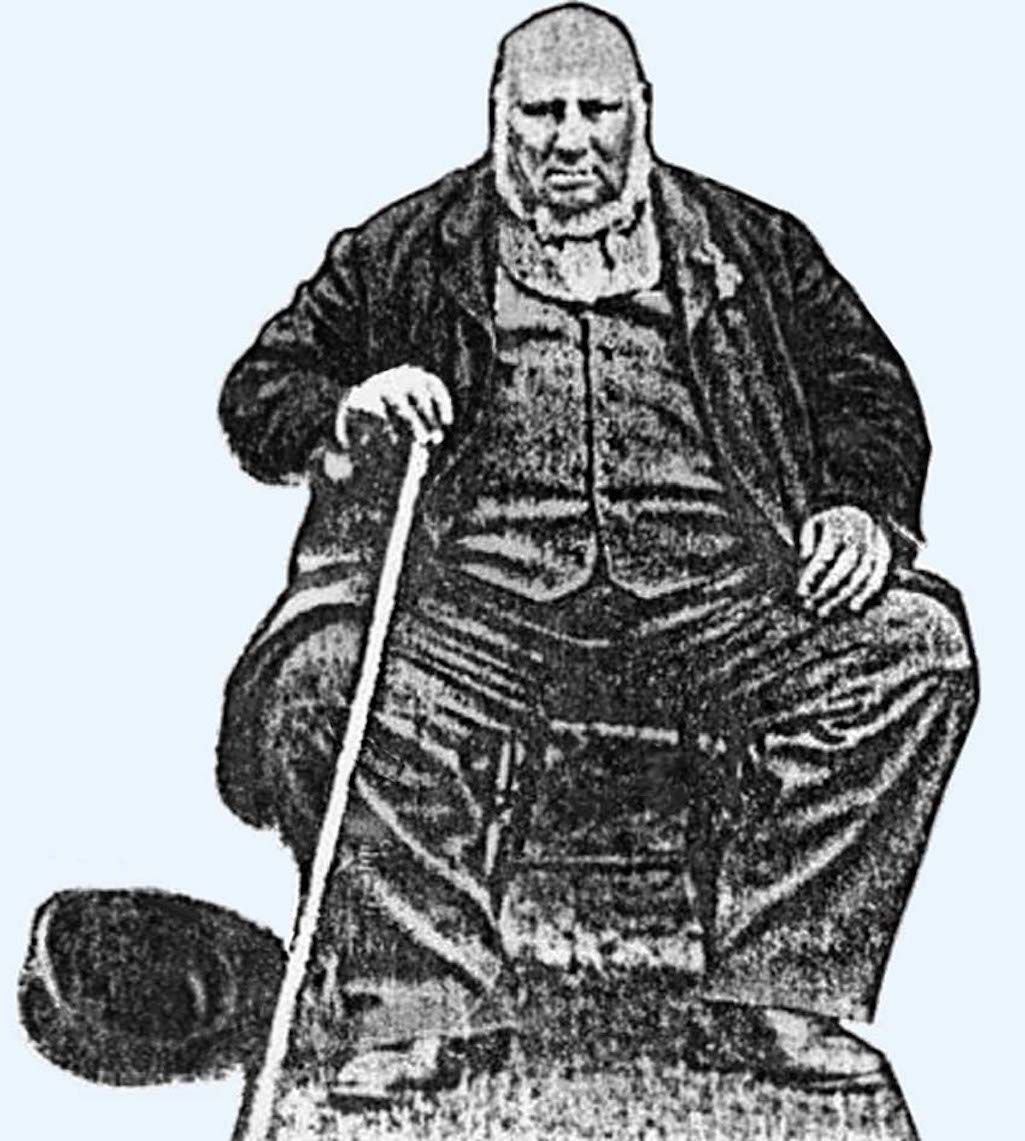 John 'Bally' Whittaker (1824 - 1894) builder and landlord of the Oak Tree Inn in Sutton
Being conveyed around St.Helens also presented difficulties. So Bally employed a strong pony called Black Bess and a specially-built trap with stabilising props. These steadied the trap and took the weight off the pony, while he climbed in and became comfortably seated.

John Whittaker was said to have been a jovial character of which there were many stories. For example he learnt that a firm in Liverpool were offering suits made to measure for just 30 shillings, so he sent a man of average size to the shop to order four suits. He told the salesman that one was for himself and the other three were for his brothers. The additional suits were in fact for Whittaker and his two best friends,
Joseph Jackson
and
Charles Rigby
. Jackson was a wheelwright and blacksmith of whom Jackson Street was named and who weighed almost 23 stones. Rigby was a wheelwright from Warrington Road who was also quite a heavyweight at over 18 stones. The shop was initially delighted to receive the order but then shocked to see the tremendous size of the three 'brothers'. Much more cloth would be needed and they were likely to lose money on the deal. However the shop's canny manager spotted a marketing opportunity. So the suits were made at the price quoted and the fame of them subsequently spread to St. Helens.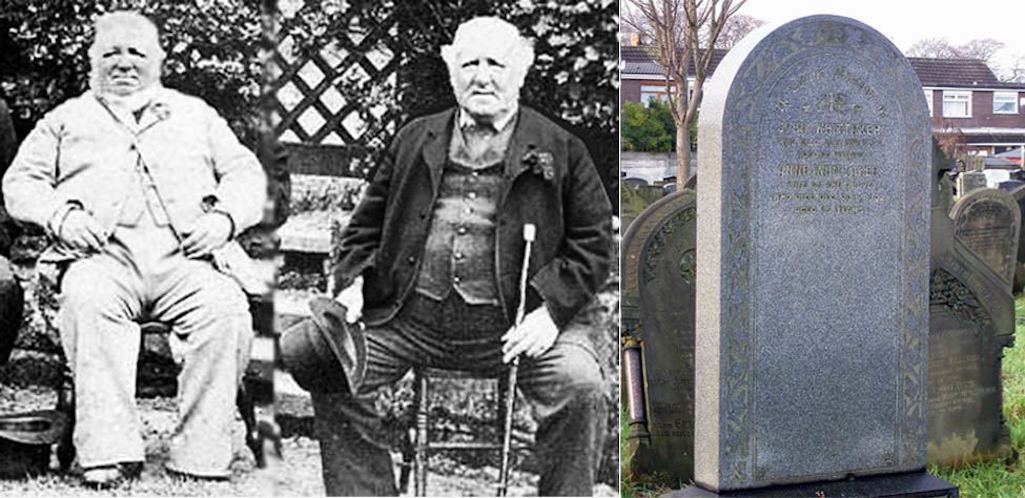 22 stone Joseph Jackson and 18 stone Charles Rigby plus the grave of John Whittaker in Sutton Parish Churchyard
John Whittaker died on July 2nd 1894 at Oak Cottage from bronchitis and a week heart at the age of 70. Two days earlier, despite being ill, he had travelled into St.Helens to make final arrangements for the renovation of the Parish Church, his firm having won the contract. The St.Helens Newspaper described his coffin as being of 'very massive proportions' with a width of 32 inches and depth of 23. The specifications of an average coffin at that time were 20 and 14 inches, respectively. Instead of the usual six pallbearers, ten of Whittaker's workmen were employed in carrying him into St.Nicholas Church and then to the graveyard. Unsurprisingly it's said that the larger-than-life builder had to be laid to rest in a plot twice the size as normal!
9) The Great Sutton Storm of 1884
We hear a lot about extreme weather these days, often linked to climate change. Well, there's nothing new about bad weather, of course, and in the space of just ten years at the end of the 19th century, Sutton endured four very severe storms. The one that struck on October 14th 1881 was described by one newspaper as a 'gale of terrific fury' and led to the death of four-years-old
Harriet Bradbury
at Sutton National school. Then on November 6th 1890, engineman
Thomas Earle
was crushed to death at the Ravenhead Glass Works when a 'terrific storm' caused a 130 feet high chimney to blow down on an engine shed. Plus on December 10th 1891, a severe gale caused a chimney stack to crash through the roof of the Red Lion in Robins Lane, giving licensee
James Baldwin
the fright of his life!


There was no loss of life when a major storm struck on January 26th 1884, although the property damage was extensive. Local folk said it was the worst they'd known and described it as resembling both an earthquake and cyclone. The Saturday night storm did its worst in Sutton Oak, where Newton, Keates & Co. had a manure works (which became Crone & Taylor's). A large bone crushing shed, 25 feet wide and about 80 feet long, was almost completely destroyed. Portions of the roof were carried a considerable distance and huge joists, beams and boards were hurled away by the wind. An 80 feet high works chimney suffered a large crack near its base and was shifted several inches. The cost of the damage at the bonecrushers was estimated at £600, around £30,000 in today's money.


In Moss Nook hardly a house was undamaged and between 40 and 50 lost slates or chimney pots through the ferocity of the gale. The roofs of homes in the district around Ditch Hillock and Waterdale were seriously damaged too, with lead, slates, tiles and chimney pots torn off. The thatch of an old unoccupied house in New Street was also ripped off by the gale.
James Smith
ran a grocer's at the end of Blinkhorn's Row and his family of eight were enjoying their tea. Suddenly there was a crash and portions of the ceiling fell on their kitchen table and on the floor. Smith dashed upstairs and discovered that a chimney stack had blown down and crushed in the roof. Inside the bedroom over the kitchen, iron bedsteads had been twisted by the debris. However the furniture and bedding probably saved the family's lives. They'd broken the fall of the roof and chimney and prevented the bedroom's ceiling and floor from landing on top of them. As it was no one was hurt, although a pane in the shop's large plate-glass window was also blown in.


It wasn't all doom and gloom as local builders did very nicely out of the storm with large numbers of workmen occupied for some weeks. Sutton's master builder
John Fisher
had the job of repairing Newton, Keates's chimney and a crowd of locals gathered to watch his men at work. As the proverb goes, it's an ill wind that blows nobody any good!
10) Dubious Medicines and Sutton Testimonials
As described in the
Health & Sanitary Conditions
page
,
during 1855
Dr. Wilkinson
of
Brook House
placed a number of advertisements in newspapers headed 'Advice - Notice To The Unhappy'. Dr. W., as he styled himself, specialised in treating patients with 'mental and nervous affections' and for a guinea would send 'advice and medicines' to unhappy souls in 'any part of the world'. Twenty-one shillings was more than most Sutton folk were paid in a week at that time, so he probably didn't get many takers locally. Plus many working class people were illiterate or couldn't afford to buy newspapers and read his adverts. We will never know whether Dr. Wilkinson's medication was any good but as newspapers became more affordable and literacy levels improved, so unscrupulous folk saw money-making opportunities. Newspapers became packed with advertisements that made wild promises to cure all kinds of ills. There was little regulation of medicines and the advertising of them, so 'quack' practitioners and others making exaggerated claims had quite a field day.

It was soon realised that testimonials by satisfied users would boost sales and quite a few people from the Sutton district - especially Clock Face - were keen to provide them. By the turn of the 20th century, photography and illustrations were employed more extensively in newspapers, so some testimonials were accompanied by the satisfied user's photo.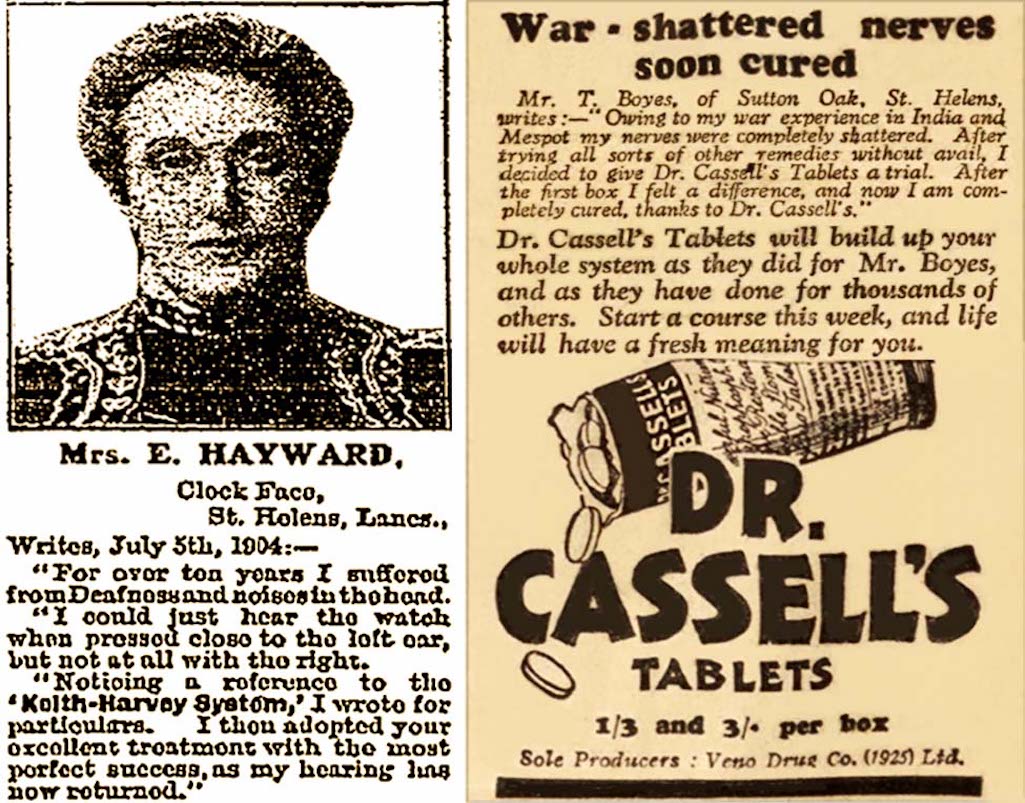 Mrs. Hayward of Clock Face's testimonial from 1905 and Mr. Boyes of Sutton Oak's testimonial from 1927
Mrs. E. Hayward
of Clock Face was one of a number of people who in 1905 appreciated
Professor C. Keith-Harvey's
'complete and permanent cure' for deafness and 'head noises', allowing her testimonial and image to accompany his newspaper advertisements. No details of the 'entirely new' treatment was stated, apart from it being self-applied. So it may well have just been olive oil-type drops that shifted ear wax. This would likely have improved Mrs. Hayward's hearing and lessened her tinnitus. The adverts were headed 'Free To The Deaf' and interested parties could write to the Professor for a free pamphlet describing his miraculous cure.
As Dr. Wilkinson was selling nerve medication from Brook House in 1855, so
Dr. Cassell
was advertising nerve pills on a larger scale in 1927. It's doubtful that there really was such a doctor, but boxes of pills bearing his name were available from 1s 3d each.
Mr. T. Boyes
of Sutton Oak claimed in newspaper testimonials that they had 'completely cured' his shattered nerves after military service in Mesopotamia and India.


These days newspapers make it clear when articles that they publish are paid adverts. However in December 1910 when
Eleanor Thomas
from 6 Peckers Hill Road was promoting the benefits of
Zam-Buk
embrocation, it was presented in the form of an article. The collier's wife told how her three year-old child Katie had benefitted from the ointment, which did seem to have genuine infection-fighting qualities in the days before antibiotics.
Just what
Airey's Syrup
contained is unclear but
Mrs. Roberts
of Herbert Street swore by it. In 1920 newspaper advertisements she gave a glowing tribute to the baby medicine, claiming it had transformed her 15-month-old daughter Jenny from being weak and puny into a robust, healthy child. The makers claimed their syrup's ingredients were extracted from fruit, so it could have been their vitamins that perked up the toddler.

On April 8th 1930,
Dr. Williams' Pink Pills
were advertised in the Daily Mirror (and in other publications). Under the heading 'When Girls Grow Weak - Beware of Anaemia', it was stated that the 'girl in her teens cannot develop into happy, robust womanhood without abundant blood in her veins'. The pink pills of Dr. Williams were claimed as the answer and a
Miss B. Houghton
of 2 Crawford Street in Clock Face gave testimony to their efficaciousness. The teenager claimed that she'd been tired and listless with severe pains at the back of her head and had found it difficult to walk. "I cried at the least thing," she wrote. However taking the pink pills at 3 shillings per box immediately brought about a "wonderful improvement...now I feel stronger than I have ever done". The pink pills had arrived in Britain in 1893 and comprised iron oxide and epsom salts. It's said that they did have some restorative powers but were weaker and much more expensive than standard iron pills.


Advertisement for Apro in The Western Times of Exeter published on Friday 19th April 1940 and Dr. Williams Pink Pills
By this time branded and patent medicines available from the local chemist were replacing the wonder cures supposedly created by a doctor or professor and available only by mail order. However testimonials were often still used to prove their effectiveness and in 1940
George Davies
of 341 Clock Face Road was happy to tell the world of the miracle cure that Aspro had been for him. Whether his metamorphosis from a thin, weak man unable to walk or raise a cup to his lips into an active 'nimble man' was solely down to an aspirin, we will never know.

Perhaps some of these medicines actually worked for the grateful individuals or maybe it was the placebo effect. In many cases the complaint probably just cured itself as most do in time, but the treatment got the credit. The medication makers, of course, didn't publish the letters that they received from those who said the pills or potions hadn't worked!
11) The Day That Sutton Brook Caught Fire!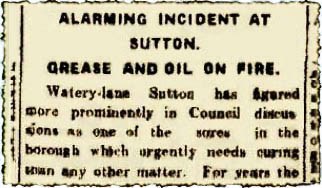 For many years the residents of Watery Lane were forced to endure both the unpleasant odours that emanated from Sutton Brook, plus the tendency of the nearby waterway to flood out their houses. What they probably never bargained for, was the brook becoming a fire hazard!

However, on Wednesday September 8th 1915 huge flames emanated from the brook near St.Helens Junction, reaching the height of the Bowling Green Inn. The St.Helens Reporter in their account of the fire described it as causing 'great alarm' in Sutton.

Despite some efforts to limit discharges from factories into St.Helens's waterways, it was still a common practice and an unnamed works in Sutton was allowing oil and grease to drain into the brook. The council were aware of the problem and its Health Committee had coincidentally met on the Wednesday to discuss what could be done, though failed to come up with a plan of action. Their minds were, perhaps, concentrated at 6pm that same day, when a man who was lighting a cigarette, threw a match into the brook which ignited the grease and oil on its surface. Flames burst from both ends of the culvert, assistance was summoned and it was only extinguished after large quantities of rubbish was thrown onto the fire. The Reporter said:
The incident serves to illustrate the great danger which, apart altogether from the offensive smell which arises, lurks in the greasy and oily matter in the Watery-lane brook...the residents in the Watery-lane are hoping that the incident of Wednesday evening will not only force the Council to move in the direction of curing the offensive smell, but, while they are at it, they will tackle the overflowing nuisance as well, and make a complete and satisfactory job of it.
12) Fred Thomas - The Hermit of New Street
Shortly after WW1,
Fred Thomas
quit his job on a matter of principle and declared that he would never again work on a regular basis. He was good to his word and decided on a simple life, building a shed for himself just off New Street. This was on land that belonged to Sutton farmer Eddie Rimmer by the Sutton vicarage and Fred lived there for decades. His bunk was said to have been made from old railway sleepers and he cooked on a little stove with its iron chimney emanating from the hut roof.


Fred kept his unusual place of abode scrupulously clean. He was well educated and refused handouts. Often he could be found in the grounds of St.Nicholas, tidying the churchyard or digging graves to earn cash. Fred also helped out in the fields at harvest time and during winter, dressed in a long, dark coat, cloth cap and wore polished clogs with a white scarf wrapped round his neck. Daily journeys would be made to the churchyard to draw water from a standpipe, accompanied by his dog.
Bill Bate
, now living in Western Australia and author of '
A Sutton Schoolboy's Memories of WW2
', remembers Fred from when he was a boy in Sutton:
I have fond memories of the times from about 1935, and my Grandad's friendship with Fred. I always understood that the shed belonged to my grandfather, but perhaps they built it together. I know for a fact that the little white dog called Jack was Grandad's. I was about four years old at the time, and Granddad, myself, and the dog used to go to the shed and spend most of the day there. The old blokes would sit by the stove smoking their pipes, and talking, perhaps, about the coming war. I used to play outside with some plywood boxes that used to contain Star cigarettes. One amusing incident that occurred involving Fred, was that on his trip to the church yard to refill his water bottles, he used to pass our house, which was on New Street, opposite Heward's field. One day my Mum, who was looking from the front room window, saw Fred stop and lean over the field fence and pick something out of the nettles. When I got home from school, Mum said," Go and look what's over the fence". It appeared that Fred had found that one of Heward's hen's had made a nest and Fred had been getting a good supply of eggs. I'm sorry to say that poor old Fred didn't get any more eggs! My Granddad, Joe Standley, used to live in Nelson Street.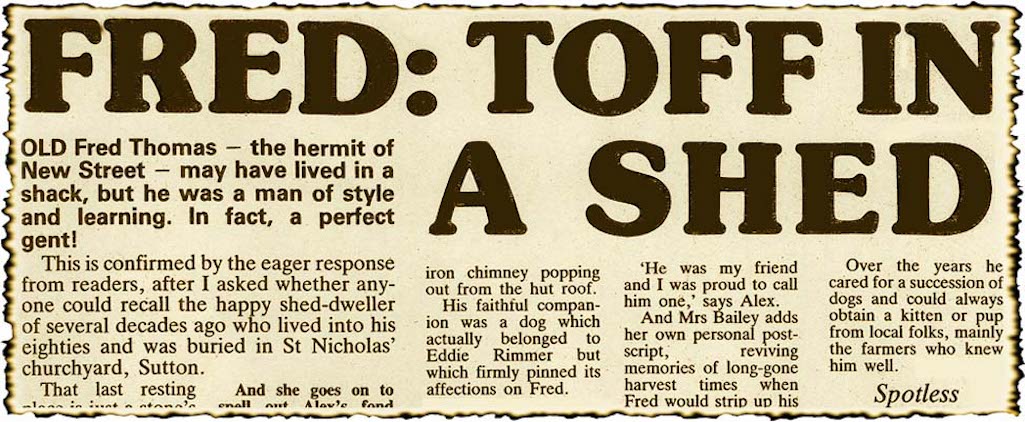 During the 1960s, Sutton vicar Rev. James Smith arranged for Fred, who was then well past 80, to see out his days at Nutgrove Home for the Elderly and upon his death was buried at St.Nicholas. He was very well thought of by local folk and many attended his funeral. During the 1980s, a St.Helens Star mention of Fred elicited many affectionate reader reminiscences leading to a lengthy article published on May 12th, 1988 entitled 'Fred: Toff in A Shed'.
13) Please Postman, Come Thou Near, and Hark!
Perhaps this website gives the impression that old Sutton was a grim, miserable place enlivened only by boozing and by the occasional walking and sports days. Of course, times were often very hard, although I expect that there could be much humour. Old newspapers did tend to focus on the darker side of life although I do come across quite a number of reports that make me smile! A favourite has to be a very brief report in the Liverpool Mercury of May 21st 1863 in which an unnamed individual, who was corresponding with
Thomas Park
of Sutton Rolling Mills, decided to put some style into his letter. He wrote Park's address on the envelope as a poem which read:
Please, postman, come thou near, and hark !
Give this to Mr. Thomas Park.
You'll find him (listen where to go)
Employed by Newton, Keats, and Co.
Away ! away ! o'er dales and hills,
To Sutton Copper Rolling Mills,
Near St. Helens, Lancashire.
Ok, it's not that easy to rhyme Lancashire! However, the humorous postal poetry only provided a brief respite in the Liverpool Mercury and it was soon business as usual. Immediately under the article was a report on the latest St.Helens Petty Sessions hearings which described how Sutton beerseller
Ellen Appleton
had been fined 10 shillings for selling porter to a little girl at midnight.
Sutton Trivia & True Facts in Brief...
Greedy John Brown
of Sutton ate himself to death! He belonged to a lodge of Odd-Fellows who on July 28th 1851 held a dinner. Brown had eaten nothing on the previous day in order to enjoy a good 'blow out' at the 'do', which he certainly did. He was reported as having eaten an 'enormous quantity of the good things' and immediately after indulging went into a neighbouring house, sat on a chair and expired. The jury at his inquest ruled that death was through eating to excess. What an odd fellow he truly was!
In June 1926
locals in Clock Face, including striking colliers playing mouth organs, gathered at a coppice to listen to a nightingale sing. On the first night when 50 people were present the nightingale sang from 11pm until the early hours. Word soon spread through the village and 400 people assembled late the next night to listen to a special concert. And what happened? Absolutely nothing. Not even a tweet! Isn't that always the case?
This a true tale
of toad in the hole from August 1864 when a miner at Ravenhead colliery called John Elliott hacked off a 9 inch square of coal and discovered a live toad embedded within. It was not possible to extract the poor little thing and Elliott took the coal and toad home and crowds flocked to see it. A man then offered him the huge sum of 10 guineas to buy the piece.
Two lucky tenants
from Leonard Street in Sutton received the surprise of their lives in May 1925. Few folk could say they benefited from the scourge of mining subsidence, but these two families did. In 1922 the walls of their houses began to crack and bulge, the floors slanted and the doors became twisted. So their landlord carried out £60 of repairs (about £2000 in today's money) on the 30-years-old houses, described as 'roomy cottage' types. However St.Helens Corporation weren't happy and told him to do more. So the fed-up landlord offered the pair of houses to the Congregational Church to use as prizes in a bazaar. They declined his generous offer, so the weary landlord gave them away to his shocked tenants.
On May 7th 1902
St.Helens Town Council discussed improving the post in the Sutton district. The town clerk had mailed a letter to the Post Office about Sutton's postal facilities more than 18 months earlier but was still waiting for a reply! The clerk told the meeting that the "Postmaster-General's business must be managed in a very curious fashion."
On July 10th 1897
Christopher Dingsdale severed an artery in his arm by opening a ginger beer bottle. The glass bottle burst and the 44-years-old's right arm was severely cut. Fortunately he lived in Marshalls Cross Road, near the Cottage Hospital, so was able to quickly get medical help.
Coroner Samuel Brighouse
said at an inquest on January 5th 1888 that the appearance of Peter MacDermott was the best joke that he had heard for some time. This was because the beerhouse keeper of 70 Watery Lane had turned up in person to present a note from Sutton's Dr. Edward Casey. This excused the 60-years-old from jury duty claiming he was suffering from bronchitis which prevented him from leaving the house.
The Leyland family grave
in St.Anne's cemetery – which includes James Daniel O'Connell Leyland - contain members of one of the oldest Lancashire Catholic families whose lineage dates back to pre-Norman times.
William Ewart Gladstone's
wife, Catherine, wrote to Liberals in Sutton on August 19th 1887 thanking them for a gift of a mirror: "Dear Sir. I take up my husband's pen to tell you how much gratified he is at having received so beautiful a present. Will you express to the Liberals of East Sutton his gratitude, and specially for the hearty and most kind good wishes. We consider the mirror beautifully executed, the framework being in excellent taste. I remain, dear sir, yours sincerely, Catherine Gladstone."
Larger than life
bottlemaker Samuel Whitfield came a cropper at Cannington Shaw after sitting on a form. The 45-years-old, who weighed 24 stone, was said to have been one of their best workers and arriving early for his shift on June 22nd 1914, he decided to have a smoke. The form he sat on gave way and Whitfield fell backwards down a hole that was ten feet deep. He was severely injured and died in St.Helens Hospital three weeks later.

The Manchester Mercury
on January 19th 1790 described how a horse belonging to butcher James Shaw had re-grown two of its feet. The animal was called Old Robin Gray and was being looked after by John Clitheroe, a Sutton watchmaker. It somehow lost both of its forefeet while in the pasture and had to walk on its stumps. The newspaper claimed that some time afterwards, two new feet grew which they described as 'useful, handsome, and well hoofed'.

On October 9th 1904
there was an almighty explosion in the fireplace of Edward Grace of Peckers Hill Road. Somehow a dynamite cartridge had got in with the coal, and the blast blew out the house's windows and doors. Grace had been sat in front of the fire and was seriously burnt.

A high brick wall
surrounding a disused pit shaft near Watery Lane collapsed suddenly on May 29th 1938 leaving a huge gaping hole. The shaft – estimated as 600 feet deep - was used by Bartons Bank Colliery, which hadn't been worked for 100 years. The area around the old shaft was locally known as the 'old bank' or 'old bonk'. It was thought that the earth round the top of the shaft had been loosened by recent rain and then crumbled away, leaving the brickwork to disappear without trace. The spot was immediately roped off and the police stopped people from approaching the edge.

Little David Marsden
was so concerned about protecting wildlife that in October 1978 he sent a letter to St.Helens Council to ask if he could buy some waste ground. The ten-year-old from Broadgate Avenue in Marshalls Cross wrote: "Dear sir or madam, I have heard of all the people shooting wild life and I would like to know wether it is possible to know how much it is to buy quater of an aker of land to put nesting boxes and other things to do with nature on. The ground on wich I want to know about is a tip." As the Daily Mirror commented in its report, David's spelling might not have been perfect but it certainly made an impression with the council. A spokesman said: "We may be able to do something for David, because we were so impressed with his letter". David added: "I hope they won't want a lot of money as I only get 20p a week pocket money. I would like to stop people shooting wildlife, as it is cruel."

When Bill Lynch
and his wife and two children moved into Glamis Grove, near Irwin Road, in Sutton in June 1964, they were soon disturbed by strange bubbling and hissing noises coming from their garden. Investigations found that there was an 89% concentration of methane gas coming up through the soil, which covered more than 20 square yards. Both the Gas and Coal Boards wouldn't help and the family were warned that if the gas seeped into their house, it could cause an explosion.

University students
travelled from Manchester, Liverpool and Keele on May 16th 1969 to hold a sit-down protest in Sutton. They were supporting a group of gipsies, who had been given 14 days notice to leave their encampment in Reginald Road. The two week deadline was now up and the travellers had built a barricade to stop bailiffs and the police from evicting them. However the authorities decided not to take any action and so the students went home.

The Roman Catholic Dean
of St.Helens, the Very Rev. Hugh Fitzpatrick, played a round of miniature golf in Sherdley Park on August 20th 1961 to 'give approval' to St.Helens Council's decision to allow Sunday sport in the town's parks. The dean was quoted in the Guardian saying he deplored the protestations of other clergymen, adding that innocent recreation could never be wrong on any day.

Two racist electricians
quit their jobs at the UGB bottles factory at Peasley Cross on August 10th 1966, rather than work under a black man. Jamaica-born Eli Erskine had been promoted to foreman, responsible for 15 electricians and labourers who were working on extensions to the factory. Two refused to take orders from Erskine and walked off the site and left for London.

In February 1969 Charlie Moss
from Walkers Lane in Sutton Manor nominated four council workmen to the Guinness Book of Records as the slowest garden wall builders on record. He also presented them with a silver cup inscribed: 'World Garden Wall Building Record Holders'. For four months the six feet high, forty yard long wall had been built opposite his home with no sign of completion. Charlie told the Daily Mirror: "The way it's going they'll still be there next August".

Thousands of tons
of coal
underneath St.Helens Hospital and the nearby Isolation Hospital was purchased by the Ministry of Health in July 1960, but none of it was burnt. The National Coal Board had announced that they were planning to mine the coal beneath the two hospitals, leaving them in danger of sinking from subsidence. So the Government spent £11,000 to buy the coal and prevent it being mined.

David Lamb of Mill Lane
suffered a road accident on April 11th 1938 and was taken to St.Helens Hospital. The 14-years-old had just been put under anaesthetic for an operation on his ankle, when a power cut plunged the operating theatre into darkness. There was no back up apart from two torches, which the nurses held on their patient. As the operation progressed, the heat became intense, as the electrically-driven fan cooling system had also failed. At the same time a woman was in labour at the hospital and doctors had to work by candlelight for an hour and a half to deliver twins. The story made the front page of the Daily Mirror.

In August 1970 Will Sharrock
of Pendlebury Street in Clock Face was named the fastest gun in the North West, but no bullets were fired and no one bit the dust. The 48-year-old Western enthusiast challenged 33-year-old Wally Stainze from Liverpool to a duel to settle a dispute as to who was the best gunfighter. The feud was settled electronically at Liverpool University with both of their Colts wired to equipment that measured to a 10,000th of a second. The two men drew eleven times for the best average and Will, whose fastest time was just under a third of a second, beat Wally by seven draws to four. Some weeks earlier, on June 24th 1970, W. A. Sharrock of Clock Face had a letter published in the Daily Mirror in which he said that his uncle Bill Cannon was a champion clog dancer, who competed against 70 dancers and topped the bill all over the country. He also wrote that his grandfather Robert Sharrock was the only man ever to swim Lake Tahoe in Nevada.

A letter from Mr. H. Smith
of 119 Junction Lane, Sutton, was published in the Daily Express on April 9th 1934, which described how he felt to be out of work: "After a period of eighteen months in work I have become unemployed again, but now I see things in a different light. I dare go anywhere for relief. I have not the slightest compunction in living 'on the country'. I go and draw my unemployment pay. I say to myself that a country that cannot find me work has a perfect right to keep me. My wife goes to the clinic and gets free advice and food for our baby. Friends keep him clothed. Once we were independent. We would not take a cent we had not earned. Now we will take anything – free. It is useless to try to keep up a position that is untenable. I keep myself fit by executing some exercises every morning. I keep my mind fit by writing short stories and articles. I long since ceased to worry. This only brings unfitness, and I must be fit when some one wants my services. Besides, I cannot actually starve in England. Exist, yes; but not starve. Good luck and better times will come again, and until they do it is no good worrying. All of us out-of-works must simply keep ourselves fit, in body and mind, try our best, and rely on luck."

On October 7th 1969 Mrs. M. Foster
from Leach Lane in Sutton had a letter published in the Daily Mirror's 'Old Codgers' column under the headline 'Tips from a lady milkman'. Mrs. Foster wrote: "Now that the dark mornings are with us again, I would like to make a request to your women readers on behalf of people like me who deliver their daily pinta. When we start work in the half-light it is so frustrating trying to read notes written faintly on tiny scraps of paper. Often these notes fall to the bottom of the bottles, where they stick with the damp and we simply can't get them out, or they disintegrate. The simplest way to leave a note for the milkman is to tear a piece of cardboard from a cigarette or cereal packet and print in one large figure the number of pints required. The cardboard can be jammed into the top of the bottle without fear of falling through and the milkman knows immediately what's wanted."

Did you hear about
St.Helens Junction's dancing shed that fell through? Well it never actually got off the ground! A report in the St.Helens Newspaper of May 11th 1886 entitled 'The Dancing Shed at Norman's Lane, Sutton' revealed how a Mrs. Morecroft had attempted to apply for a dancing licence for a shed on behalf of her sick husband. As seven people had turned up to object, the Bench refused to allow an adjournment and Mrs. Morecroft was informed that "the application would fall through". Of course it's quite possible that the application was for people to dance in a shed...rather than for a shed to dance...but who knows!

Sutton has been sent
telegrams from the Pope in several years. It happened in 1924 from Pope Pius XI as a result of the Knights of St.Columbia making a pilgrimage to the tomb of Dominic Barberi (1792-1849). He was the Passionist priest who inspired the church, school and monastery at St. Annes and who was beatified by Pope Paul VI in 1963. One local newspaper account reads: 'The following telegram has been received at Sutton from Rome - The Holy Father touched by the homage of the Knights of St.Columbia imparts from his heart the Apostolic Benediction.'!


Not many people know
that William Joyce
(a.k.a. 'Lord Haw Haw')
once referred to Sutton in one of his infamous broadcasts. He said that the Nazis were aware of the top-secret chemical warfare plant located off Abbotsfield Road in Sutton Oak. Although ostensibly a chemical defence research centre, for the first six months of World War II, the Magnum plant (as many locals knew it) was the sole manufacturer of mustard gas in the whole country producing 1100 tons (see Sutton at War
Poison Gas Works
page). Joyce visited St.Helens about 1938 when the fascist gave a talk in the Corporation Street 'tin chapel'. During the war the chapel was bombed, although there probably wasn't a connection! Joyce was executed for treason on 3rd January 1946 at Wandsworth Prison.


In 1966 the now disgraced
Rolf Harris sang of 'Jake the Peg with his extra leg'. To my knowledge no one has ever sung about a cow with extra limbs but Sutton did have one once, albeit briefly, that had seven legs and two tails! A lusus naturae or freak of nature occurs every now and then and in 1872 it happened to a Sutton farmer called Mr. Gavin. The Preston Guardian of June 22nd described the new-born calf of being of 'extraordinary malformation'. The head, shoulders and forelegs were born normal but it had two distinct bodies, each with its own tail and hind legs. In total the cow had five legs at its rear. A lucrative career as a carnival exhibit would, perhaps, have been in store but when farmer Gavin found it, Sutton's own Daisy the Peg was already deceased. connection! Joyce was executed for treason on 3rd January 1946 at Wandsworth Prison.


Fred Bennett's battered attaché case
was a big joke to the lads at the North West Brick Company in Sutton Road. Every Friday the 68-year-old wages clerk took it with him to the bank to collect the firm's pay-roll. But on May 28th 1965 two masked thugs attacked Fred with an iron bar as he was leaving the bank and escaped with the case. However Fred had hid the £400 weekly wages in a money belt under his coat and stuffed old newspapers into his briefcase. Manager Peter Critchley told the Daily Mirror: "We'll never crack another joke about Old Fred's bag. It certainly saved the day."


'When a black chief dies
in Africa, red men go into mourning at Peasley Cross, St. Helens'. That was the introduction to an article published in the Daily Mirror on May 13th 1937, under the headline 'They Make the World See Red'. The article was about the Red Oxide Works, which was situated off Peasley Cross Lane, almost directly opposite Alma Place. The piece continued 'The more important the dead man, the longer the sorrow. For during the mourning period the chief's followers cease to decorate themselves with the red colouring matter made in Lancashire, and Peasley Cross villagers are thrown out of work. When busy, Peasley Cross makes the world see red. Every shade and every grade, in every trade for which red is made, is made there, from rouge for women to protective paint for battleships. Its oxides make the workers redder than the reddest of Fenimore Cooper's Indians. Down Peasley Cross-lane, mingling with the red men when the day's work is done, are blue men, in blue clothes from the blue works not far away, black men straight from the colliery higher up the lane, and whiteclad limeworkers, plasterers and bakers'.


"Was it the same cat?",
asked Councillor Nathaniel Birch the Chairman of the Magistrates in St.Helens Police Court on July 14th 1939, adding "it was a very expensive cat". This was as a result of two cyclists separately charged with riding their bikes without lights who gave identical excuses to the police. William Tickle of 106 Herbert Street had said: "I stopped to see a cat that was killed and was delayed". Cecil Sterry of 412 Watery Lane had told the bobby who nicked him: "I stopped to see a cat that was killed and removed it from the roadway". The delay caused by the deceased feline supposedly accounted for them riding their unlit bikes as darkness fell. Their arguments didn't impress the Bench and they were both fined 10 shillings for the offence.


Agnes Tickle's mongrel dog
was said to be a lovable pet and a friend to children. However the canine, which lived with its mistress at 8 Norman's Lane in Sutton, had his own pet hate. He couldn't stand postmen! Having bitten a couple of letter carriers, including John Jones of Sherdley Road who he bit on the leg, the pooch was accused of being a dangerous dog. "We know he is not much good; he is only a mongrel, but we love him.", pleaded Mrs. Tickle to the magistrates sitting at St.Helens Police Court on November 13th 1939. They considered that the dog was dangerous but decided against a death sentence. However Agnes was warned that another bite on an unsuspecting postie and her dog would be destroyed.

Copyright Notice / Factual Accuracy Statement

This website has been written and researched and many mages photographed by myself, Stephen Wainwright, the Sutton Beauty & Heritage site owner. Individuals from all over the world have also kindly contributed their own photographs. If you wish to reuse any image, please
contact me
first as permission may be needed from the copyright owner. High resolution versions of many pictures can also be supplied at no charge. Please also contact me if you can provide any further information or photographs concerning Sutton, St.Helens. You might also consider contributing your recollections of Sutton for the series of
Memories
pages. Sutton Beauty & Heritage strives for factual accuracy at all times. Do also get in touch if you believe that there are any errors. I respond quickly to emails and if you haven't had a response within twelve hours, check your junk mail folder or resend your message. Thank you!
SRW