An Illustrated History of Old Sutton in St. Helens, Lancashire
Part 75 (of 92 parts) - Memories of Sutton Part 26
Introduction: Memories of Sutton is a series of recollections of Sutton's past that have been contributed by visitors to this website. If you have any memories or personal experiences - perhaps from your childhood - that you'd like to share, do please contact me. I'll be delighted to hear from you! SRW
'Cycling, Tennis and the 8-15' by Rita Woodward (Kenwright)
An Illustrated History of Old Sutton in St.Helens
Part 75 (of 92 parts) - Memories of Sutton Part 26
Introduction: Memories of Sutton is a series of recollections of Sutton's past that have been contributed by visitors to this website. If you have any memories or personal experiences - perhaps from your childhood - that you'd like to share, do please contact me. I'll be delighted to hear from you! SRW
'Cycling, Tennis and the 8-15' by Rita Woodward (Kenwright)
An Illustrated History of
Old Sutton in St.Helens
Memories of Sutton 26

Introduction: Memories of Sutton is a 27-part series of recollections of Sutton's past contributed by visitors to this website. If you have any memories or personal experiences that you'd like to share, do please get in touch.
'Cycling, Tennis and the 8-15' by Rita Woodward (Kenwright)
I was born in December 1937 at my Auntie's house (Mrs Lees) at 241 Mill Lane just around the corner from the Wash and Mill Dam. Auntie Nellie was the sister of my father Harry Woodward. The Woodward family came from an old terraced house in Factory Row in Ravenhead. So, born in Sutton but after a few weeks I was away to Eccleston Street and not back in Sutton for 12 years. I became a Sutton girl; living there; playing there; got married there at St. Nicholas with my children at Robins Lane and also taught there.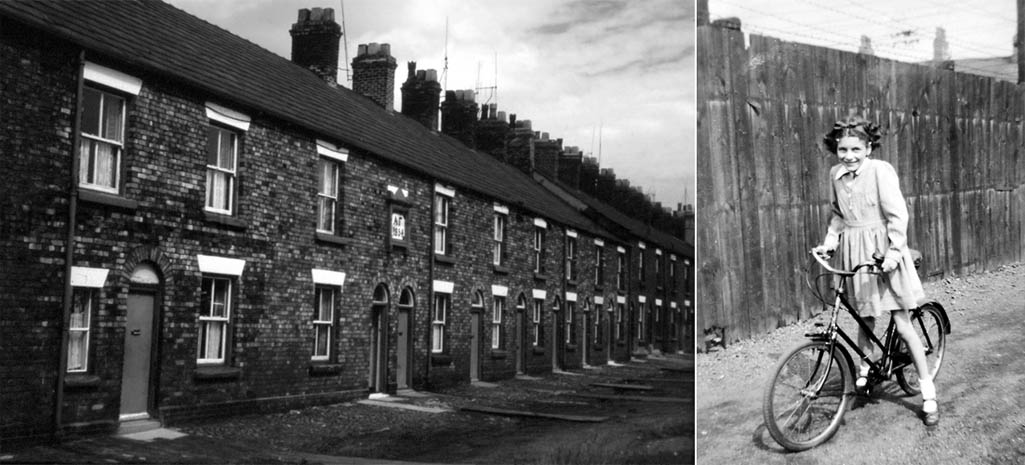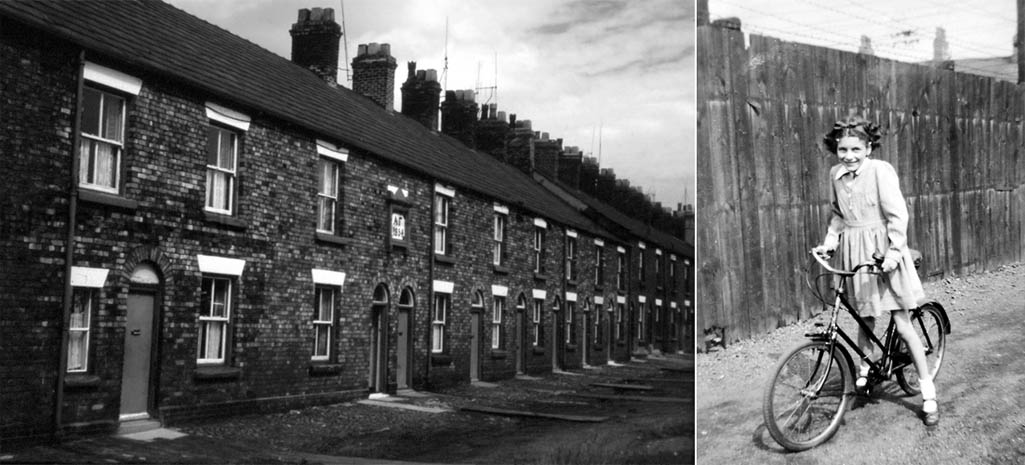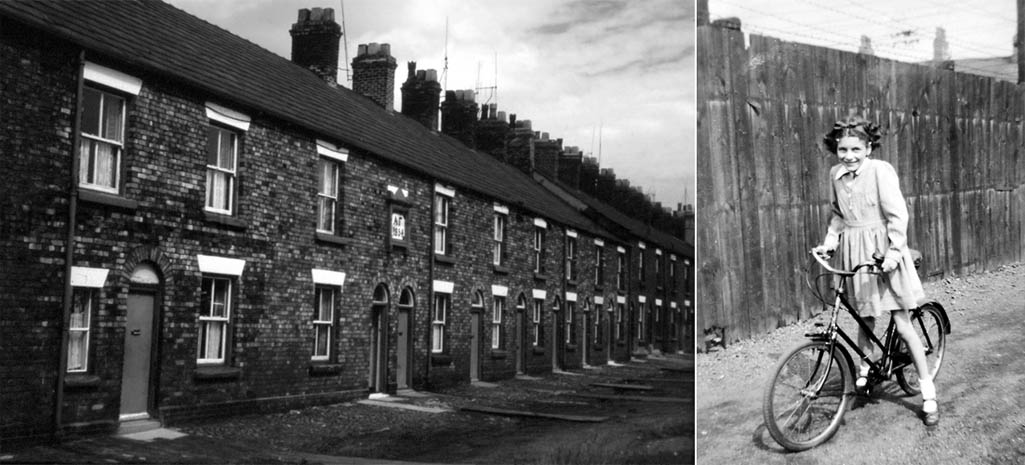 My father married Hannah Hill and moved into Auntie Wright's early Victorian terraced house in Eccleston Street by the electrical sub-station and army compound. It was very primitive with only cold water, no electricity, gas mantles downstairs and candles upstairs. No bathroom – a galvanised bath in front of a black range where cooking was done on hobs and ovens. The toilet was down a long yard at the bottom of the garden. The kitchen was a lean-to with an earthenware sink.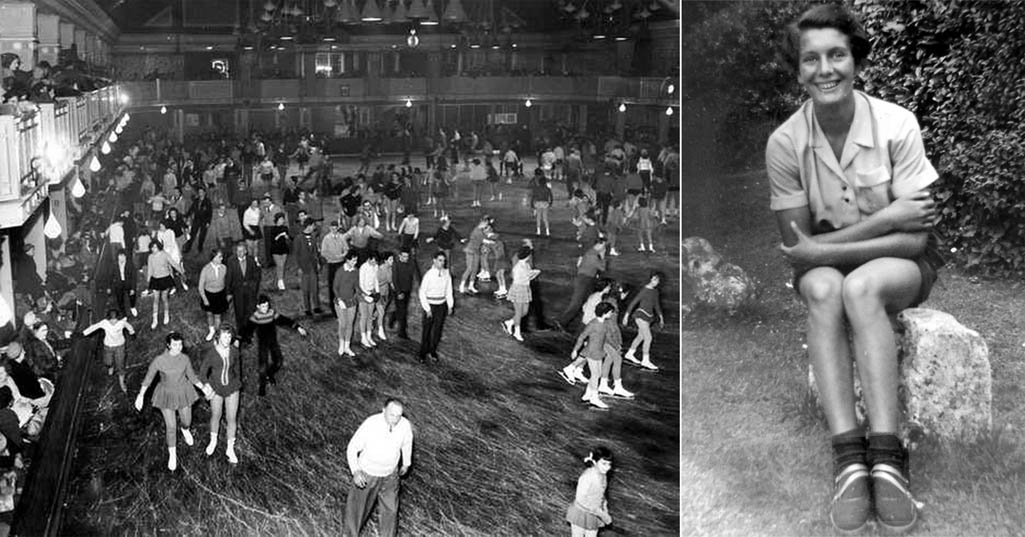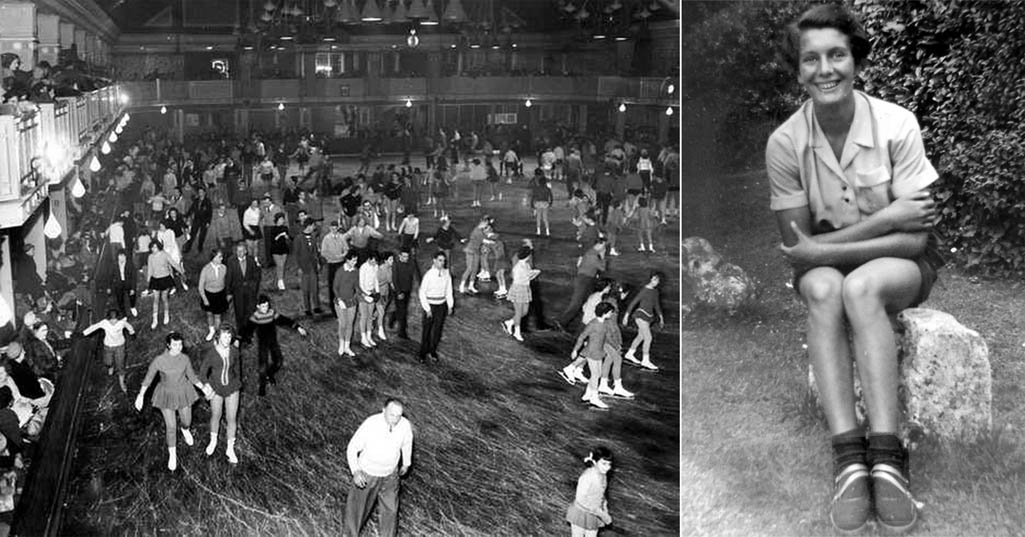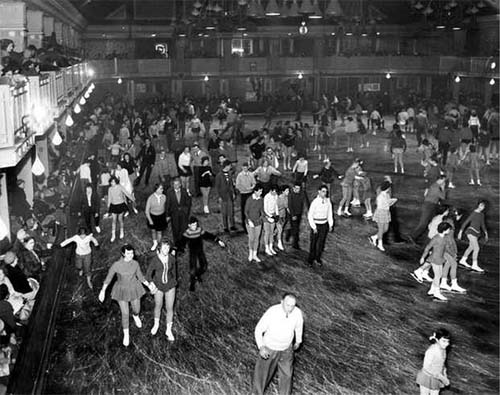 I had a very good friend, Jean Yule, who lived next door but one but there were few other girls around and no open places to play. Jean and I used to get the bus on Saturday mornings to go skating at the Ice Rink in Prescot Road on the outskirts of Liverpool. When the houses were condemned, Auntie was given a small council flat in Thatto Heath. That was when Mum and Dad bought a house at 38 Olga Road and he started a mobile greengrocer's business and with Mum travelled around Sutton selling fruit, vegetables and fish. That was in 1949 and they were very popular. It was lovely to have an indoor bathroom, a bedroom of my own and lots of friends. My first friends in the new house were Jean and Stewart Rimmer who lived around the corner in New Street but playing in Sutton Park I soon found others.

I loved cycling from an early age and treasured my first bike. Later, when I received a larger bike, Jean and I travelled many places and I often went with the boys to Winwick where they were trainspotting. Perhaps my greatest trip with Jean Yule was to London. At 15 with Jean we planned a long cycle to London staying at youth hostels on the way to visit some relatives of Jean who had a fish and chip shop there. It seems a long way – 200 miles – to go for fish and chips! One would think that two young girls cycling to London would be very brave. Looking back I think it was foolhardy but I suppose youth just has enthusiasm.

The bikes (Raleigh and Rudge) were heavy by today's standards and had only three gears. We walked up the steep hills but were often lucky to get lifts on lorries by kind drivers. (Would one do that today?). However doing thirty miles a day we made it in a week. I hated the punctures and had three. After a week in London we cycled all the way back to our parents who were happy to see us and on return we were much fitter, lots of extra muscles; brown from days in the sun and had a great memory. We never did it again but the memory is still strong.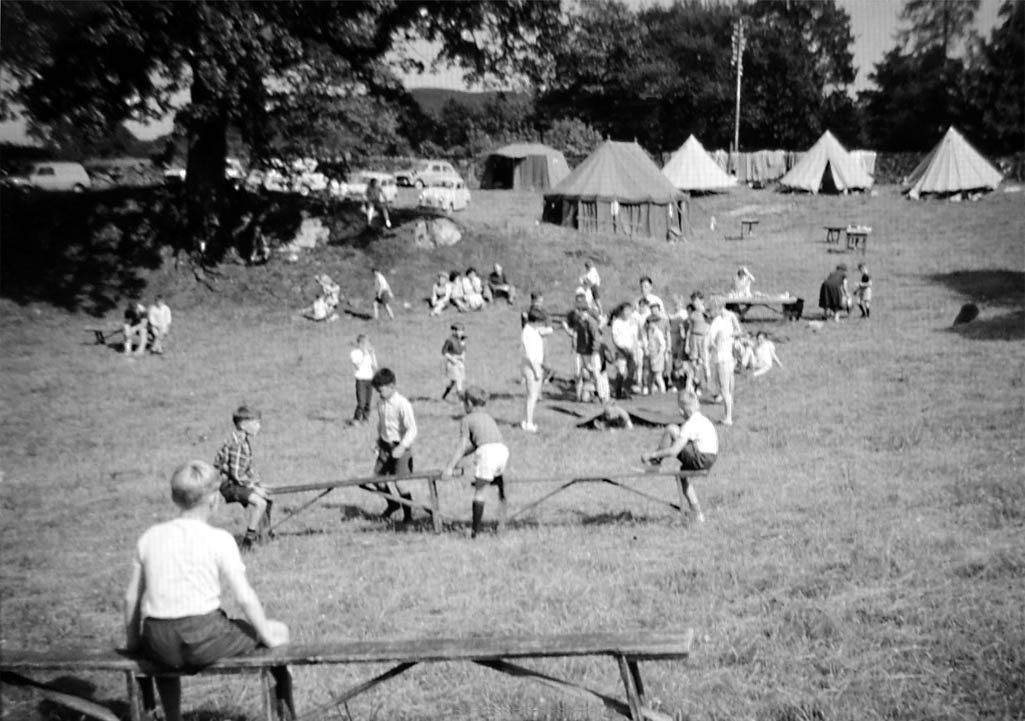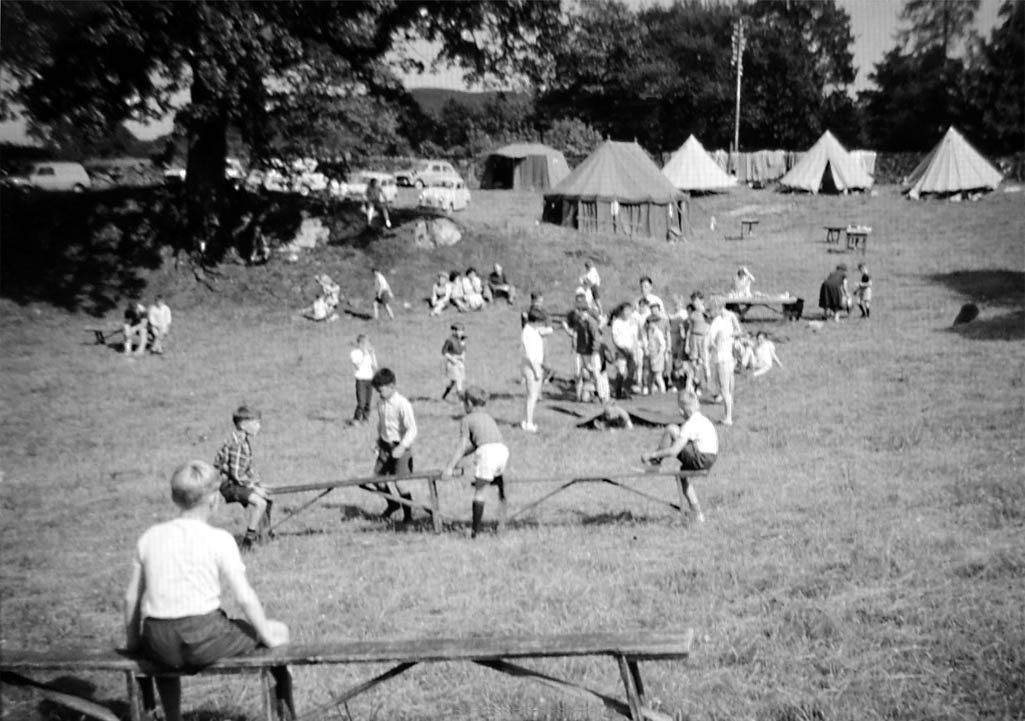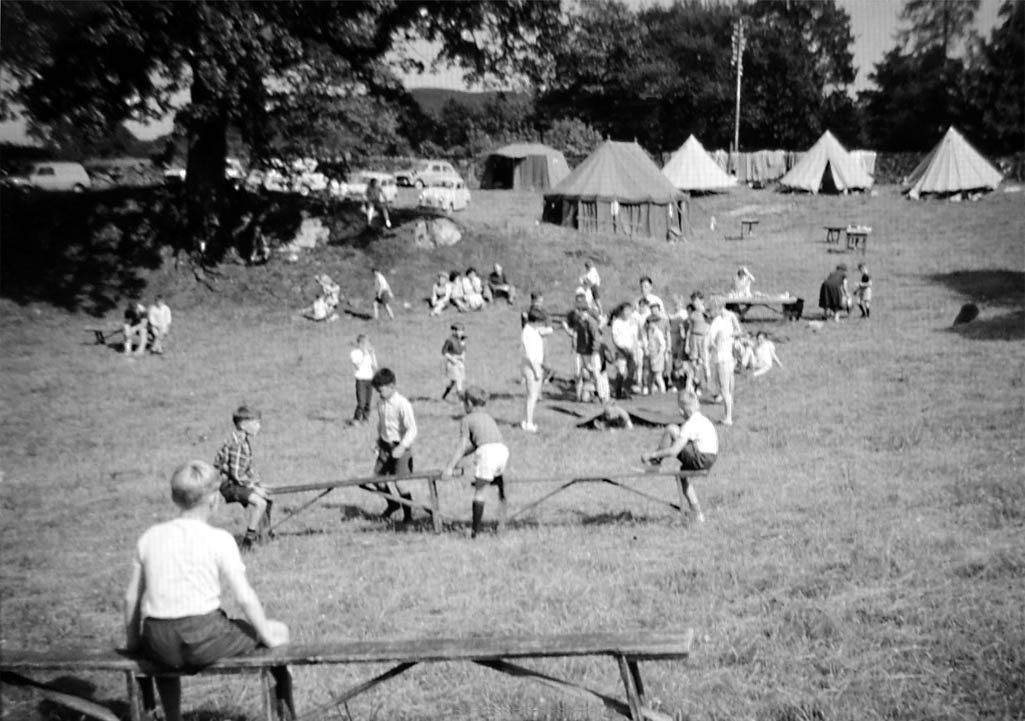 I loved the outdoors and especially camping in the Lakes and sometimes would accompany the Sutton Scout camps as a helper to Rita Simms, Iris Kenwright and Barbara Critchley, who were Cub leaders. And the scout leaders organised combined camps in the Lakes and these were always popular. The tents were large ex-army bell tents and could sleep eight easily.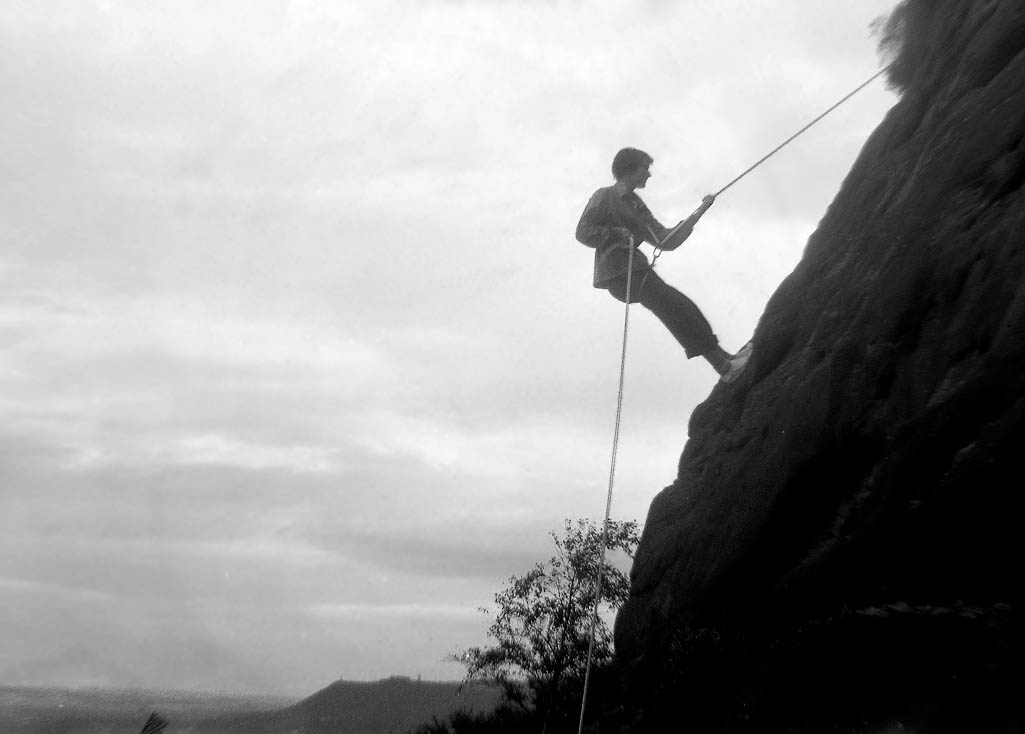 Another outdoor activity which I enjoyed was climbing and I was introduced to this by the boys of the 8-15 group which met after Church on a Sunday. This was a good organisation and I made many friends there. Arthur Helsby and Bernard Fairclough and other boys took me climbing to Frodsham – I was the only girl willing to give it a go. I learned how to climb and abseil and a photo of me abseiling (shown above) found its way onto the front page of Cowley Girls Magazine when I was in the sixth form. The Sports Teacher saw it and thought it a good example of "Girls can do anything".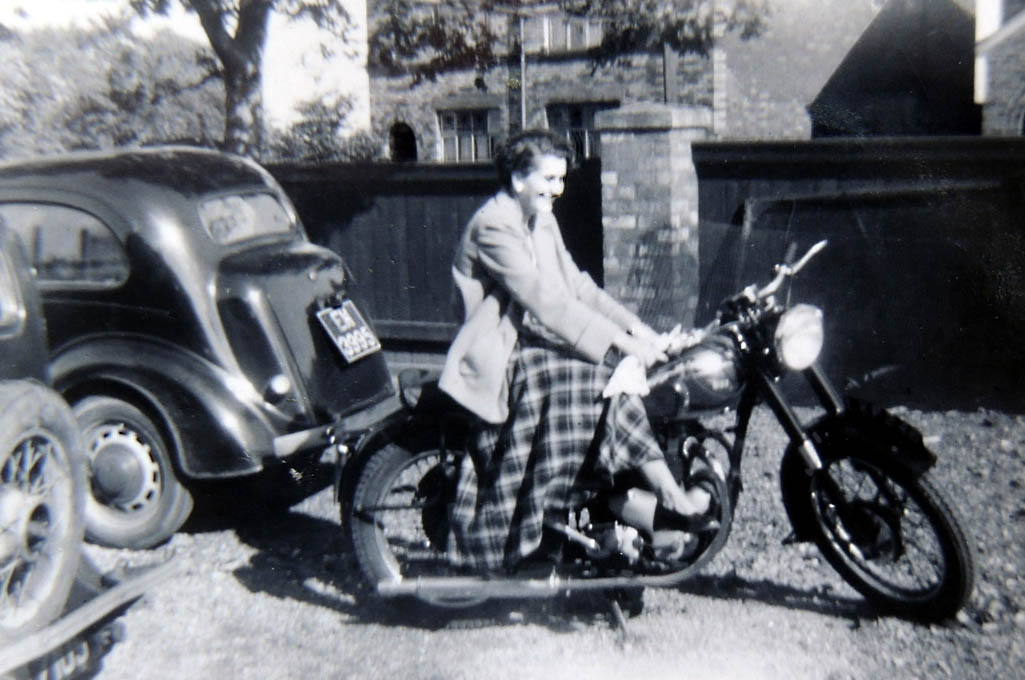 Also my friend Bernard, who took me out, had a motorcycle and it was a new experience riding pillion on his bike – although somewhat windy; but much more exciting and faster than my old bicycle. Roy Hordley who ran the 8-15 group had lots of interesting activities and one which was also dear to my heart was acting. This helped me teaching in later years when I taught at Knowsley Road Primary School and also at Robins Lane where my children eventually went to. I remember a really good pantomime which Roy produced and of course the star was probably Reg Smith, the very popular vicar who married Norris Kenwright and myself in later years.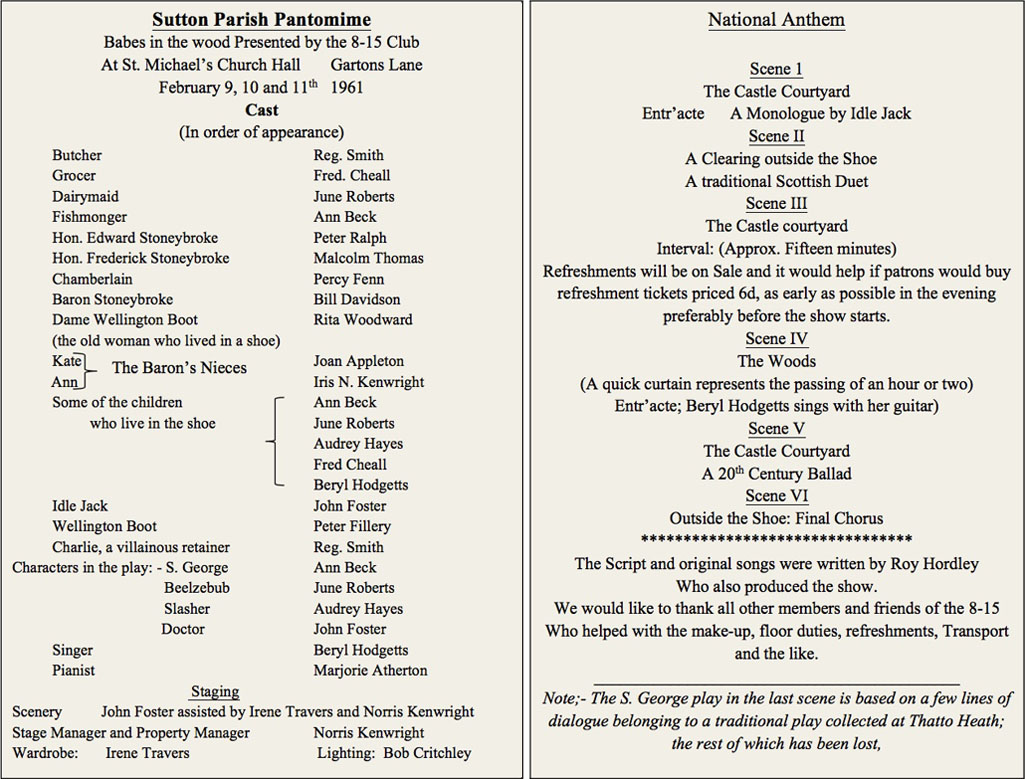 This is the programme of the 1961 pantomime at St. Michaels and I am sure many will recognise the names. Roy Hordley also ran a folk dancing group and I loved dancing on a Saturday evening to his group called the "Poachers". Many of my friends were also members of the Sutton Cricket and Tennis club and I loved tennis, playing on weeknights and also in team tennis against other clubs on Saturday and Sunday. In the late 50's we joined the Liverpool Tennis League with the men's team and our tennis improved greatly. The men's team under the captaincy of Roy Haycock did extremely well and won their divisions for three years whilst we had one division win. By this time I was the team captain. My playing partner was Barbara Williams and she was so good that she was usually the club's Ladies singles champion. Her father George Williams was the General Secretary of the Club.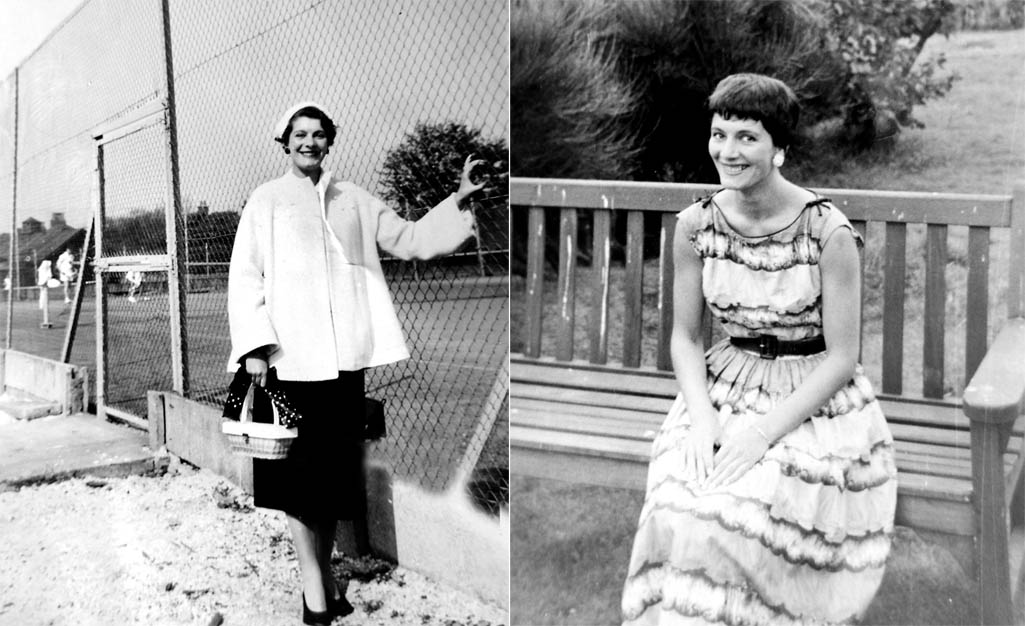 I couldn't find a photo of me playing tennis but here is a picture by the tennis courts where I'm looking smart with my favourite basket handbag. I was very lucky for my Auntie Elsie (Fairhurst) who lived with her husband Jim in Marshalls Cross Road always made my clothes. She was a wonderful seamstress and because she had no children seemed to have adopted me as someone to make clothes for. She made my beautiful wedding dress which you can see on our website link at the bottom of the page. The other photograph (above right) was taken in 1959.

In winter we played table tennis at the club and if we had a good crowd we played the card game "Chase the Ace" around the table with matchsticks for "lives". There were dances too and the most popular ones were on Christmas Eve and New Year's Eve, usually compared by Jack Haycock, the singing bar steward. On Christmas Eve the dance finished at 11-30 pm so people could head up to St. Nicholas church for the first communion of Christmas morning after midnight.

Best wishes to all the friends I met in my Sutton days. I would love to hear from you even though I am far away in New Zealand, where my husband Norris Kenwright and I have just enjoyed our 80th birthdays.
'An Early November Day' by Norris Kenwright
The day was a typical early November day in the mid 40's, cold, damp, misty and not the day you wanted to head off to school. The hoar frost on the hawthorns along Sutton Park indicated an overnight drop in temperature. This final year at Robins Lane Primary was different to the many years at the main school. Suddenly due to overcrowding in this final year we were sent down to the Chapel in Sutton Road where we would study for the 11 plus exam which would determine our secondary school education.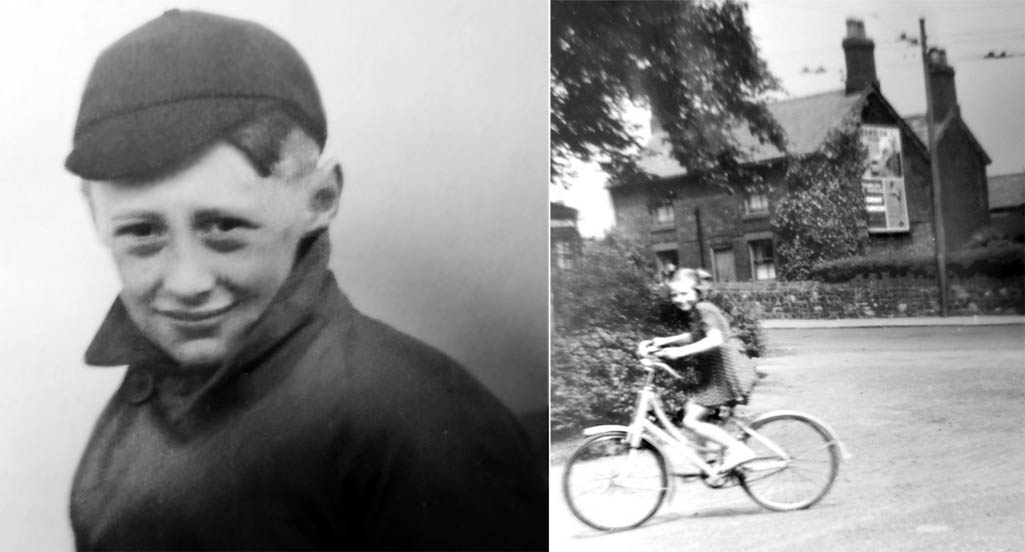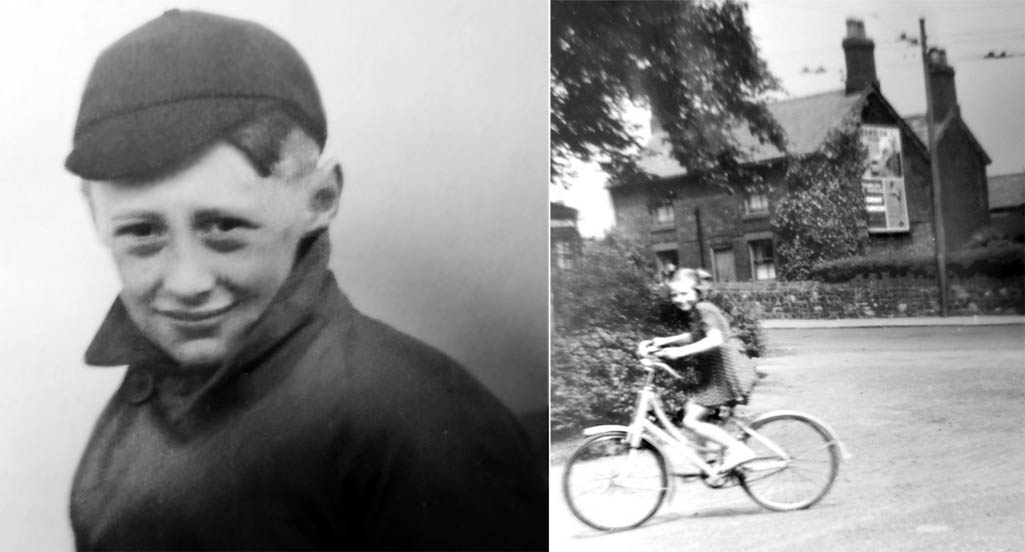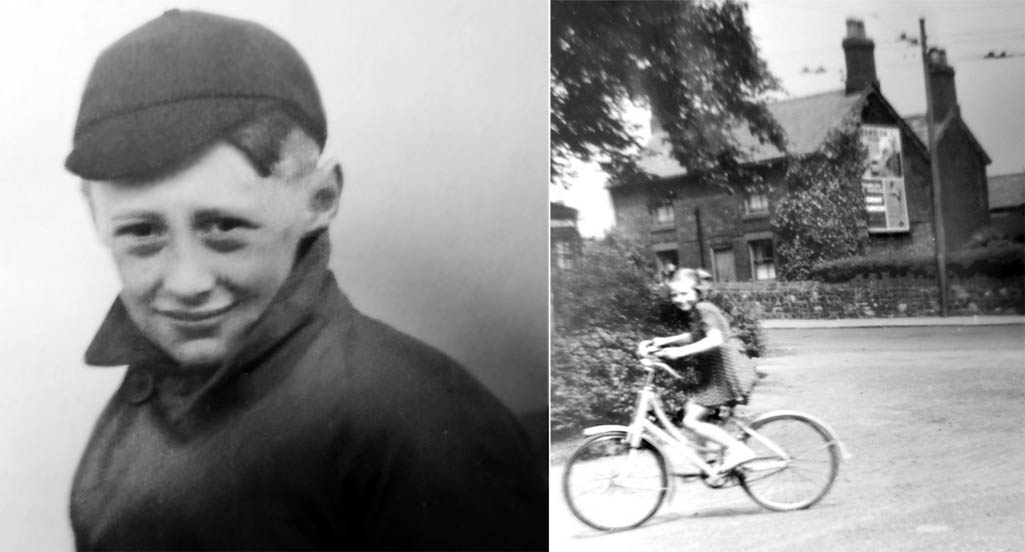 I stood at the corner of Robins Lane and Marina Avenue as the number 6 trolleybus swept by intending to stop outside the Bowling Green Pub on the corner of Baxters Lane. Often it came too fast and the trollies came off the wires with sparks flying everywhere. Young lady bus conductors struggled as they pulled out a huge bamboo pole from the bus and performed a strange sky ballet as they swept the sky with the hooked pole trying to capture the wayward trolley and bring it back onto the wire. Those girls had strong arms.

Heading across the road I remembered how my friend, Mike Melia, and I came home from town on one of those buses. Mike had this idea: clever at the time: that if you jumped off the moving bus outside Mrs Heyes's cottage you could save the walk back to Marina Avenue. He had this flash of inspiration that if you jumped and ran fast enough it would be OK. On the bus platform I watched first in anticipation and then in horror as he jumped, legs pedalling, and then did this amazing tumbling act rolling after the bus.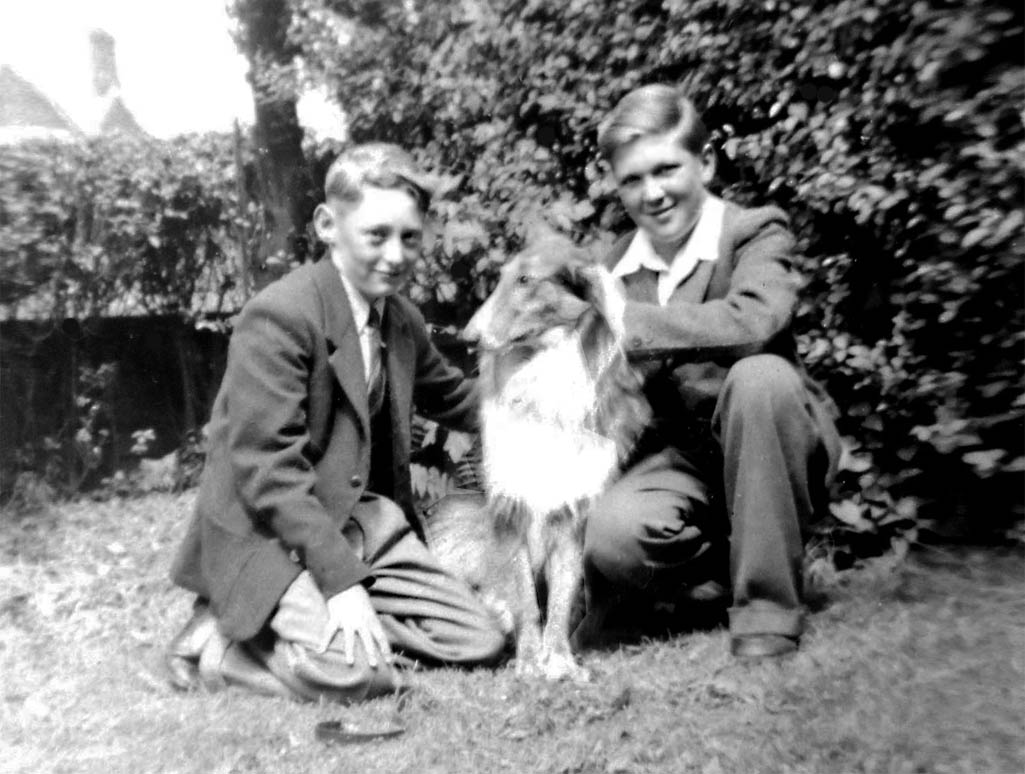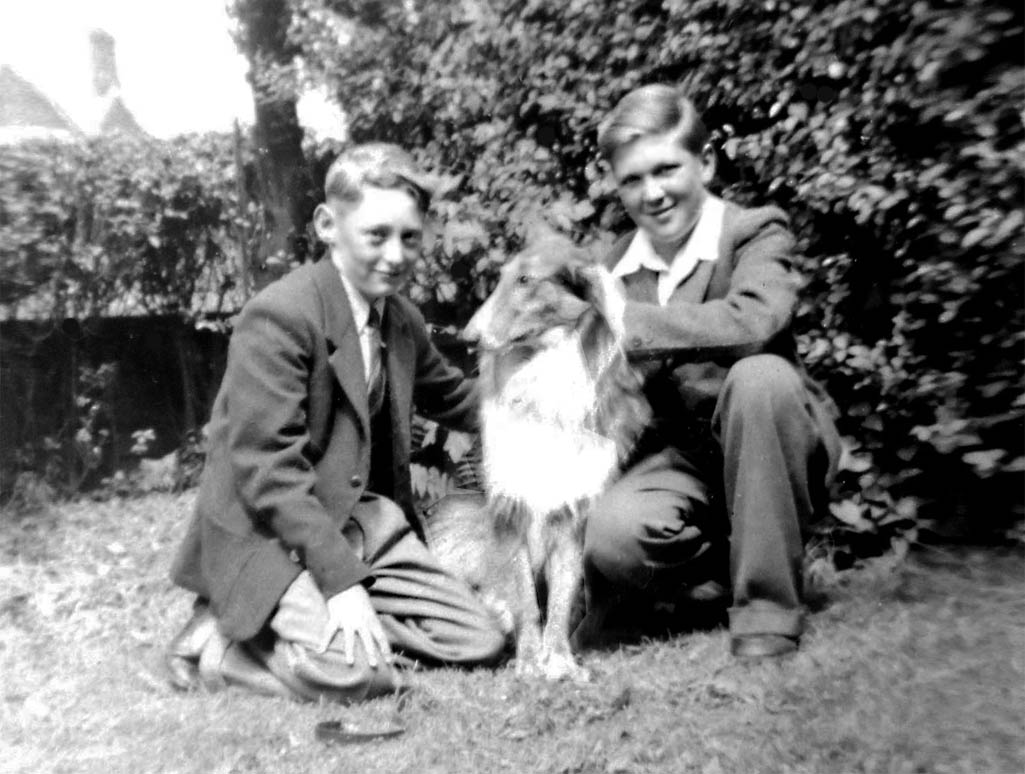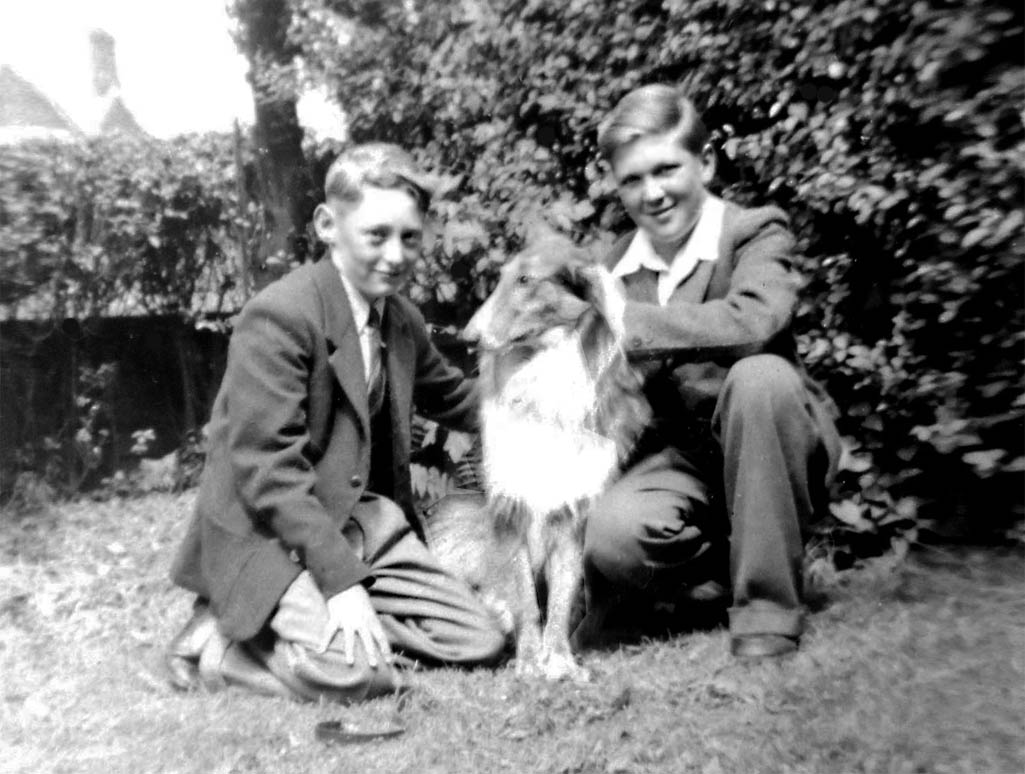 Those were days when you learned safety the hard way. Common sense was either added to your growing brain cells or others remembered you with affection and learned from your mistakes. Happily after a short recovery, Mike and I remained good friends and he became a legend.

Heading on to Baxters Lane the old chippy on the corner looked old and deserted and a couple of people headed to Ashton's general shop a few doors down. Ashton's was small, crowded but a wonderful emporium of jars of confectionary, bread and everything a small local shop could be. Mr & Mrs Ashton never changed and were permanently old. Not having sweet coupons I often bought liquorice sticks to chew to satisfy my hunger for something sweet or savoury. My endearing recollection of them was their fireworks club. Six months before the glorious fifth you had a card and added the odd penny here and there; often from returned bottles; and on the 4th you had enough for the two shillings and six pence box of fireworks. (Another story to tell).

Back heading along Baxters Lane the small narrow humpback bridge appeared; an amazing construction to test one's skills of self-preservation against oncoming traffic.- way before traffic lights were installed. To the left were the engine sheds, with smoke and steam rising from those grimy engines. I loved those smells and was soon a devoted Ian Allen train spotter spending hours at the Junction and Pudding Bag, as the local trains dashed past imprinting their wheels on the pennies I put on the track. (Days at Winwick, Crewe and Lime Street stations were to come).

Turning right into Webb Street which was a rough unpaved road I was sometimes hassled by a gaggle of white geese. I don't know where they lived or came from but they were guardians of the street. At the bottom of the street was the chapel and a large rough area in front, which was our playground. To the right was a large fence behind which was Crone and Taylor's works.

Monday was when we entered the hall to see all the cast iron desks pushed back against the walls after the weekend Chapel and with heavy scraping and pulling we soon had the desks with our books in all in place. I had a crush on one girl, Rona Brocklebank, a quiet shy girl and super clever. I always angled to have my desk next to hers. Our Class teacher in the big room was Mrs Courtman with 4A. In the smaller back room was Mr Shaw with 4B, a rather portly stiff man in usually a blue grey suit.

Mrs Courtman was strict and terrifying and had a bamboo cane. Her style of piano playing could more nicely be put as "heavy handed" and the room often resounded to the hammering of the keys. She taught us every lesson from Maths, English, Nature Studies, Art and P.E. and with our class of 48 it must have been far more stressful than today's small classes. The lines of kids stretching from her marking desk waited in silence. It is a credit that 25 of that class passed the 11+ to go to Grammar school, a remarkable achievement. We practised a small Operetta, "The Merry Peasant" to put a show on for parents – my first and last venture into this genre. I had a passible voice and found a subsidiary role as a messenger of ill news. Those lines are still in my memory as I rolled onto the stage on my hobby horse:
I've travelled and travelled o're hill and o're valley to tell you the terrible things I have seen. The soldiers are coming in hundreds and thousands, there's dozens and dozens I've counted 15. They'll kill all the people and eat all the horses Etc.
The lead in this Operetta was my friend Louis Rigby and he had the voice of an angel. He became top chorister at St.Helens Parish Church and took the lead in Cowley Boys Gilbert and Sullivan productions. Louis and I lived back to back; me in Marina Avenue and Louis in Kenwright Crescent. We swapped comics weekly. I got Wizard and Hotspur and he got Adventure and Rover; really great stories to read.

Football with Mr Shaw was taken on the waste land below Sutton Nation School alongside "Stinky Brook". Pollution seemed to be very acceptable in those days for our football often rolled into Stinky Brook which bore the colour and smells of whatever Sidac was colouring its cellophane rolls. It was noxious and horrid to collect the ball.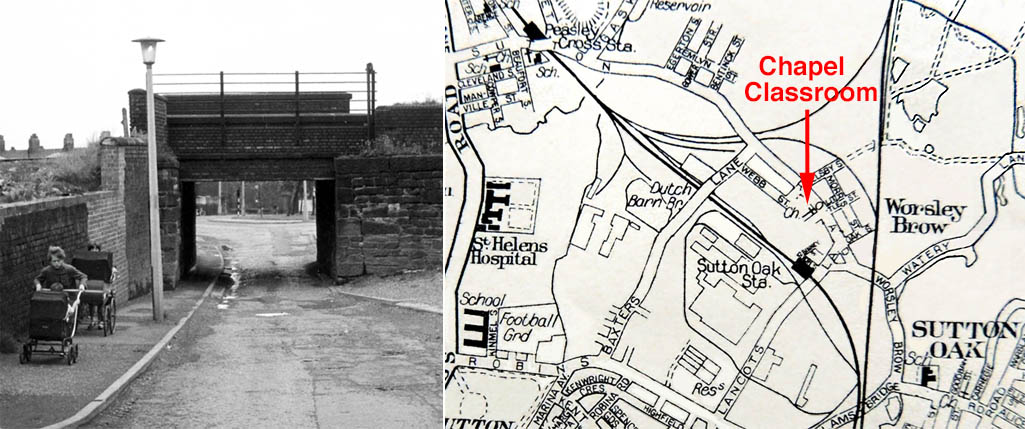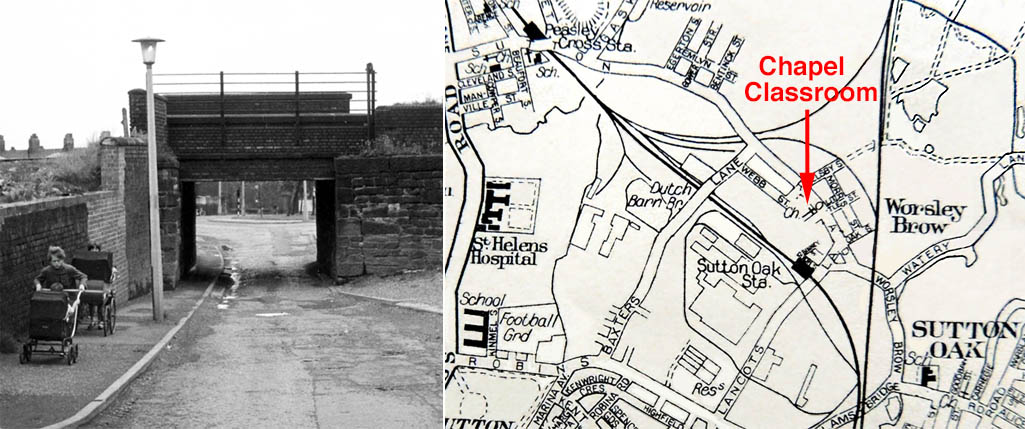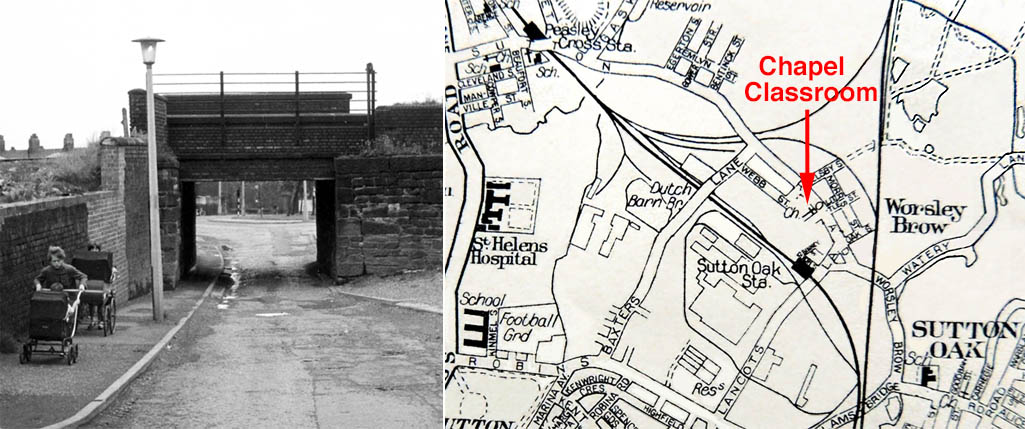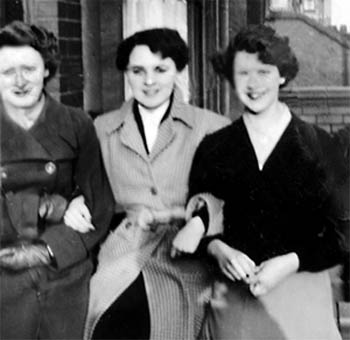 More often at playtime we played impromptu games of soccer outside the Chapel with bricks for goal posts while the girls played skipping games. Ted Webb was a great little goalkeeper. After school was a walk with friends down to Lancots Lane and then under the narrow railway bridge towards Robins Lane. Being early November we discussed the coming bonfire night and remarked that the Browns of Highfield Street had a great stash of wood piled up in their back yard. Also Bill Lympany had access to rolls of old cellophane from Sidac which would make an enormous bonfire.


Saying goodbye to Beryl Miller, Olive Fairclough, Anita Ramsdale (pictured here a few years later) as they headed down Robins Lane to the junction and to Albert Bain in Waterdale Crescent, Louis and I cut across Irwin Road, down Highfield Street across Robina Road and into the Crescent. Anticipation of a dark smokey evening of fireworks, baked potatoes and fun was uppermost in our minds.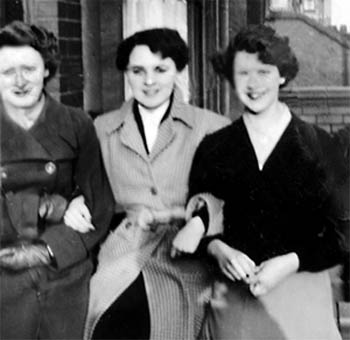 But it was tea time and Mum could do marvellous things with spam and I was hungry. We would still be out again after tea with the rest of the gang playing "Tin Can Bung Off" in the dark and diving over garden walls and hiding behind the bushes in the park. Except of course from 6-45 to 7-00pm when we vanished to listen to Dick Barton; Special Agent with Jock and Snowy. Then back out again, light the winter warmers before we reluctantly headed home. Another day over; school again tomorrow and a happy sleep with few cares in the world.
NORRIS KENWRIGHT
Copyright Notice / Factual Accuracy Statement

This website has been written and researched and many images photographed by myself, Stephen Wainwright, the Sutton Beauty & Heritage site owner. Individuals from all over the world have also kindly contributed their own photographs. If you wish to reuse any image, please
contact me
first as permission may be needed from the copyright owner. High resolution versions of many pictures can also be supplied at no charge. Please also contact me if you can provide any further information or photographs concerning Sutton, St.Helens. You might also consider contributing your recollections of Sutton for the series of
Memories
pages. Sutton Beauty & Heritage strives for factual accuracy at all times. Do also get in touch if you believe that there are any errors. I respond quickly to emails and if you haven't had a response within twelve hours, check your junk mail folder or resend your message. Thank you!
SRW